How To Sell Wine Into Restaurants Effectively

05/11/2020 Looking to add your wine to the wine list of leading national chains? Execute this detailed strategic plan smartly and make it happen
For many wine brands, especially small boutique wineries, it can seem like an impossible task to get their wines on the wine list of a national restaurant chain or sold at the bar of a major hospitality venue. However, it can be done both efficiently and effectively. The secret, quite simply, is coming up with a detailed strategic plan that covers everything from how you plan to stand out in a crowded marketplace, to what type of customer support you plan to offer these restaurants on an ongoing basis.
Find the right restaurants for your wines
It might seem like an oversimplification, but the first step in selling wines into restaurants effectively is simply finding the right restaurant. You can't be all things to all people, and so you need to narrow down your list of potential prospects. In this regard, there are two major distinctions to keep in mind.
The first distinction is the one between casual and fine dining restaurants. At casual dining chains, the focus is on wines that can be sold for less than $60 and that are high-volume, meaning that patrons are ordering them frequently. At fine dining restaurants, the emphasis is on depth and diversity of selection, as well as much higher price points (topping out around $500 per bottle). So if your portfolio of wines is on the less expensive side, you definitely want to be focusing your efforts on casual dining restaurants (and vice versa).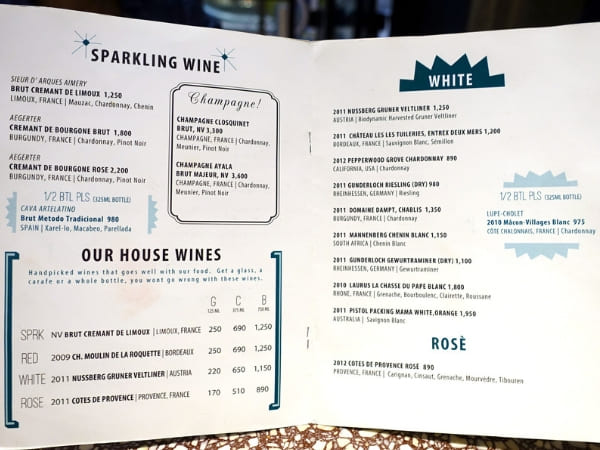 The second major distinction is the one between restaurants with "semi-controlled" and "controlled" wine lists. A controlled wine list simply means corporate headquarters mandates all wines appearing on the wine list, and individual restaurants have no option to offer their own assortment of wines. A semi-controlled wine list means that individual restaurants have the power and authority to approve wines. These wines, when accepted, are then added to a master database at corporate headquarters. If sales at one location are strong enough, that will immediately put you on the radar of the national chain for possible expansion. Thus, it is actually preferable for many wine brands to focus their efforts on restaurants with "semi-controlled" lists because it is much easier to pitch to a local establishment that might already be familiar with your wines.
And, of course, you need to keep in mind those restaurants that make for a natural fit for your portfolio of wines. A casual Italian restaurant chain, naturally, would make for a good fit with Italian wine varietals, while a steakhouse restaurant chain would naturally be looking for hearty "steakhouse reds" that would complement an existing selection of Cabernet Sauvignon wines on the wine list. Casual chains, in general, are going to put much more of their focus on wine varietals that consumers already know and understand.
When coming up with a list of potential prospects, you need to focus your energy on the most attractive accounts. These include restaurants with any of the following: significant foot traffic, an outdoor dining area, a private dining room for parties and banquets, and geographical proximity to the city center or high-traffic tourist attractions. For premium wines, the best prospects are those restaurants with large wine lists, frequent wine events (such as themed wine dinners), and a celebrity chef or sommelier on staff.
If you apply the standard 80/20 rule, then you should be using 80% of your time on winning the top 20% of accounts. By their very definition, the top 20% of accounts will be the biggest, most successful restaurants that place the most emphasis on wine-food pairings.
Understand the competitive marketplace
While your wines may come with 90+ ratings and your boutique winery may have already attracted the attention of the local media, the fact remains that selling wines into restaurants is highly competitive. Even worse, it's a zero-sum game, meaning that in order for your wine to be added to a wine list, it usually means a poor-performing wine needs to be removed. Just think of this from the perspective of a restaurant: why would you fill a wine list with a lot of low-velocity wines that nobody ever orders?
A recent survey on casual dining wine lists is very instructive – and helps to showcase just how competitive the marketplace has become. Based on a study of 110 casual dining chains around the nation, the average wine list offered just 20 wines by the glass (BTG) and 22 wines by the bottle (BTB). Moreover, since every restaurant will carry 2-3 options for the most popular varietals, it's extremely difficult to convince a restaurant wine manager to carry a fourth Cabernet Sauvignon when there are already three other Cabernet Sauvignon wines available BTG and BTB.
Moreover, if you drill down into each of the categories, you will see that big, national name dominate every single market niche. If you plan on competing in the Chardonnay category, you'll be going head-to-head with Kendall-Jackson and La Crema Winery, two of the most popular Chardonnay brands at national casual dining locations.
So it's here that you will have to make a strategic choice – do you focus on the most competitive wine categories (i.e. Cabernet Sauvignon, Chardonnay, Merlot, Pinot Noir, and Pinot Grigio), or do you focus on niche varietals? Here, too, it's important to have business insights into where the market is headed. Just a few years ago, wines like Zinfandel and Shiraz/Syrah were staples of any major wine list. Now, they have been supplanted by other grapes of the moment, including Moscato and Glera (i.e. Prosecco). So make sure you are pitching wines that consumers and restaurant patrons actually want to buy.
Focus on ways that you can offer a competitive business advantage
That being said, there is still plenty of opportunities out there, if you know where to look. That's because restaurants do not view your winery only as a winery – they also view you as a business partner. In fact, they go one step further – they view you as a source of competitive advantage in the marketplace.
At the end of the day, restaurants have very simple goals – they want to sell more wine overall, they want to encourage patrons to order more expensive bottles of wine, and they want to maximize guest satisfaction and loyalty. Thus, the way that you can offer a competitive advantage is by delivering on any of these goals.
So ask yourself a few key questions: Can you provide number and research to prove that your wines are in a hot category, or that they are experiencing a surge in sales popularity? Can you offer premium or exclusive bottles not found anywhere else? And can you provide the type of customer service that guarantees a happy customer every time?
One major complaint that restaurant wine managers have is in relation to supply. The cardinal rule of selling to an on-premise establishment is never, ever failing to deliver supply as needed. Another major complaint is in relation to price. In the business, they say that "the price is the price." This means that a restaurant wine manager should never pay a different price than the price that was quoted at the outset. And, finally, a third major complaint of restaurant wine managers is in regards to quality: if there are common incidents of bottle variation or vintage variation, that is going to raise a red flag.
So you can view all of these potential "complaints" as actual opportunities to prove your worth. If you can guarantee a reliable, unbroken supply of wine on a national basis, you will have the ears of wine managers. If you have a reputation for dependability and a track record of fixing problems before they even occur, then you will also have the ears of wine managers.
And this emphasis on customer service doesn't end there – it also extends into the types of promotional and brand-building activities that you can offer if your wine is finally accepted onto a wine list. One classic example here is the wine dinner. Another example is staff education and training. And, of course, you will want to provide marketing and brand support to the restaurant. Your goal here should be to help the restaurant deliver on all of its financial goals, and that means that your wines are high-velocity and high-volume. If you can show that restaurant patrons are ordering your wines, restaurant wine managers will gladly order more. Who knows? You might even get a national mandate from corporate HQ if your wines are showing phenomenal success in a certain city or region.
Align your strategic goals with those of the on-premise establishment
Finally, it almost goes without saying that you should have business goals that complement and reinforce those of the on-premise establishment. This is all about "fishing where the fish are" – if you are selling the right wines to the right establishment, that is when you can maximize your revenue and, ultimately, your overall profitability. Just think of the restaurant chain as your partner, and you will have the right strategic mindset. Stop focusing so much on price and product, and instead, focus on delivering competitive advantage and business value. By doing so, you will be able to sell your wine into restaurants effectively.
2023 Submissions are closed. The Deadline for receiving samples in the warehouse is April 30, 2023.