Salmon Rillette Recipe

22/11/2018 Pair up this fuss-free healthy Salmon Rillette with a glass of white wine.
If you've read my previous articles in Sommelier Choice Awards, you'll know I love salmon. This recipe is one of my favorite preparations and the best part, it's extremely simple to make.
Fuss-free cooking that looks and tastes like a labor of love? Oh yeah! Traditionally, salmon rillette ("ree-yet") is a posh French brasserie dish mixed together with rich crème fraiche, double cream, butter and sometimes white wine. This recipe using nothing but fresh yogurt, fine herbs and a kiss of lemon zest proving you don't need all those heavy fats to achieve an exquisite taste. Salmon rillette pairs brilliantly with almost any white wine under the sun, whether racy and zesty, fruity or herbaceous [probably not sweet].
So, this crowd pleaser recipe is my gift to you to pair as you please. And my final advise is don't save this recipe for a fancy occasion, it's a simple superfood dish that belongs in everyone's repertoire! Serve on fresh baguette or find the recipe for my Californian dried fruit cracker for a gourmet delight.
Ingredients
2/3 lbs fresh king salmon
¼ cup yogurt
3 tbsp mixed fresh herbs of your liking (chives, basil, parsley, mint, tarragon, lemon thyme)
1 tsp shallot, finely minced (optional)
1 tsp lemon juice (optional)
zest half lemon
pinch kosher salt (to taste)
pinch ground black pepper
Method:
Heat oven to 350º and cook salmon skin side down for 18-20 minutes or until salmon reaches an internal temperature of 145ºF (63ºC) or above, allow to cool.

With your hands carefully peel to remove the skin (set aside!) delicately flake the salmon, leaving some nice chucks for texture. Fold in all other ingredients. Store in a tight container in the fridge for a maximum of 3 days for optimal freshness.

For an extra restaurant-y touch, dry salmon skin with a paper towel and place over a wire rack. return to oven for extra 5 minutes or until golden and crunchy. Allow to cool for what my girlfriend describes as "Salmon Bacon".
Author: Timothy Neumann
- Sommeliers Choice Awards Multicultural Food and Wine Ambassador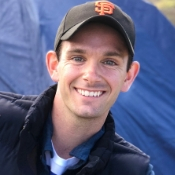 Tim is an Australian food and wine writer and accredited nutritionist. When cooking, Tim loves using healthy, local ingredients accented with bold multicultural flavors. Discover more Beverage Trade Network food and wine ideas like this online, at Sommeliers Choice Awards.
Get your wines in front of Sommeliers, Wine Directors and On-Premise Buyers of USA. Here's How To Enter your wines.