10 Tips To Grow Your Wine Brand's On-Premise Presence

09/09/2022 Grow your wine brand's on-premise presence with 10 tips by Sid Patel, CEO of Beverage Trade Network
Building an on-premise presence for your wine can be a tough ladder to climb. Sid Patel, CEO of Beverage Trade Network, Organizers of Sommelier's Choice Awards shares 10 tips to build your wine's on-premise presence.
Being in the world of wine for over 10 years, Sid has seen all sides of the industry. From being a distributor, to owning a wine brand, and now connecting the industry with each other – he's found his way to across the entire spectrum.
"Here's how I thought about growing my wine brand's on-premise presence. I grew my brand from 0 to 2 million in sales in less than four years" said Sid as he dived into the 10 tips of building your wine brand's on-premise presence.
1. Perfect Product Offering
The first thing you need to do is to have a perfect product offering. When you're offering your wine to a restaurant, make sure you create a brand which stands out. The first thing you would need to do is study the market - and see what is trending and what is in demand currently.
For example, one of the best ways to create a perfect offering is by offering seasonal wine. If you're pitching to a restaurant getting close to the months of summer, then offer them a light rose, or a white wine - something that is more for the summer. If you're pitching to a restaurant closer to the colder months, then make sure to offer a full bodied red that would fit the weather and would also move from the restaurant during that period of time.
Another way to offer the perfect product is by picking out something from a nearby region or from a lesser known wine region - which will put you and the restaurant in a different and unique position, being able to sell the wine to consumers.
[[relatedPurchasesItems-41]]
2. Promotional Programmes
Start out with a solid promotional programme for the season. A great example would be offering programmes such as wine by tap, or wine by the glass, or maybe some customised coasters. Basically anything that they can use to play around with your programme and increase their footfall. Try to care about the restaurant you're offering to and try to help them drive up your sales.
Pro Tip: Come up with a solid programme, where the pitch would be your programme and not your product.
3. Glass Pour Programme
Offering a glass pour or wine by glass programme is one of the very beneficial programmes you can offer a restaurant.
"Especially if you're a distributor, try to find an amazing 1.5litre wine, where you can blow their mind out with the quality and the price" explained Sid.
Try coming up with a great value that can build a good wine by glass programme - something that is unique, and something that neighbouring restaurants do not have to offer.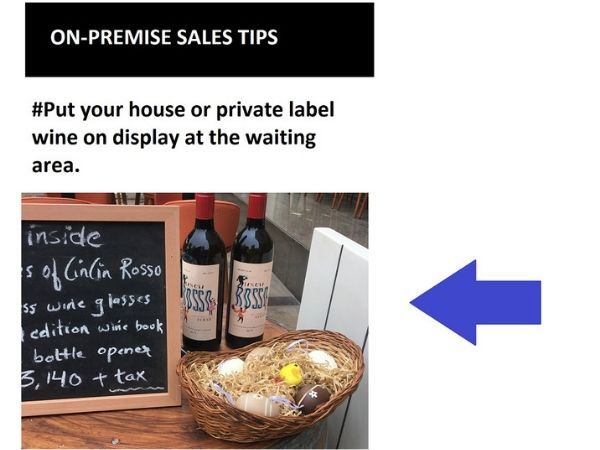 4. Keep a check on depletion reports
Try to make sure you ask the restaurant for your depletion report. It's important for you to know the reports and how your wine is selling.
So for example, if your wine isn't selling as much, try to offer programmes such as in-store tastings or a lower price where they can sell your product successfully and increase their sales as well.
5. Distribute in branded restaurants
Get a branded restaurant to help out in building your credibility.
"So when I sold my wine, I had sold it to Cipriani Wallstreet, which is one of the best restaurants in New York - where the average bill is about $300 per table for two. The reason I sold to them is because I wanted to build credibility for my wine and I wanted my sales reps to use this in their pitch that yes, New York Cipriani Wall Street stocks my wine" said Sid
You can have one of the famous steakhouses pour your value wine so that you can build credibility and even the smaller restaurants will seek your wine as well, considering that it's also stocked by some of the most credible brands out there.
6. Approach famous restaurants
Once you have a good rapport and reputation within branded restaurants and you have a good number to add to your portfolio, approach famous restaurants and pitch your wine to them. You can leverage the placement of your wine in branded restaurants in your presentation, and you can also offer good promotional programmes like mentioned above to make your pitch more valuable.
Pro Tip: When you're pitching to restaurants, show them your portfolio of the branded and famous restaurants that hold your wine. Don't tell them stories about your wine or winemaker - but tell them more about which other restaurants are selling your wine. Also make sure that the restaurant next to the one you're pitching isn't selling your wine - as all restaurants want a unique offering for their customers in their area.
---
---
7. Build national accounts
Have your office/winery work from both ends. Yes you have to reach out to small and medium restaurants by pitching your product from door-to-door, but at the same time you can have your office generate leads for you. National chains are also always easy to open and more effective to open from an office rather than knocking on doors.
8. National Distribution
If you have national accounts, then it's time to start national distribution. You can pitch to chains such as Olive Garden, or other Steakhouses. It's super important that after you build your brand regionally; you need to start finding distribution networks which are easy for the restaurant to grasp from.
9. Make sure wine experts know you
Sommeliers and wine directors have a lot of say in the industry, so make sure that they like your wine and are ready to back it. Industry experts are always helpful when it comes to spreading the word about a wine or even recommending your wine to a certain restaurant. If you can get one of the top sommeliers to recommend your wine to a restaurant, then you've hit a homerun.
10. Leverage wine tasting and training programmes
Make sure you get in touch with sommeliers and hold tastings and training programmes for them and their staff. This will give you a more personal relationship with them and they'll also see you genuinely caring to work towards increasing both theirs and your sales. If you keep a sommelier and their staff happy, and you have a good quality wine that offers good value, then you're good to go.
"By following these 10 tips, I increased my wine sales from 0 to 2 million in approximately four years and built a viable on-premise presence for my brand" concluded Sid Patel.
Get your wines in front of Sommeliers, Wine Directors and On-Premise Buyers of USA. Here's How To Enter your wines.