7 Tips for Wine Marketing in Restaurants

22/07/2019 Marketing wines in restaurants is not just about marketing the wine. Here is how you can enhance the whole experience.
Marketing wines in restaurants is about more than just marketing the wine, it's also about marketing the overall wine experience. It could be all about giving customers a relaxing and luxurious way to enjoy wines. Or it could be about creating a real winery vibe in your restaurant that encourages guests to try and sample different wines.
With that in mind, here are 7 tips for wine marketing in restaurants.
1. Tailor your wine marketing to your clientele
For some restaurants, the core clientele might be obvious. For example, if your restaurant specializes in steaks and chops, then it's obvious that your wine marketing should focus on big, bold reds such as Cabernet Sauvignon. But even here, there's room for a bit of creative thinking. For example, you might create an entirely new category for your wine menu that calls attention to "Steakhouse Reds" (or any other similar name that you might settle on). The idea here is to make it very easy for guests to find what they are looking for – big, bold reds that they can pair with a hearty steak.
But what if your core clientele is not so obvious? Here is where all of your marketing data can pay big dividends. By analyzing your most popular dishes, you can start to recognize the types of wines that customers might appreciate. For example, if guests are ordering a lot of pasta dishes, you could come up with wine marketing promotions for Tuscan wines designed to pair well with these dishes.
2. Create wine tasting Happy Hours
One way to showcase your restaurant's by the glass (BTG) wine selection is by designing Happy Hour events based around wine tasting. You might want to keep your Friday after-work crowd happy by keeping your traditional Happy Hour. But mid-week, you could certainly find one night that could be dedicated to trying out new wines on your BTG wine list. To sweeten the pot even more, you might offer reduced prices on wines that might not be as recognizable or familiar to customers.
3. Include wine in your VIP loyalty programs
For most restaurants, food is the centerpiece of any VIP loyalty program. As well as it should be. But there's still room to include wine in your VIP loyalty programs. You can reward customers not just when they've dined at your establishment a fixed number of times, but also when they have ordered a bottle of wine. Or, you could just as easily create a special food-and-wine pairing option on your main menu each week and give out loyalty points to customers who choose that option when they order.
4. Host seasonal tasting parties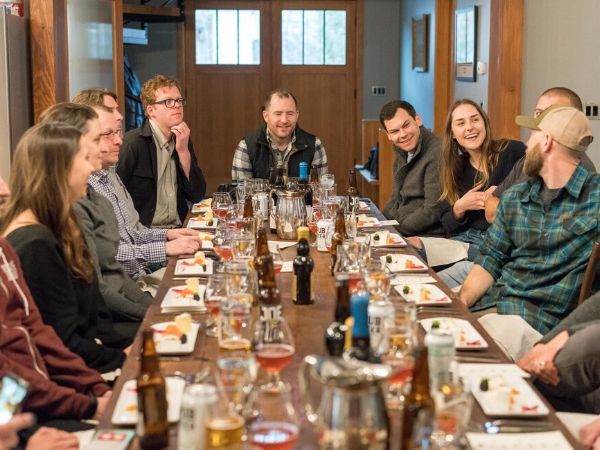 Customers, too, can play a role in helping you choose the best wines for your wine list. So why not host seasonal tasting parties, where customers can purchase wines to a VIP tasting event? There, they would be able to taste the various wines that you are thinking of including in your next wine rotation. There are several advantages to this approach. You are getting the direct, first-hand opinions of your best customers, thereby ensuring that your future wine list is going to be very engaging and attractive. And, secondly, you are helping to establish the overall branding and reputation of your restaurant as one that is very wine-friendly.
5. Partner with local wineries and winemakers
Most likely, you've already noticed a trend toward restaurant customers looking for dishes made with local ingredients, and sourced from local farmers and ranchers. So one way to piggyback on this "buy local" trend is by embracing local wineries and winemakers as part of your restaurant's wine program. The easiest option is to host a winemaker's dinner in your private dining room. Guests who purchase tickets to the event will have a chance to have food and wine pairings expertly curated by a local winemaker. An added bonus here is that featuring the wines of local wineries on your wine menu can help to provide a point of competitive differentiation in the marketplace. If you're based in, say, Texas, the ability to offer wine from the Texas Hill Country is one great way to differentiate your restaurant from all the others offering the same wines from Napa, Sonoma and Oregon.
6. Make wine education a cornerstone of your customer service
One subtle way to market wine in your restaurant is by investing in the education of your staff. If your service staff is knowledgeable about wine, it will go a long way toward selling more wine. In terms of organizing your training, you can focus on where the wines come from, different types of terroir and how they impact the expression of wine, and the types of grapes used to make certain wines.
7. Use wine flights as a way to introduce guests to your wines
Some restaurateurs liken wine flights to "appetizers." Having a chance to sample different bottles of wine, side-by-side, is a great way for customers to see the full range of wines on your wine list. And, of course, it also increases the probability that they will splurge on an expensive bottle of wine sometime in the near future. To make wine flights as attractive as possible for guests, you can include extras like cheese plates and antipasto.
For restaurants, there are a number of well-recognized ways to offer wine flights. For example, one classic wine flight would include a mix of oaked and unoaked Chardonnay wines. Others might include a mix of New World and Old World expressions of a certain grape, such as French Malbec and Argentina Malbec. You could also do a sampling of Bordeaux blends from around the world or let customers compare Syrah vs. Shiraz, head-to-head.
Just remember – wine marketing in restaurants is all about creating the right types of wine experiences. Many restaurant patrons may order the same wine, over and over again, simply because they have not had opportunities to try and experiment with other wines. So think in terms of fun, interesting experiences that will encourage restaurant guests to explore the full range of wines on your wine menu.
Get your wines in front of Sommeliers, Wine Directors and On-Premise Buyers of USA. Here's How To Enter your wines.