A Peek Into Friday Meetings at the Distributors'

07/11/2019 Ever wondered how meetings are at your distributors'? Here's a peek into Friday meetings at a distributors' office.
You probably know about Friday meetings at the distributors' office. By know we mean, you've probably heard of them, haven't you? And let's be honest, you've also imagined how the Friday meetings at your distributors' go about. Let's make your job a little easier, shall we? We're here to give you a peek into what actually goes on in the Friday meetings held at the distributors'.
Editor of Sommeliers Choice Awards sat down with Sid Patel, CEO of Beverage Trade Network, and founder of Sommeliers Choice Awards. Sid has been in the wine industry for 16 years and has delved into the nooks and crannies of both distributing and supplying himself. In conversation with our Editor, he dished out on what actually happens at Friday distributor meetings.
The day kicks off with admin work...
The team starts off the day by taking care of all the admin work that needs to be done. This includes calls, answering emails, making reports, and taking care of other administrative things around the office. Sales reps also catch up with their accounts, collect paychecks from clients, or dropping missing cases, doing merchandising, and coming into the office for the Friday meetings that take place.
Jumping to the meeting…
The idea behind Friday meetings is for the owner to meet with the sales reps and catch up with what's been happening throughout the week. It's also when they sit and discuss issues in the operations and logistics sector, if any - and sort them out.
So once all the admin work is taken care of, the owner pops into the office and takes a review of what has happened throughout the week. This usually includes the details and numbers on the wines sold, what they need to order more of, if there is anything they need to get rid of, any new accounts added in the portfolio, and an overall look at the distributors' portfolio just to check out what's happening.
Bottles pop open...
This is where the team sits and starts opening the bottles they have received to see if there is something that they would be interested in adding to their portfolio and to decide what they don't want in their portfolios.
It's one of the most crucial times during the day, as the team gets to taste and test all the wines that have been sent to them - and then make their decision on what they want, and what they don't.
As bottles pop open, the wines that are liked by the team are then selected for what you can call the 'second round'. This is where the team goes through their emails to find out more about the wine, including the price and technicals of the wine. Some wine brands and suppliers attach an evaluation form to their bottles. The evaluation form usually entails of:
Pricing

Business cards

Sample matching sheet

Tech sheet
While tasting the wine, the team goes through all the evaluation forms and emails and checks out what will work out for their portfolio and what won't. If there's something they like, then they'll put it aside to look over it in the end while making their final decision.
Decisions, decisions…
Once everything is tasted, and the team goes over the technicalities and emails, then they finally decide which wines to add to their portfolio and which wines to reject.
Distributors are usually looking for everything to be right in front of them. If you provide them with everything they need without them having to search for it, and they end up liking your wine - then you're definitely going to be a new addition to their portfolio.
"So a good idea for a supplier would be to add an evaluation form to their bottles, a printout of the email they've sent a thank you note to the distributor thanking them for considering your wine and all other information needed like point of sales, support programme and everything that the distributor might need" advises Sid Patel.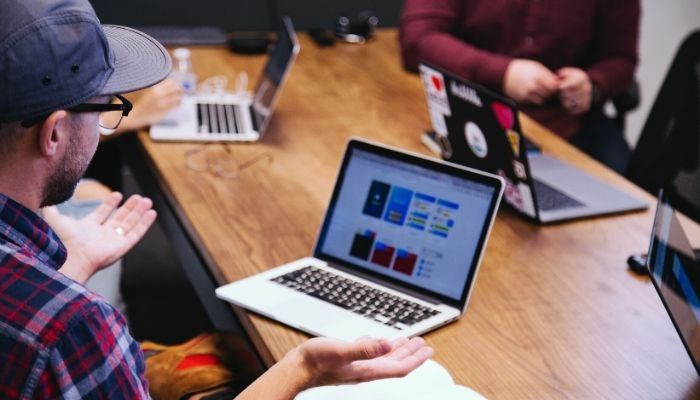 If you've added everything to your bottles that is needed for the distributor to pick your wine, and they don't need to look around much, and they actually like your wine, then you're definitely going to be an addition to their portfolio.
Walk to the warehouse…
Once all the tasting is done and decisions are made, then the team usually goes to the warehouse to just have final chats, and usually by 12pm on Fridays, it's all wrapped up.
Wrapping it up...
Post 12 pm, in the afternoon, the team usually does all the delivery work, point of sales, especially for restaurants as restaurants usually prefer their wines to come in on Fridays.
Friday evenings are usually for in-store tastings where the distributors' team and sales reps are out doing store tastings and checking out other accounts.
Advice for suppliers...
1. Even though it's already mentioned, we can't stress more on the fact that distributors appreciate everything to be in front of them. So include your evaluation form, your thank you note, your price list, idealist, marketing and merchandising list - and you're good to go. This will give the distributor a clear picture of your vision, and will only work in your favor.
2. Another tactic a supplier/wine brand can use is - offer the distributor a tasting with yourself. You can suggest that you would be open to coming down to their office while they are tasting your product and explain the wine to them in a better way, and give them a hands-on personal experience. This will show the distributor your vision, and seriousness, and will also give you an opportunity to make sure that your wine is tasted.
3. A good tactic for a wine brand/supplier is to send two emails to the distributor.
The first email should go out on Thursday. The email can go something like this:
​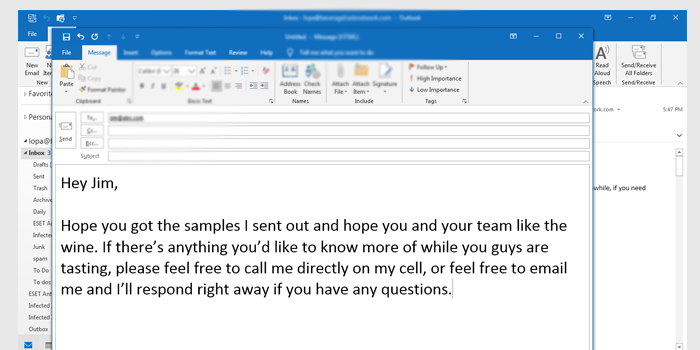 This will give the distributor a different outlook on you, and will seem more professional and they'll appreciate that you will be available for them while they're tasting your wine. This will be the last email that they'll see while they're tasting your wine.
The second email will be perfect on the following Monday or Tuesday. The email can go something like this:
​
This will make them realize that yes your product was there, and just in case they missed it on Friday - they will be inclined to pick it up as one of the first products to taste the next week.
2023 Submissions are closed. The Deadline for receiving samples in the warehouse is April 30, 2023.