Big Brands Have Their Eyes on Sommeliers' Choice Awards in 2023

03/02/2023 Why did big names in wine like Louis Latour, Vok Beverages, Pasqua, and Masi have wines that enter the Sommeliers' Choice Awards?
Why did big names in wine like Louis Latour, Vok Beverages, Pasqua, and Masi have wines that enter the Sommeliers' Choice Awards in 2022? Because selling to the on-trade matters in terms of enhanced successful marketing and sales, there exists no better showcase for their wines in the US market. The 2023 competition is building greater brand awareness after the successes of last year.
The Sommeliers Choice Awards' emphasis on the on-trade and sommeliers is important for big wine brands because it provides them with a targeted audience of highly influential professionals in the wine industry. This audience made up of sommeliers, wine buyers, and other wine experts play a significant role in shaping the preferences and perceptions of consumers in the market. By participating in and winning awards at the Sommeliers Choice Awards, big wine brands have the opportunity to gain recognition and exposure among this influential group. This recognition and exposure can lead to increased sales and marketing success, as sommeliers and other wine experts may choose to feature these brands in their wine lists or recommend them to their customers, resulting in greater brand exposure and sales opportunities. Additionally, the awards can serve as a validation of the quality and value of the brands, which can help to increase consumer trust and confidence in the brand, leading to greater sales and marketing success.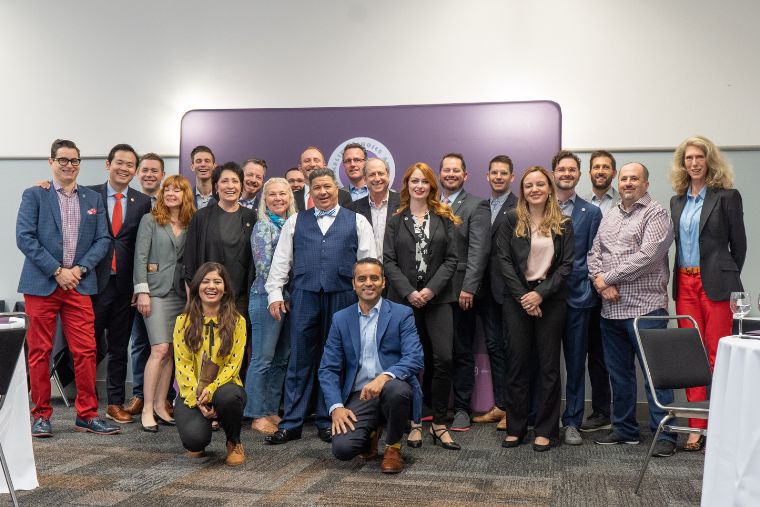 Judges are Master Sommeliers, Top Wine Directors, and Sommeliers.
The Sommeliers Choice Awards provides wine producers and merchants the opportunity to increase their sales within the US wine market by reaching a new audience of on-premise buyers, consultants, and sommeliers. Winning a Sommeliers Choice Award is a mark of excellence that is recognized across the wine industry and provides a stamp of approval to the consumer. The judging panel of the awards consists of top sommeliers, on-premise wine buyers, and wine directors from U.S. restaurants, bars, pubs, and clubs. The awards provide a chance to receive feedback from these influential trade professionals and get in front of this hard-to-reach audience. The winners are fully supported by Beverage Trade Network in promoting their awards and receive benefits such as social media marketing support, promotional logos and stickers, press release mentions, and more.
Pasqua, for example, is an Italian winery known for producing high-quality, classic Venetian wines. The company was established in the 1930s in the Veneto region of Italy and has a long history of winemaking. Pasqua's portfolio includes a range of red, white, and sparkling wines made from local grape varieties such as Corvina, Rondinella, and Molinara. Pasqua's wines are characterized by their elegance, balance, and versatility, making them a popular choice among wine lovers and sommeliers alike.
Vok Beverages, for another example, is a fast-growing alcohol company in Australia, established in 2002 as a sister company to Bickford's Australia. They own a portfolio of brands across the wine, cider, spirits, and ready-to-drink beverages. Their key assets include the Step Rd Winery in Langhorne Creek, South Australia, the Beresford Estate and tasting room in McLaren Vale, and the Beenleigh Distillery in Queensland, the first registered rum distillery in Australia. The company has built a reputation for returning brands to growth and developing category-leading alcohol brands.
Louis Latour is a prestigious winery that has been producing high-quality wines for over 200 years. Pasqua is a leading producer of premium Prosecco and sparkling wines. Masi is a renowned winery that is known for producing some of the finest Amarone and Valpolicella wines in the world. Pinnacle Drinks is a leading producer of premium spirits and liquors, including gin, rum, and whiskey.
These brands have a strong following and are trusted by consumers for their commitment to quality and excellence. They have invested in their products and have established themselves as leaders in their respective categories. As a result, they have experienced great success and have become household names in the alcoholic beverage industry. But, despite the continued success, there's always a need for targeted marketing and publicity opportunities in the wine industry.
[[relatedPurchasesItems-41]]
There are several reasons why large wine brands should consider entering the Sommelier's Choice Awards in 2023:
1) Prestige and recognition: Winning or being recognized in a reputable competition such as the Sommelier's Choice Awards can bring prestige and credibility to a large brand, helping to build brand recognition and increase consumer confidence in its products.
2) Competitive Advantage: By participating in the competition, large brands can showcase their products and get feedback from industry professionals and experts, which can help them gain a competitive edge in the market.
3) Market Insights: By participating in the competition, large wine brands can gain valuable market insights and consumer feedback, which can help inform their product development and marketing strategies.
4) Networking Opportunities: The Sommelier's Choice Awards provides a platform for large wine brands to connect with other industry players and professionals, which can help them expand their network and grow their business.
Increased Sales: Being recognized in a competition such as the Sommelier's Choice Awards can result in increased sales for the large wine brand, as consumers are more likely to purchase products that have received awards and recognition.