Defining the Luxury Wine Category and Making It Work for You

09/09/2022 Luxury wine is a growing and profit-making category but remains hard to define. Understanding luxury wine and what's required for establishing successful sales and customer relations programs should be the goal of all fine dining sommeliers and independent wine merchants.
Luxury wine is, for both on- and off-trade, an important category to understand to enhance sales and profitability. Mark-ups on luxury wine are often phenomenal, though as we will see, markups that are too high turn off luxury wine consumers; customers must believe they are receiving good value even if the price tag is high. What counts as luxury wine may vary by context and salesmanship--that is, the all-important role of the knowledgeable intermediary, be that a sommelier, wine merchant, or an investment advisor--but what is at stake must be fine wine. This is defined by the Areni wine think tank as, "complex, balanced, with a potential to age – though highly drinkable at every stage of its development. It's a wine that provokes emotions and wonders in the one drinking it while reflecting the expression of truth intended by its maker. It is environmentally, socially, and financially sustainable."
[[relatedPurchasesItems-41]]
Most fine dining restaurants and independent wine merchants sell from the luxury wine category, though management decisions about the level and price range of a luxury program must be well thought out.
Luxury Wine´s Price
It is useful to categorize luxury wine into about three or four price points; this category excludes wines that are simply too commercial, too mass produced, and too cheap. Last year, Areni defined the three price categories as:
- Fine Wine 1st Tier – €30-150 ex-cellar per bottle
- Fine Wine 2nd Tier – €150-450 ex-cellar per bottle
- Fine Wine 3rd Tier – €450+ ex-cellar per bottle
Similarly, Master of Wine and business professor Liz Thach proposed segmenting the price continuum for luxury wine this way in 2017:
Affordable Luxury - $50 - $99
Luxury Wine - $100 - $499
Icon Wine - $500 - $999
Dream Wine - $1,000+
Using financial categories is useful because it relates to buying behaviors that can, first, guide your recommendations or upselling and, second, be tracked and analyzed. Ultimately, the consumer (rather than the winemaker or wine) is the focus. As Areni states, "it's consumers who will ultimately ensure the survival of Fine Wine."
Simply putting a high price tag on a wine is not going to catapult it into the realm of luxury wine, although some producers, merchants, and restaurant owners try.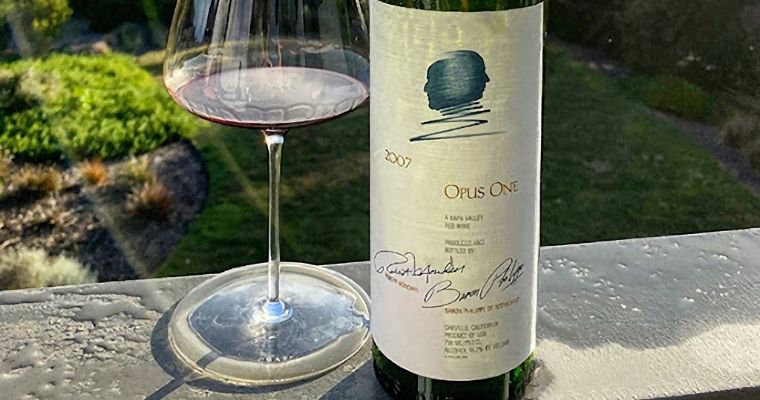 Source: Opus One
Beyond Price, What is the Definition of Luxury Wine?
Luxury wines must combine a high price with high quality but also scarcity, high aesthetics, symbolism, and an ability to lend the consumer a sense of privilege or nobility. Heritage, tradition, and renown enter the definition as well. This is hard to fabricate, although some wines immediately entered the luxury category when introduced. California´s Opus One is a good example. Even it relied on the renown and history of Robert Mondavi and Baron Philippe de Rothschild of Château Mouton Rothschild in Bordeaux. The advent of this winery joint venture in 1980 created big news in the industry and, at that time, de Rothschild's involvement added an air of respectability to the burgeoning Napa Valley wine region. Today, of course, many Napa wines are immediately recognized as part of the luxury category.
A family-owned wine giant, Gallo recognizes the importance of the luxury segment, especially in the first couple of price tiers. Just before the pandemic, Gallo reported spending over $1bn in five years on acquiring new wineries and brands, mostly to meet luxury market demand. These are marketed experientially. "Every time consumers have an opportunity to try our wines and connect with the stories of our wines, we see a marked increase in sales," remarked Gallo´s head of fine wine for EMEA. One example from the Gallo portfolio is Orin Swift wines of Napa Valley, which produces distinctive wines with unique names and terroir, each one telling a story, including with engaging labels. While Orin Swift and Opus wine represent distinct price points, they both belong to the luxury category.
Luxury Wine Means Storytelling and a Customer-centric Approach
Once we know that luxury wine must be hand-crafted, scarce, and relatively expensive, the true key to high-end sales is to put the client at the center of an experience with the wine that is memorable, prestige-building, and engaging. Luxury wines must also be sustainable, nature friendly, which goes hand-in-hand with the fact that luxury wine cannot be seen as mass-produced. Taken to its extreme, this has resulted in some "natural wines" being so highly allocated that they breach the luxury wine barrier in the gray market. But, again, the key is engaging the consumer and storytelling; but to tell stories about a wine, it must have a very concrete and authentic story to tell. Here, terroir becomes important, as luxury wines must express a sense of place, which is always part of the wine´s story.
Luxury marketing expert Daniel Langer once recounted his experiences at two high-end restaurants, one a disaster and the other a lesson in luxury wine sales. For the former, "everything was ruined when the wines came. Not one could convince, and the waiter seemed clueless about what he served," he noted. For the latter, "as I was escorted to my table, the waiter introduced himself, suggested the menu and told me why he would recommend doing the wine pairing. . . . Each dish was explained, every wine had a story, every presentation was ´wow´." His conclusion? "When someone chooses your product over all the others, the experience has to be unique, special and memorable along the entire journey."
If every luxury wine must have a story, sommeliers and wine merchants must know it and be able to recount it to accomplish a sale and build a longstanding relationship. This also requires assigning specific wines to specific consumer types, which is often based on price and ability to spend.
Source: 67 Pall Mall
In terms of on-trade, a recent trend for luxury wine is private clubs like Birleys Clubs and 67 Pall Mall. Restaurants and wine merchants, too, can adopt similar business strategies, whether it´s developing member´s only opportunities or ramping up the experiential nature of luxury wine service. The inspiration for 67 Pall Mall in London came directly from over-priced restaurant experiences for founder Grant Ashton, leading to the membership idea. 67 Pall Mall now has clubs around the globe, including Singapore, Verbier, and Beaune. Notably, 67 Pall Mall also has an online-only membership for those seeking wine experiences. The key selling points include a vast wine selection, including an astounding 800 by-the-glass offerings using Coravin; "sensible prices" based on a small cash mark-up, rather than a multiple of the cost price; a large sommelier team; and great cuisine designed for wine-friendliness.
This strategy also plays into another important aspect of the luxury wine definition: consumers willingness to rely on, and pay, for curated experiences and access to wines they might otherwise never encounter. Nothing else speaks more to the special role of knowledgeable sommeliers and independent wine merchants with trained staff. Consumers want to be guided and never led astray; fine wine lovers want to establish a long-term relationship with a trusted advisor. "They want to discuss it, they want to build a relationship with the wineries that produce, and they want to feel a part of the wine world, says Areni.
Birley´s experience shows that achieving this means working with suppliers, winemakers, and distributors to develop unique luxury wine offerings that evolve to include ever more spectacular experiences from exceptional producers of wines as well as spirits and even cigars or coffees. Luxury wine consumers want exclusive access into the fine wine world alongside unforgettable experiences, including meeting renowned wine personalities and attending world-class dinners, tastings and talks.
Wine Intelligence research recently showed that International fine wine consumers are a heterogenous group. What they all have in common, however, is that they take fine wine seriously and will be drawn to on- and off-trade locations that do as well. Almost all consumers surveyed in four urban markets worldwide expressed the belief that fine wine was for special occasions or to build business relationships. It is a product that they treat with great respect, however, although wealthy wine lovers appreciate luxury wine and want it to be part of their life, they do not want to pay more than they need to.