Get Your Hands On The Artisanal Limited Vintage Wines

05/07/2022 Wonder how wine can be produced in extreme conditions? Well, this New World region has some hidden treasures.
Known for the mass producing wines and family-owned vineyards, Chile has something unique to offer to the industry. Over the past few years, there has been a significant rise in wine exports and Chile is in the spotlight for producing sustainable wine following organic farming. The wine regions of this country can be divided into 5 parts; Atacama, Coquimbo, Aconcagua, Central Valley and Southern Chile, the Atacama in the northern part of the country has something hidden for wine lovers.
Atacama desert is one of the driest regions in the world, situated 22km from the Pacific Ocean coast and is over 350km north of Santiago. Chile being the 7th largest producer of wines has a large number of wines coming from this region and is one of the major wine regions in Chile. The Atacama is situated far in the north and is known for producing large quantities of table wines and the high-proof spirit- Pisco.
The Atacama situated at a high altitude faces extreme weather conditions with very dry and hot days, the Pacific Ocean is so close it damps the vineyards and helps in maintaining the temperature. Vineyards are situated in a thin strip and only limited water is accessible which is difficult to manage.
The soil here is saline, making irrigation difficult and manual irrigation causes salt buildup near the roots causing nutrient deficiencies leading to the death of the vine. As water has always been an issue, with the limited water supply from the deeper water channels, vine growers are careful with water management and water the plants after the sun goes down.
Salt is the problem, but also is an essential part of the region as it is the main factor providing the flavor to the grapes. Sauvignon blanc is said to have adapted to this region and is producing exceptional wine. The soil adds subtle minerality and salinity to the wines and serves a unique flavor.
[[relatedPurchasesItems-41]]
Extremely high temperature, cold nights, high altitude, and intense desert give the grapes a thick skin which eventually reflects in the wine giving strong and rich flavors. Chardonnay, Sauvignon blanc, Pinot Noir, and Syrah are some of the grapes that are grown, creating a unique style of wine with volcanic flavors and saltiness.
Inspired by the regions in Chile a project was started called Vina La Miranda now Ventisquero, is now producing wines in the Atacama region. Ventisquero is the 5th largest family-owned wine company in Chile started in 1998. The company has launched a new e-commerce website to attract American consumers and is currently supplying six wines in more than 35 US states. These affordable wines are coming to expand their business in America, importers should really look out for these wines.
They are producing small batches of wine and focusing on reflecting their terroir and origins. Though it is a young winery, the wines which they produce are high in quality and can be said to have a modern style. The winemaker and the team are still learning and trying to get the best fruit with environmentally friendly practices. This winery is committed to following sustainable ways and is producing wines with efficient use of the resources they have. One can find a range of wines from various noble grape varieties to premium level wines. If you want to taste some wine and you are in the US you should definitely try to get a taste of the volcanic soil. Want to get your hands on a bottle? Here are a few wines from the Atacama.
Ventisquero, Tara White 1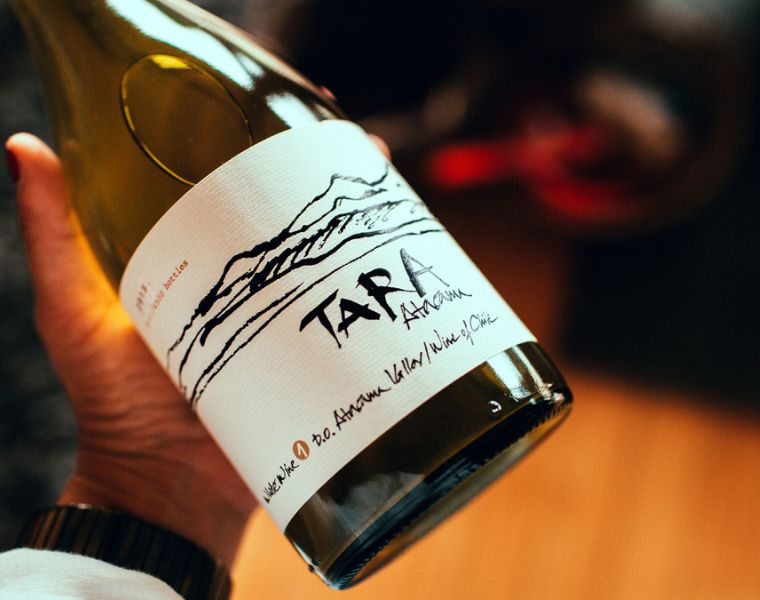 Image source: Ventisquero Tara White 1
From: Atacama, Chile
Grape variety: Chardonnay
Alcohol content: 13.1%
Viña Ventisquero is a large Chilean producer founded in 1998 by Gonzalo Vial and is one of the most popular wines from the Atacama desert. The grapes are foot crushed and aged for about 21 years in stainless steel barrels. The nose reveals the flavor of wet stones, chalk and stone fruits. The Chilean chardonnay tastes more like a Sauvignon blanc with more acidity and minerality, pairs well with seafood and white meat, preferably scallops and lobster.
Kalfu, Sumpai Sauvignon Blanc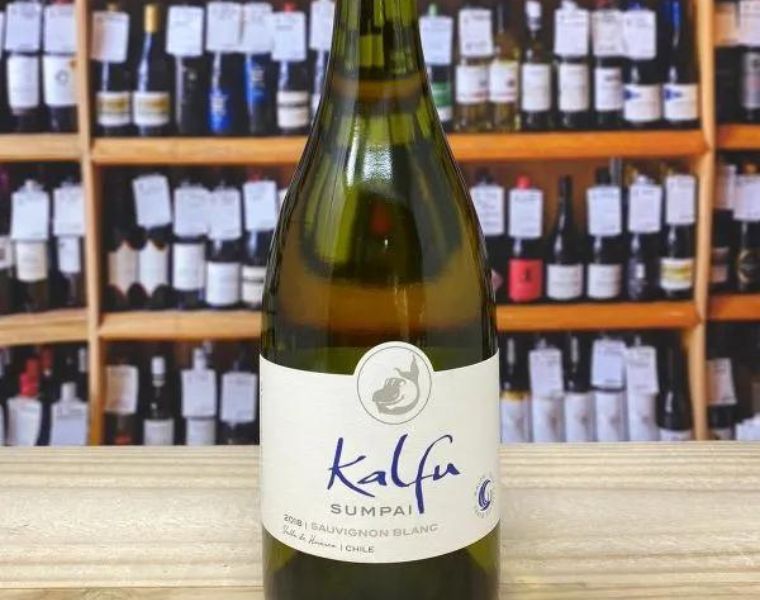 Image source: Kalfu Sumpai Sauvignon Blanc
Winery: Kalfu
From: Atacama, Chile
Grape variety: Sauvignon blanc
Alcohol content: 13%
Sumpai resembles mermaids and mermen with a mission to care for rivers, lakes and oceans. This underrated wine is pale green in colour with gentle notes of herbs and green chilli pepper with crisp acidity with a clean finish. Pair it with shellfish or goat cheese and you won't be disappointed.
Ventisquero, Tara Red 1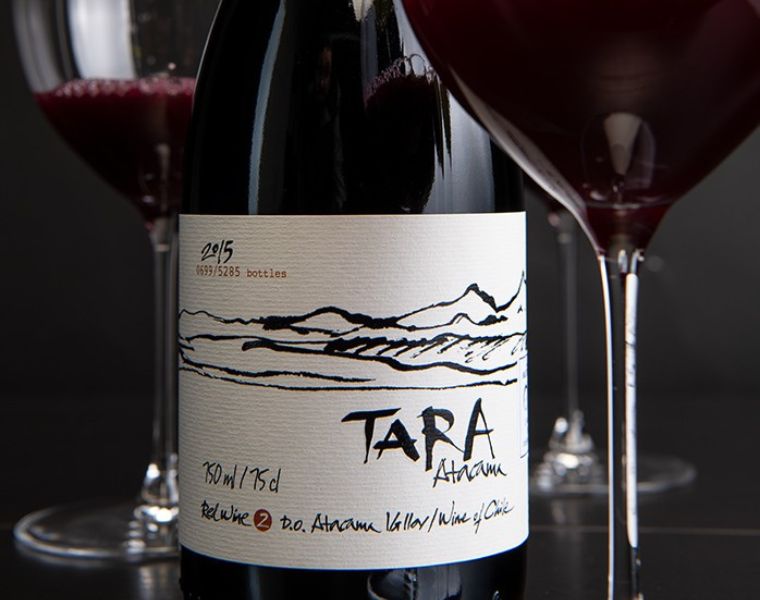 Image source:Ventisquero Tara Red
Winery: Ventisquero
From: Atacama, Chile
Grape variety: Pinot Noir
Alcohol content: 12.9%
Viña Vemtisquero is also one of the popular wines from the Atacama desert. The 2013 vintage is said to be one of the best ones to get hands on with vintage 2016 being the most popular of all. This wine is powerful with notes of earth, spices, and red fruits is a refreshing wine. This is a medium-bodied wine with high acidity to be enjoyed with roasted chicken and tomato based preparation.
Ventisquero, Tara Red 2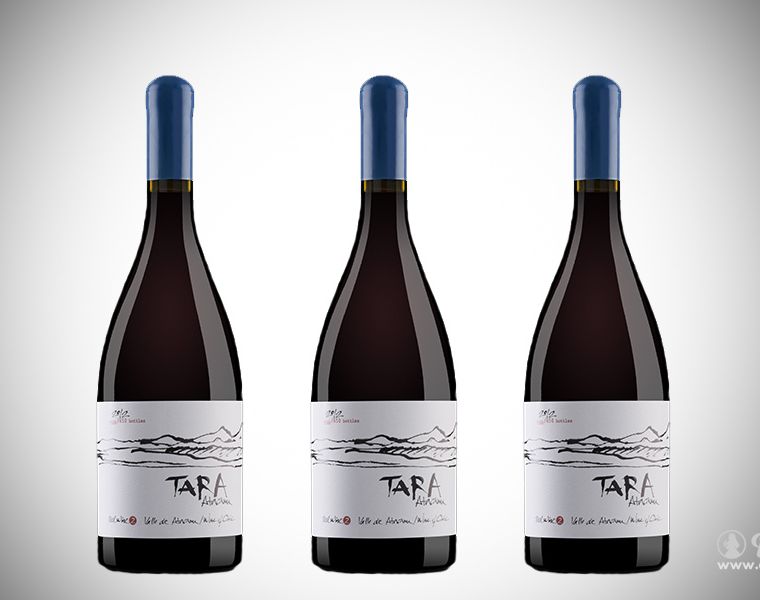 Image source: Ventisquero Tara Red
From: Atacama, Chile
Grape variety: Merlot-Syrah
Alcohol content: 13%
This wine by Viña Ventisquero is not yet known to the worlD. Very low volumes of vintages are produced by entirely artisanal processes. All the grapes are harvested by hand with no filtration. The 2016 vintage is one of the highest ratings with complex and dark fruit flavors. This wine is a bit savory with dark tannins and notes of blueberry, eucalyptus, and red current.
Article by Durvank Naik, Content Writer, Beverage Trade Network
Get your wines in front of Sommeliers, Wine Directors and On-Premise Buyers of USA. Here's How To Enter your wines.