Interesting Insights Into The Global Wine Market With Todd Azevedo

04/01/2022 From what's happening in the Global Wine Market to what's trending, Todd Azevedo, Wine & Grape Broker and Partner with Ciatti Company, shares some interesting insights.
With Covid-19 hitting the world, the wine industry has been impacted hugely. From the fluctuation in grape production to the logistics hassles, few countries suffered great losses while some tried to make the most of it. Todd Azevedo shares some refreshing observations about how the bulk wine industry performed and transformed over these past two years at the International Bulk Wine and Spirits Show 2021 in San Francisco.
Global Wine Market Situation During Covid-19
"A random year of shutdown, troublesome periods for a lot of people, and problematic times across the wine industry."
Overall 2019 showed a very static global wine market which was before Covid19 hit the world and caused shutdowns and closure all across. 2020 dawned upon us as a troublesome period for many, especially for the on-premise market.
A lot of pantry stocking and inventories being removed led to producers and stores incurring huge losses. California saw a challenging 2020 harvest, China's wine consumption went down by 17% as compared to 2019, and shipping and logistics were a major topic of concern. All in all, the consumption and plantations stayed static and the demand for white wines went higher and higher.
Finding the Sweet Spot in the Wine Industry
"The point where every extra cent you spend on a wine that goes directly into buying better fruit is called the Sweet Spot. It isn't easy to get to it but it's easy to hit the other end of it."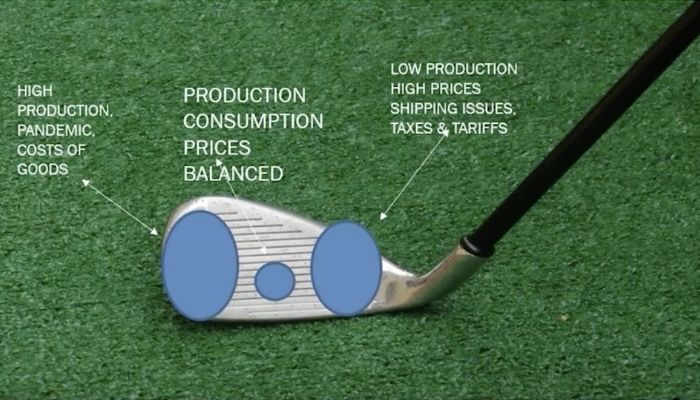 Sweet spots may not be the same for everyone. In terms of the bulk wine industry, it is finding the balance between Production, Consumption, and Price.
Current Wine Situation Across the World
Looking at the global production of grapes across the globe, we get an idea of the major grape producing countries that include France, Italy and Spain.
However, their 2020 harvest was majorly affected. Keeping certain factors in mind like Consumer Behaviors, Pricing, Production, Supply, and a few more, we discuss how the countries are performing Post-Pandemic and what kind of opportunities and risks are they facing.
1. Argentina
With a problematic government and a struggling economy, Argentina's wine market isn't performing too well at present.
Moving towards upward pricing, they have had advantageous pricing over the past few months. Sourcing grapes from Argentina seems like a good option when it comes to medium to high-tier Malbecs. Even after producing volumes of excellent Malbecs that are competitively priced, there is still confidence in Argentina at present.
Opportunities - Excellent quality Malbecs that are competitively priced
Risk - The harvest of 2021 and higher volumes of Reds being produced
2. Chile
Offering a good sourcing option for the supply of grapes, the UK has locked their supply for 2022 from Chile. On the pricing front, it is performing well but the Reds are in a limited supply. With the increasing demand for the grapes, the pricing is clearly seen to be going up for the 2022 harvest's bulk supply. The demand for Chile is high even amongst the Chinese.
Opportunities - Beginning of sourcing for the 2022 harvest
Risk - Weak evaluation of the Pesos. $1 = 800 Pesos
3. New Zealand
Sauvignon Blanc has always been the star grape in New Zealand and has been always focused on capturing the market. Producers from NZ are focusing on not losing their share of Sauv. Blanc across the world especially to Chile and South Africa. The Sauv. Blanc prices have gone up with a fear of shortage for NZ Sauv. Blanc. Overall, their bulk wine export volumes have gone up by 14% post-pandemic but are expected to fall due to the shortage of the 2021 crop.
Opportunities - New Sauvignon Blanc plantings
Risk - Higher pricing is expected for the 2022 product
4. Australia
Australia has been badly hit by the high import tariffs imposed by China which have led to low pricing of their wines. Prices in Australia are going through a downward spiral and producers are focusing on selling White wines in packages with Reds. With a 52% decline in the export volumes to China, there has been a muted demand for Reds along with low pricing.
Opportunities - Backing up the Red wine inventories
Risk - Package deals with Red wines
5. South Africa
"South Africa has been the recent darling of buying when it comes to generic white wines"
With the right pricing strategy for their generic white varieties Chenin Blanc and Colombard, South Africa is producing some of the varietal whites that are perfecting fitting in the marketplace. They have been hit hard by Covid but a lot of movement of their bulk wine has taken place. They have their shippings and logistics figured out and offer very advantageous pricing for their varietal wines. Their premium Sauvignon Blanc has been considered a good replacement for the NZ Sauvignon Blanc.
Opportunities - Lower exchange rate
Risk - Cyberattacks, Covid restrictions, and Disruptions
6. Italy
Prosecco sales have taken full advantage of the affected wine market, due to Covid in Italy, with an increase by 24% between the January and August of 2021. The Prosecco DOC appellation has expanded immensely in 2021 along with a 20% increase in grape prices, especially for Prosecco, Primitivo, and Pinot Grigio. Italy has been able to transition well according to what their consumer wants.
Opportunities - good varietals and wines along with high-quality organic wines.
Risk - Limitations on Prosecco and price increase due to shortage of crop
7. France
Badly affected by Covid, France's viticulture got hit and went down by 50%. France had to fill the gaps by sourcing from other countries especially Spain and Italy which would not only lead to their prices going up domestically but globally as well. The demand and prices for Chardonnay and other pronounced varietals go up.
The prices for Reds would see a hike along with an escalation for organic varietal wines.
Opportunities - A good mid-range varietal supply
Risk - Being down by 40% versus the average along with 50-70% down on the white varietals
8. Spain
Spain is a large grape-producing country and has competitive pricing as compared to the rest of the world. They do not specialize in varietals but generic wines and concentrates as well. Due to the harvest shortfall in the Northern Hemisphere, the 2021 Spanish vintage was priced quite high. Due to April's frost, the demand from France and Italy would increase.
Opportunities - Competitive prices
Risk - Drought, Trade tariffs, and Increase in global demand especially South Africa
9. California
The 2022 harvest is likely to be short by 4 million US tons and the pricing is expected to be steep. The white varietals will be challenged and demand a higher price. The domestic demand has been higher for the Central Valley grape along with an increase in demand for Wine Juice and Grape Concentrate. The rising cost for getting everything done including corks, bottling, boxing, etc. has been another pressure on the Bulk export pricing.
Opportunities - Coastal Programs
Risk - Shipping, Logistics, Labor and Costs
Short-Term Problems The Wine Industry is Facing
With so many obstacles caused by Covid, the bulk wine market has been facing numerous short-term problems. Some of the problems we will keep discussing over time are:
International Shipping and Logistics -
There has been a huge hassle during the Pandemic and is seen to be a continuous problem. Very few countries like South Africa have been able to tackle it. It has been hectic for Buyers and Sellers and has to be worked upon more strategically. Considering the double transit time, the Buyers are forced to anticipate more than the suppliers.
"Looking at shipping and logistics, This is going to be a problem in terms of delays and shortages. We might not be able to reach up to the level of pre-pandemic fleets until 2027-2028."
California Labor and Raising Cost -
Another point of concern for the US is the increasing cost of labor in California and the rising cost of goods.
White Wine Outpacing Red Wine Demand -
With an increase in the white varietals in California as well as other countries, the demand for White wines has outpaced the demand for Reds.
Global Politics and Trade Disputes -
With China imposing higher import tariffs on Australian wine, global politics and trade disputes have become a major topic of concern and can have a huge impact on demand and sales.
Wine Consumers (US) - 2019 vs 2020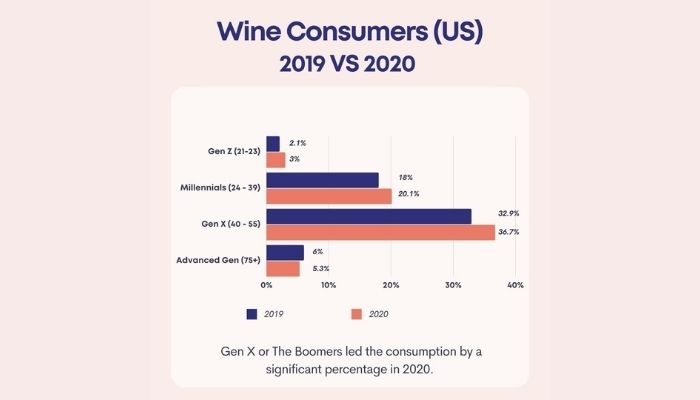 "As you get older, you tend to drink more wine. You enjoy the product, the story behind it, and pop open a bottle on most occasions."
Article by Shreya Kohli, Beverage Trade Network