Investment In Wine: Now A Serious Business

08/09/2022 Investment in wine gave better returns than Gold and Crude oil in the past two years and no wonder why people are switching to it.
Investment in fine wine can be lucrative as well as rewarding. Over the years, the demand for fine wine has increased immensely and so has the investment in it. It has potential future growth and at the same time is a tangible asset. The world of wine investment is huge and there are a large number of wine experts who can help you in understanding it better. Having outperformed most of the global equities and exchange-traded funds, wine has proved to be a less volatile investment than real estate and gold.
Fine Wine Investment - What is it and How does it work?
The investment in wine is solely built on one underlying principle. The quality and scarcity of fine wine appreciates over time and so does its value. A profitable alternative investment option where you buy wine that is scarce, age-worthy, and has been well awarded by wine critics, store it and let its value increase with them and then finally sell it at a profit.
In some cases, you might not be physically possessing the wine but have your money invested in it and you can have them professionally stored in specialized facilities over the years. Having delivered 13.6% annualized returns over the past 15 years, the fine wine investment market has enormously transformed and is set to outperform in the future too.
When it comes to investing in wines, it is not just about purchasing an expensive bottle, storing it in your cellar and waiting for its value to increase over the year but a lot more. It is about building a portfolio of wines that have the potential to gain value over time, investing in a well built cellar with the right temperature to store your wines or investing in a professional cellar service which can store your wine for you and finally keeping a track of the increase or decrease in the value of wines or hiring a wine expert who can manage your wine investment portfolio for you.
[[relatedPurchasesItems-41]]
The Current Boom in Fine Wine Investment
According to Liv-Ex, which is a global marketplace for fine wine, the two-year return of 25.68% for fine wine has beaten the return from gold and crude oil. Fine wine prices are majorly dictated by the supply and demand and for the investors the supply is extremely limited due to fine wine being an artisanal product made in miniscule quantities. The fine wine market has flourished successfully in the past two years with significant realizations.
- The top 100 fine wines have gone up in price over the past two years in individual transactions.
- Top wines from Burgundy and Champagne have increased in value more than the index.
- Overall, the Bordeaux trade has fallen but the First Growths (Haut-Brion, Lafite Rothschild, Mouton Rothschild, Latour and Margaux) remain the strongest sellers in the secondary market. A market where investors buy and sell wines they already own.
- Burgundy has become the driving force in the secondary market.
- Buyers are focusing on fine wines from the US, the Rhône Valley, Northern Italy and some of the top brands from Chile.
- Investment in Champagne became more popular in the US due to the Former US President abolishing the import tariffs on it as compared to the 25% hike that most French wines had to go through.
- Asia has become a more "Buy-to-drink" market while the US and UK has more buyers that prefer buying a case and putting it aside to resell later.
Future of Fine Wine Investment
The future of fine wine investment looks quite bright for many investors, with the abolishment of the US tariffs on European wine imports, the US buyers are set to invest heavily in wines and the demand for regions like Bordeaux and Burgundy has already increased which was seen to be low in 2020. A large number of companies like Cult Wines and Vinovest are helping people to effortlessly invest in wine at a price as little as £10. With rare bottles being consumed more and more, the remaining bottles have gotten a great boost in value. Apart from that, the demand is on the rise in new markets like Asia, Latin America, Africa, and many more that are developing a taste for fine wines.
NFTs and Fine Wine
The wine business has already entered the NFT race and it is fascinating to see how it is being put into use. NFTs can be a big help in combating the frauds in the sale of wines where the NFT could operate as a type of kite mark which could help in proving that something is what it claims to be. To understand how NFTs can be linked with your fine wine investments, here are a few examples:
- Flavien Darius Pommier's vineyard in Bordeaux sold digital images of wine bottles for £300 and upwards, with plans to offer NFTs that would be linked to each vintage
- Bitwine, unique digital wine NFTs designed by an accredited sommelier, created pixel art based around a wide range of celebrated, rare, and iconic wines that are sold on a rolling basis in drops of 50.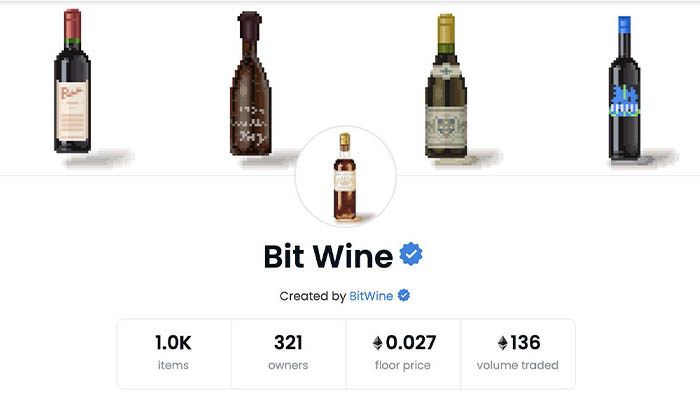 - An NFT guaranteeing ownership of a barrel of Angélus 2020 was sold by Château Angélus alongside a 3D digital artwork of the bells used on its labels and packaging.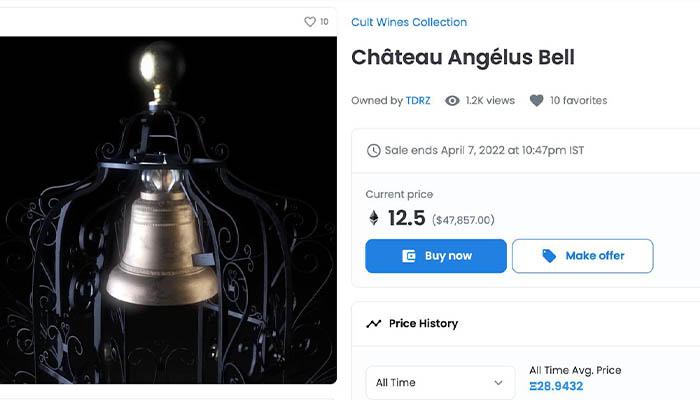 NFTs are set to make huge progress in the wine investment market as it goes beyond the artwork and wine provenance. It is meant to create an experience for the investor where the NFT owner can visit the vineyard and track the wine's progress from grape picking to tasting.
Crypto and Fine Wine
While Crypto grabbed a lot of headlines, the stability and intrinsic value of a physical asset in fine wine investment definitely stole the show. Although looking like an unlikely duo, the complementary dynamics of crypto and fine wine can turn out to be an unbeatable combo for your investment portfolio. Crypto being highly-volatile may make it difficult to build wealth through compound interest but if you add fine wine to your cryptocurrency portfolio, it may bring stability as wine has a third of the volatility of traditional equities. Thus, it stabilizes the volatility part of the investment.
When it comes to the regulations of Crypto and Fine Wine, crypto still lacks a large number of regulations which can lead to a threat of scams and manipulations. This allows crypto investors to fledge easily. However, there might be frauds that have taken place in fine wine investment when it comes to individual investors but there are several regulations and guarantees offered when you invest through big wine investment firms. Although cryptocurrencies have a lot going on for them, investments in fine wines have proved to offer better returns over the years.
Why You Should Invest in Fine Wine?
Fine wine has proved to be a successful investment due to its low-risk nature and is backed by a tangible asset. Once you invest in this market and keep your wines in optimum conditions they are set to offer you valuable returns. Being a tangible asset they have zero correlation with the stock market which makes it stable even during times of economic instability.
Header Image Source: Theinternationalman.com, Sotheby's Wine Auction