Opolo Vineyards Continues to Produce Ultra Premium Wines

The winemaking team at Opolo is continuing to focus on sustainability throughout estate vineyards while diligently caring for each lot from fermentation to barrel.
The winemaking team an Opolo is continuing to focus on sustainability throughout estate vineyards while diligently caring for each lot from fermentation to barrel. Their bold method of investing in vineyard practices, as well as the estate, has continued to flow into detailed winemaking– crafting elegant wines spanning across single and several varietals.
These efforts have recently been recognized with scores from leading wine experts:
Robert Parker's Wine Advocate:
2014 Cabernet Sauvignon, 91+ Points
2014 Reserve Rhapsody, 90 Points
Vinous:
2014 Cabernet Sauvignon, 90 Points
2014 Reserve Rhapsody, 90 points
Wine Enthusiast:
2016 Mountain Zinfandel, 93 Points
2015 Mountain Zinfandel, 92 Points
2015 Reserve Rhapsody, 93 Points, Cellar Selection
2016 Summit Creek Zinfandel, 92 Points, Editors' Choice
2014 Reserve Rhapsody, 91 Points
2014 Cabernet Sauvignon, 92 Points
Opolo's flagship wine, Mountain Zinfandel, is by far most recognized and beloved by wine club members. Consistent with the overall fruit forward palate, Winemakers Chris and James have expertly weaved juicy red fruit notes with rounded spicy layers and a complex finish with balanced tannins.
As Opolo has grown and refined its award-winning Zinfandel program throughout the years, they've also honed a passion for Cabernet Sauvignon and audacious Boudreaux blends. Evidenced by the evolution of their Reserve Rhapsody label, the decadent blend of Cabernet Sauvignon, Merlot and Malbec offers a fantastic opportunity for Opolo consumers to experience its bold dark fruit notes now and lay down to age for prime enjoyment of its balanced, full tannins.
ABOUT OPOLO:
Opolo Vineyards has a long-established reputation for growing and producing award-winning wines in Paso Robles, California. With nearly 300 acres of vines on the east and west side of Paso Robles, Opolo Vineyards is privy to a wide range in climate, soil and growing potential—allowing more than 32 varietals to flourish. This variety combined with the passion behind the brand has made Opolo a favorite of wine enthusiasts everywhere. Visit their estate vineyard on picturesque Vineyard Drive.
Read more at source: Wine Industry Advisor
About Sommeliers Choice Awards
The goal of the new Sommeliers Choice Awards is simple: to provide experienced on-premise buyers and sommeliers a valuable benchmark for understanding which wines would make a compelling addition to a wine list. As a result, the Sommeliers Choice Awards has the potential to become the most prestigious competition for wine lists in the USA.
Time To Submit Your Wines In The Sommeliers Choice Awards and Get In-front of Leading Sommeliers and On-Premise Wine Buyers Of USA.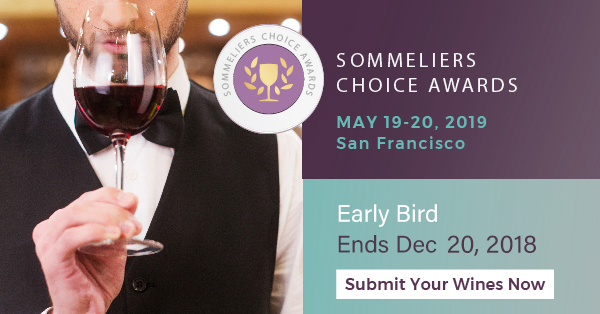 2023 Submissions are closed. The Deadline for receiving samples in the warehouse is April 30, 2023.