Secrets of On-Premise Wine Merchandising

17/09/2019 Sell more wines On-Premise by following these practical and easy-to-implement ideas
For any restaurant, wine sales represent a key part of the overall profitability mix. Being able to increase on-premise wine sales even incrementally can often be the difference between breaking even for the year and making a profit. For that reason, wine directors and restaurant owners are spending more time than ever before thinking of creative and innovative ways to merchandise and increase their on-premise wine presence. The following includes some of the practical and easy-to-implement approaches for selling more wine on-premise.
Re-think the wine menu
One starting point for thinking about on-premise wine merchandise is the wine menu. The goal of the wine menu should be to encourage customers to order as much wine as possible, and preferably, the higher-margin wines on your wine menu. As a result, you should be giving more thought to how the wines are listed and marketed directly within the wine menu.
There are many ways to deploy a little marketing know-how here. For example, do you have wines from local producers and local wineries on your wine menu? Then be sure to highlight them, either with a brief description or some form of visual imagery (such as an icon) that directs people's eyes to specific bottles on the menu. If you have best selling wines on your menu, then think about creative ways to merchandise them on your menu.
A simple note like, "A personal favorite of the sommelier," might go a long way towards encouraging more people to order specific wines off the menu.
And, of course, you should be taking into account the overall structure of the wine menu. If, for example, you find that patrons are only ordering wines from one section of the wine menu, it might be time to re-think how the wines are presented. For example, maybe you are currently listing wines according to geographic location, and patrons are naturally gravitating toward wine regions that they feel very comfortable with, such as Napa Valley or Sonoma. But you could just as easily structure the wine menu around grape varieties (i.e. grouping all of your Cabernets from around the world in one place) or around specific broad descriptive terms such as "bold and hearty" or "crisp" or "floral and fragrant."
Build out your BTG program
For most restaurants, wines sold by the glass usually represent more than 50 percent of all wine sold on-premise, and usually, closer to 75-80 percent. Therefore, some of your on-premise wine merchandising needs to be applied to your by-the-glass (BTG) program.
For example, you could use your BTG program to encourage customers to learn more about different grape varieties and wine regions. Until relatively recently, there were obvious physical constraints on how much wine could be offered by the glass, mostly due to the challenges of waste on unfinished bottles. But new wine preservation technology now makes it possible to keep a bottle of wine fresh even after it has been opened.
One innovative way to highlight the breadth and range of your BTG program is by offering wine flights that are organized around themes. One popular wine flight theme, for example, is the "Wine Passport," in which patrons are invited to travel around the world by sampling wines from North America, South America, Europe, and Australia. You could just as easily offer "Cabs Around the World" or an "Old World vs. New World" wine flight that enables patrons to compare and contrast the same wine as it is made in Bordeaux and Napa (or Burgundy and Willamette Valley).
Emphasize unique wine and food pairings via co-merchandising
Many restaurant customers appreciate a little help in finding the right food-wine pairing. Some of them might not want to ask the server or sommelier, and may simply default to their standard wine selection. That's why some restaurants specifically list pairing suggestions for all of their most popular dishes right there on the menu. Even if the patron decides on ordering a different wine than the one suggested, it helps to encourage a customer to try a more expensive wine offering.
One type of wine merchandising is known as "food and wine co-merchandising," and it is when restaurant owners merchandise both at the same time. For example, consider a "specials" chalkboard in the dining room, where a list of the food specials of the day can be combined with a mention of something along the lines of "the wine of the month. Usually, in any food and wine co-merchandising, the food takes priority, not the wine.
Another way to co-merchandise is by literally setting up a table or shelf where non-perishable foods are sold. These non-perishables are typically wine-related foods, such as cheese, crackers, nuts, and jarred spreads. If state regulations prohibit you from selling wine directly next to these foods, you can always sell wine-related items, such as stemware, corkscrews, and bottle openers. Think about the typical experience of walking into a Starbucks coffee shop – before you even get to the counter to order a drink from the barista, you are presented a shelf of Starbucks-related items available for sale (teas, coffees, coffee grinders, etc.).
You can also use this table or shelf to highlight and visually display gift baskets involving wine. If it is the busy holiday season, for example, you might have gift baskets pre-packaged and ready to go. Again, if state regulations permit, you can include a bottle of wine with the gift basket, making the perfect gift.
Sid Patel, CEO of Beverage Trade Network, organizers of Sommelier's Choice Awards shares 10 tips to grow your wine's on-premise presence. Check out his 10 tips HERE
Highlight a celebrity sommelier, mixologist or chef
In the social media era, we are now witnessing the rise of the "celebrity sommelier," and that provides a great opportunity for a restaurant to boost wine sales. It helps to create a culture of wine that restaurant customers can experience immediately. There are various ways to pull this off – one way could simply be to highlight a "wine cocktail of the month" on the wine menu if you have a great mixologist on staff. Or, you could provide "take homes" like small recipe cards with drink and/or food creation ideas.
In general, customers love to find out the "back story" of a restaurant and one way to do this is via social media. Instagram can be used to host live interviews, chats, or Q&A sessions with a sommelier. Twitter can be used to highlight new deals, promotions or bottle selections. On the back of menus or business cards, you can include information about the different social media platforms where people can connect with the chef, sommelier or mixologist.
Borrow tactics from the off-trade
One great way to come up with clever new on-premise merchandising ideas is simply by watching and learning how the best off-trade establishments use merchandising to maximize wine sales. For example, floor displays are often used to guide customers to specific wine selections; end caps are used to highlight one-time specials in a very visual way, and shelf-talkers are used to provide brief descriptions. Have you ever noticed, for example, how effective "staff suggestions" can be in guiding customers to a specific bottle of wine? So why not borrow some of these tactics for the on-trade?
Use stories to tell people about your wines
Stories are a remarkably effective way to create connections between restaurant patrons and wines. For example, once you know that a wine comes from a local husband-wife team that has been in the wine business for decades, doesn't that change the way you think about wine? For that reason, many restaurants provide the information and backgrounds for their staff members to tell little stories about the wines on the menu. Consider how a brief little story like, "This Spanish wine is from a seaside winery. It has some minerality from the sea air, and you will feel yourself transported to the Spanish coast when you drink it" can be a great marketing hook.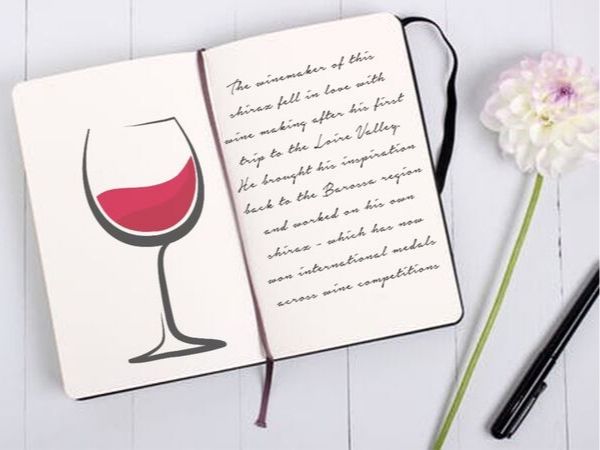 In general, there are four basic types of stories that you can tell: about geography, about the winemaker, about the grape or about the winemaking process. By far, the most popular stories for casual wine drinkers are about geography and the winemaker. Stories about people and unique geographic areas resonate very much with people.
Explore the sale of private label wines
Finally, one on-premise wine merchandising technique is to focus on private label wines that are exclusive to your restaurant. Some national chains now have a private label wine that has been specifically created with core customers in mind. For example, if you dine at the Asian cuisine chain P.F. Chang's, you will encounter the brand "&" that has been specifically made by Browne Family Vineyards in Washington State for the restaurant's signature dishes.
At one time, only the largest chains were able to create private label wine brands. But the globalization of the wine industry has now made it possible for just about any restaurant to offer its own unique private label. Since margins on private label wines are higher than on branded wines, this provides an immediate competitive advantage. Even if you are still selling the same amount of wine, you are still making more money, simply because the margins are higher.
As can be seen, there is a variety of on-premise wine merchandising techniques that can be used to boost the profile – and profitability – of your restaurant. With a little creativity and innovation, you can easily boost wine sales for your restaurant.
2021 Registration Are Now Closed.