Six Wine Resorts - United States For Summer Wine Vacation

10/03/2022 Are you looking for a wine vacation? We have got you covered, here's a list of perfect hideaway destinations with luxurious accommodation, amazing foods, and great wines.
Wine resorts are popular concepts in wine-growing regions, especially in Old World regions. With the increase in wine tourism, there are a lot of estates coming up with luxurious lodging and delivering everlasting experience through their wine activities. Ecotourism is a perfect way to experience the world of wine, living around the vineyards and wineries for people passionate about wines, and a great way to market and sell their products for the wineries. It's indeed a treat for wine connoisseurs to stay around vineyards allowing them to communicate with the winemakers and taste amazing wines in the estate itself. Today there are many wine-focused hotels and resorts located around lush green vineyards with unreal views and of course great wines. Experience the vineyard life and the diverse winemaking culture of the United States with some of the top-rated wine paradises that should be on your bucket list.
Solage Calistoga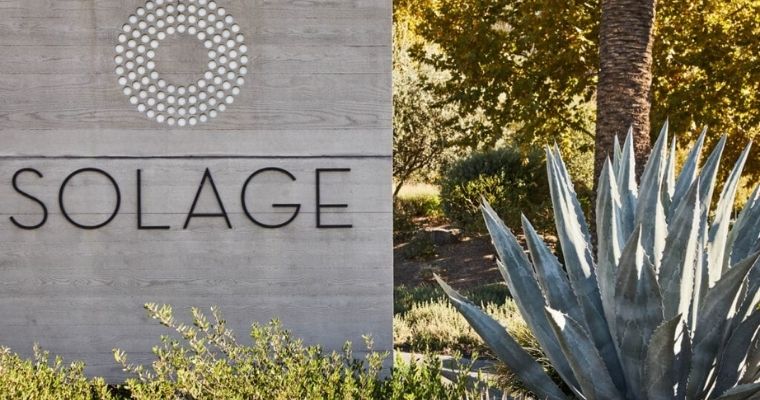 Source: Solage Resort
Wine Region - Napa Valley
Average price per night - $1200
Website - Auberge Beach Residences
Nearby wineries/vineyards - Chateau Montelena Winery, Gargiulo Vineyards, Romeo Vineyards & Cellars
Located just outside of downtown Calistoga, Solage is a paradise for wine travelers. This 25 acres resort has 100 spacious guest rooms, 6 meeting rooms with Italian linens, high ceilings, and complimentary bicycles to explore nearby vineyards. Solage is an Auberge Collection Resort that was created for area vintners and visitors to relax, connect and enjoy a glass of wine experiencing the beautiful weather of Napa Valley. The traditional architecture of Solage is created to portray the century-old tradition and culture of Calistoga. From tasting great wines to enjoy beautiful views of vineyards, Solage features many outdoor activities to make your stay adventurous. Apart from great wines and amazing vineyards activities, Solage is also known for its wellness programs, award-winning spas, and world-class restaurants.
Meadowood Estate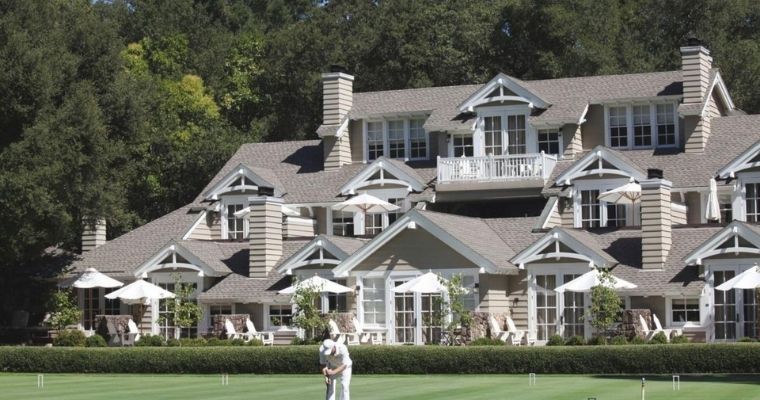 Source: Napa Valley Register
Wine Region - Napa Valley
Average price per night - $1,100
Website - Meadowood Napa Valley
Nearby wineries/vineyards - Merryvale Vineyards, V. Sattui Winery, Beringer Vineyards
Located in one of the most recognized wine regions of the world, Meadowood Estate provides an everlasting experience for Napa Valley visitors. This 250 acres wine estate is deeply rooted in the history, tradition, and heritage of the rich winemaking culture of Napa Valley. With 36 spacious lodge-style rooms having their own balconies, a cafe featuring a bar and lounge, three outdoor swimming pools, and a wine center, Meadowood is a perfect place to appreciate and learn about wines. The Wine Center presents a unique atmosphere to understand Napa's terroir and learn about different wine regions around the world with fine wine educators delivering various courses and sharing their experience. The venue offers a diverse gastronomic experience honoring the area's remarkable agricultural heritage and wine.
The Farmhouse Inn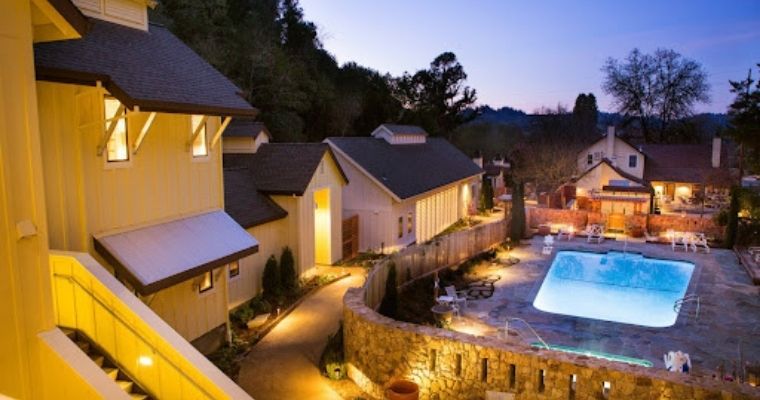 Source: Farmhouse Inn
Wine Region - Russian River Valley
Average price per night - $1,000
Website - Farmhouse Inn
Nearby wineries/vineyards - Alexander Valley, Sonoma Coast, Benovia Winery
Situated in the world-famous wine region in Sonoma County, Farmhouse Inn has its history dating back to more than a hundred years. It is currently owned by the fifth generation owners, brother and sister team, Joe and Catherine Bartolomei, who are continuously involved in delivering an amazing experience to the visitors. The property describes the authenticity of Sonoma life and is keeping the tradition alive. Farmhouse Inn has spacious, elegant guest rooms with European linens and vaulted ceilings reflecting the old-school living style of Sonoma. To explore the internationally recognized wineries of Sonoma County, they have a Winery Partner Program, launched in 2010 to provide an excellent experience of wine travel to the in-house guests. Explore the Russian River Valley with natural luxury and a full-service Michelin starred restaurant serving food from farm to table with elegant wines from neighboring vineyards.
Château Chantal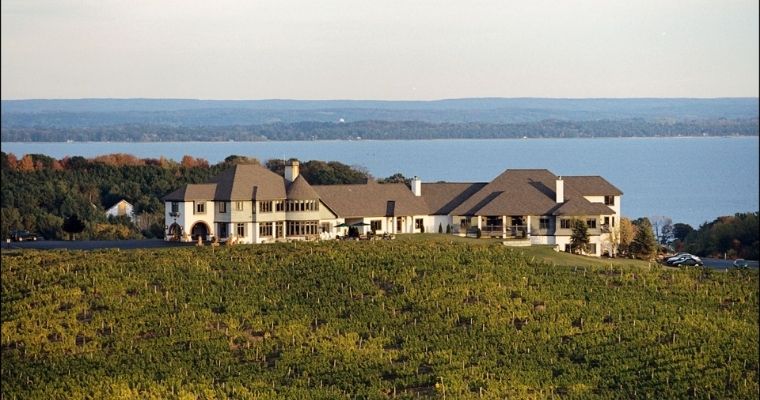 Source: Château Chantal
Wine Region - Old Mission Peninsula
Average price per night - $650
Website - Chateau Chantal
Nearby wineries/vineyards - Bowers Harbor Vineyards, 2 Lads Winery, Tabone Vineyards
Château Chantal is a vineyard and winery with luxurious lodging located on the Old Mission Peninsula in the north of Traverse City, Michigan. Sitting on the top of the peninsula, all suites and rooms have incredible views of both east and west Grand Traverse Bays, rolling vineyards, and winding roads from each window. This 65 acres estate offers exceptional hospitality, the finest gastronomy, and great handcrafted wines. Chantal is an official AVA that focuses on Michigan wines and produces wines from native and some hybrid grape varieties. This chateau comes with exclusive 12 guest rooms and a 2,000 sq. ft. Hospitality Room for events and meetings. If you are looking for exquisite wine dinners and breathtaking views, this could be your exclusive live-out for your vacation.
Château Élan Winery & Resort
Source: Chateau Elan
Wine Region - Braselton, Georgia
Average price per night - $400
Website - Château Élan
Nearby wineries/vineyards - Cloudland Vineyards & Winery, Sweet Acre Farms Winery
Famous for its 16th-century French-style chateau, Château Élan is inspired by the architecture of Provence, showcasing the interior of a traditional French estate. This 3500 acres property is located in the rolling hills of North Georgia, featuring multiple restaurants, a golf and tennis club, a wedding pavilion, a full-service spa, a culinary studio, and much more. It is one of the most awarded wine resorts with spacious and elegantly furnished guest rooms, a modern bathroom, and luxurious villas complemented with the lush view of rolling vineyards surrounding the resort. The resort is a premium dining destination with some of the best restaurants and bars, offering different cuisines from around the world. Chateau Elan produces more than 30 wines and is open daily for guided tours and tastings. If you are looking for an all-packed wine resort don't forget to add Chateau Elan to your list.
Belhurst Castle and Winery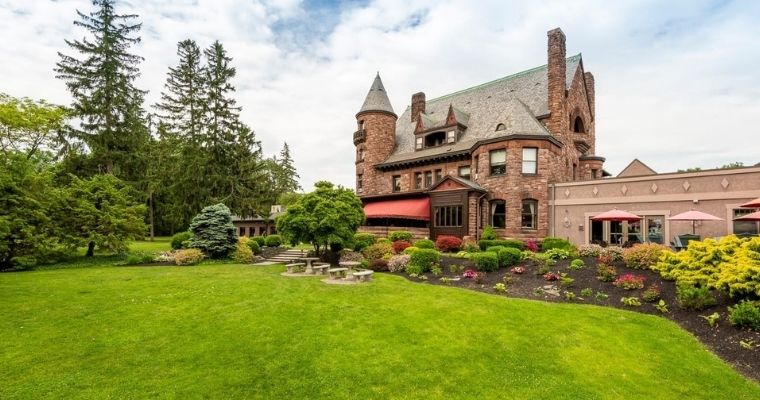 Source: Belhurst
Wine Region - The Finger Lakes, New York
Average price per night - $330
Website - Belhurst
Nearby wineries/vineyards - Ravines Wine Cellars, Ventosa Vineyards, White Springs Winery
Sits on the shore of Seneca Lake, the historic castle Belhurst is the beautiful resort and winery in the heart of the Finger Lakes wine region. Founded in 1885 with a history dating back to 1738, the property has a depth of history and a lot to explore. It has three diverse hotels - Chamber in the Castle, Vinifera Inn, and White Springs Manor with two restaurants, a full-service spa, and wine & craft beer tasting room, all offering a unique experience and history. It has a huge space for weddings and meetings with 4,400 sq. ft. Castle Ballroom and stunning views. Their uniquely designed tasting room serves award-winning Belhurst Estate Wines with a wide range of varietals, Mabel's Oat Soda Co. craft beers, and hard cider with a relaxing atmosphere and scenic view of Seneca Lake. This property is a perfect balance of wine and leisure and should be on your next wine trip list.
[[relatedPurchasesItems-41]]
Header image source: Chateau Elan Winery
Article By Tushar Anand, Junior Writer, Beverage Trade Network
Get your wines in front of Sommeliers, Wine Directors and On-Premise Buyers of USA. Here's How To Enter your wines.