Small Wine Retailers That Are Doing Great Online Marketing In USA

02/07/2020 Digital Marketing is not an easy task, but these wine retailers seem to have a good hold on it. See what they're up to!
Wine shop Instagram is harder than it looks. Too often, there are too many bottle shots under fluorescent lights, too little personality, or a feed that is too focused on sales. We sought out wine shop accounts that stand apart, excelling at visual engagement and storytelling—here's who to follow, and how they plan and execute their social strategy.
Domaine LA
The Instagram feed for Domaine LA radiates fun. Jill Bernheimer, the shop's owner and a former film producer, posts marvelously zany photos and videos from the shop, which has a strong selection of natural and small-production wines.Instead of staid bottle shots, there are photos and videos of the staff singing, acting, and even using an upside-down 3-liter bottle as a "peg leg."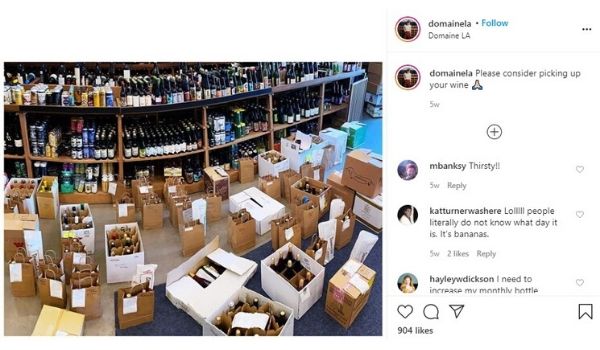 Kermit Lynch Wine Merchant
Kermit Lynch Wine Merchant is a wine store in Berkeley, California.On the Kermit Lynch Instagram account, engagement is much greater than on Facebook or Twitter. "It's simple," says Terry. "There isn't as much clutter yet as on Facebook and Twitter, and we've found that people don't just like looking at the pictures we post—they're willing to read the text we write too."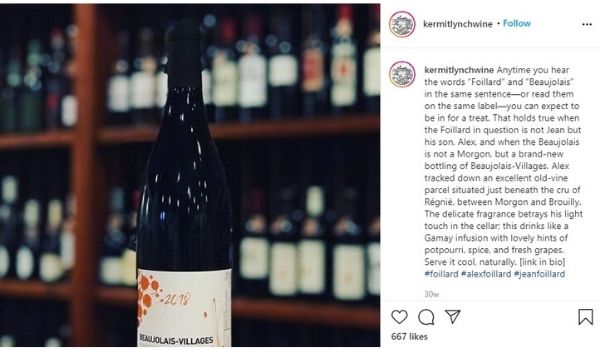 Kingston Wine Co.
Michael and Theresa Drapkin decamped from New York City to Kingston, New York, a town of 20,000 on the Hudson River near the Catskills. Michael had experience in the wine world, doing stints in retail and at a winery in France; Theresa had a design background. They opened a wine shop, with a focus on natural wines and small producers, on the ground floor of a three-story brick building.Kingston Wine Co. has demonstrated that a small shop in an out-of-the-way location can have an outsized presence online. Their Instagram posts are sharp, often an "action shot" depicting a solitary and buttoned-up Michael pouring wine into a glass.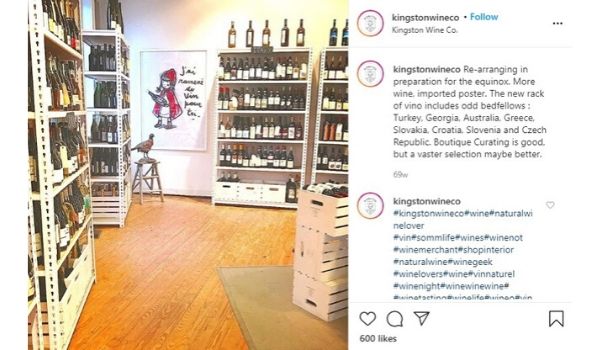 Le Dû's Wines
Le Dû's Wines, in a wine shop located in Greenwich Village.In the shop, Le Dû hung a large photo of Bob Dylan in which Dylan is tossing back wine right out of the bottle. Le Dû's signature Instagram post consisted of visiting winemakers standing in front of the photo, slamming wine in a pose he called tasting Dylan style. Not the most flattering shot, to be sure, but it captured the fun, playful side of Le Dû and his shop.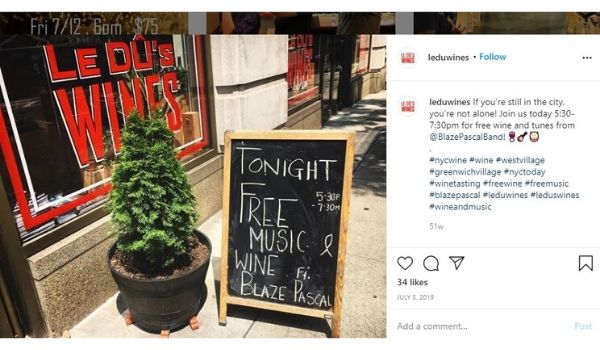 Verve Wine
In the world of wine shop Instagram feeds, Verve Wine is distinctive. The shop, which has had a Tribeca location since 2016, has just opened a new one in San Francisco. The account's "visual tasting notes" are elegant portrayals of a wine's flavors. Dustin Wilson, a Master Sommelier and partner in Verve Wine, describes the creative process: "I put in the tasting notes, and then the woman we work with, Ilyne Wong, gets the ingredients and any other props and we shoot."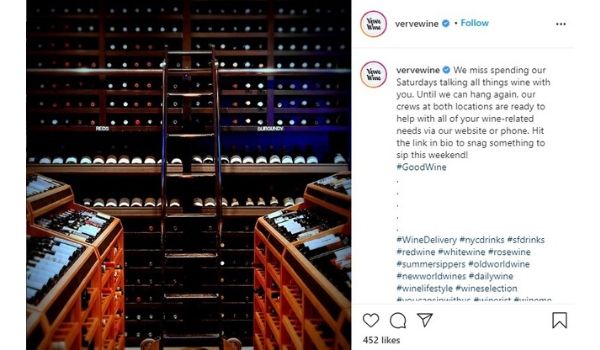 The Royce
Equal parts bottle shop, wine bar, and gastropub, The Royce takes advantage of Michigan laws that allow wine sales for both on- and off-premise consumption. While this kind of bottle shop is nothing new for those familiar with buying wine in London or Parisian caves à manger, it's relatively rare here.Instagram feed has a selection of around 500 bottles that focuses on small-batch producers practicing organic, biodynamic, and low- intervention winemaking. An extra hat tip goes to the shop's industrial art deco design with exposed bricks.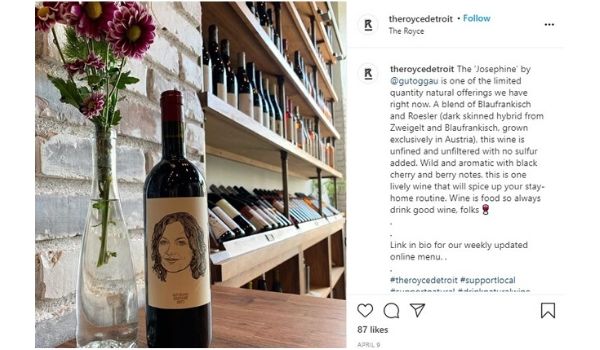 Henry & Son
Gretchen Skedsvold and Mark Henry faced the same problem many do when moving from metropoles like NYC to a smaller city. Namely: Where to buy the hard-to-find bottles they previously had on their doorstep when living in Brooklyn. So they founded Henry & Son. The Shop's instagram feed is a selection that mixes traditional bottles from established regions with weird, obscure, and wonderful wines.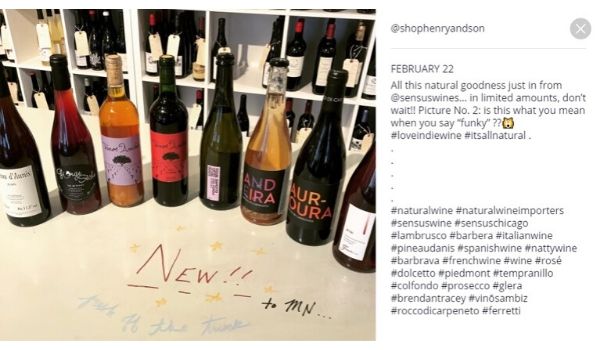 Bay Grape
Those familiar with Oakland's Bay Grape use one word to describe the wine store: community. Run by husband and wife team Josiah Baldivino and Stevie Stacionis, the shop' instagram features a communal table where bottles bought in-store can be shared for a $5 corkage fee while enjoying snacks and small plates from local producers.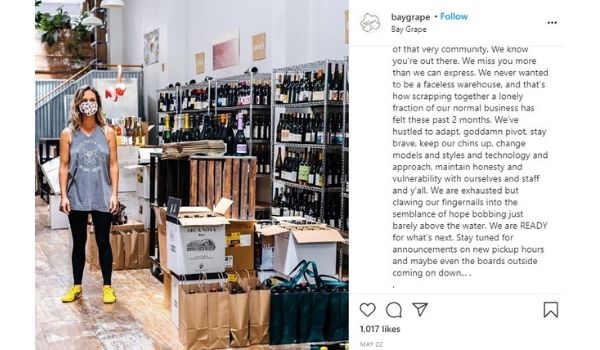 Bacchanal
Bacchanal combines New Orleans' two favorite pastimes: drinking and live jazz. Like other shops instagram featured on this list, guests can drink bottles on site or take them to go. Bacchanal's selection focuses on Old World, terroir-driven wines from smaller producers. Live jazz echoes around the shop's courtyard seven nights a week, while the kitchen turns out Mediterranean-style dishes including whole grilled fish and sardine escabeche.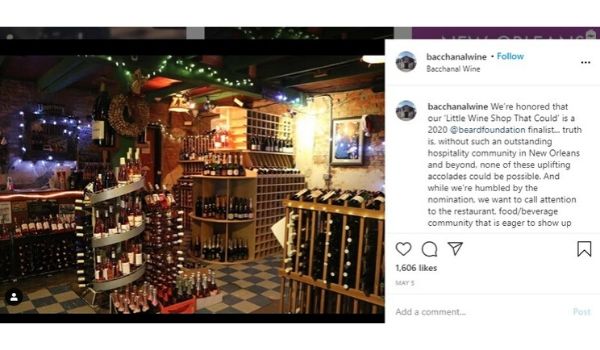 Graft Wine Shop
Another retail shop-wine bar hybrid, Graft opened to much fanfare in spring 2018. Owners Femi Oyediran and Miles White share a love of music, and nearly two decades worth of wine industry experience. Graft insta feed feels like drinking at home with friends, with funk, hip-hop, and Latin jazz driving the ambiance. There's no pretension here, just a great place to buy (or sip) great wine, meet new people, and learn about fermented grape juice to the sound of softly crackling vinyl.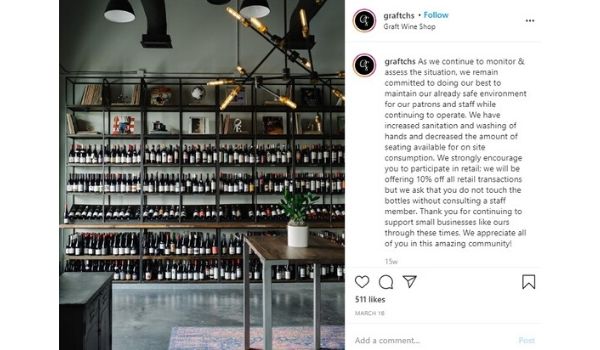 2021 Registration Are Now Closed.