Sommelier Insights: New York reopens

20/04/2021 Alexis Percival is beverage director at Kindred and Ruffian, two of New York's best wine bars. How has reopening gone for her?
"I've had so many customers say, 'I'm so happy to see you, I'm so glad you guys are still here.' The last few weeks have been joyful"

- Alexis Percival
New York City is starting to wake up. After a year like no other, the throbbing heart of American hospitality is beginning to pump again, with restaurants and bars opening up and customers flocking back. It's a return to normality, although, of course, much has changed - from the outdoor shelters that are now a feature of New York bars and restaurants, to the thousands of New Yorkers who've left the city, perhaps never to return.
This, then, is a unique moment for those who work in New York hospitality - people like Alexis Percival, beverage director at a pair of the city's most highly-regarded wine bars, Kindred and Ruffian, both in the East Village. How has the process of reopening gone for these much-loved venues, where low-intervention wines accompany distinctive and delicious small plates? We spoke to Alexis to find out.
What's the situation with Kindred and Ruffian at the moment? Are they both just open outdoors?
"That's correct. New York is at 50% indoor capacity right now, but Ruffian's space is very narrow. It's the narrowest space imaginable! While we could separate people throughout the bar, the staff still works directly behind the bar, so they'd be face-to-face with customers. And on top of that, you have to squeeze past people in order to use the restroom. We will start indoor again, but until we think the general population is safer and more comfortable, we're going to hold off for the moment. And actually, we have more seats outside than we have inside.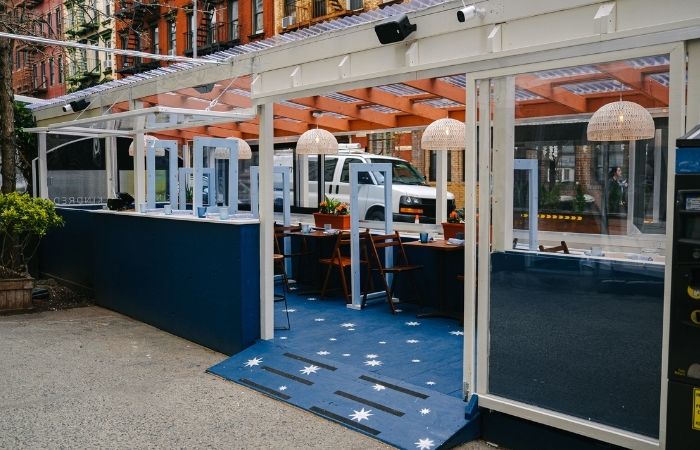 Kindred Wine Bar exterior, Image credit: Alexis Percival
"Kindred is larger and is more of a restaurant format. But the few seats that we would gain inside don't really mean a whole heck of a lot versus all the seating we have outside."
How keen have your customers been to return?
"We've been really fortunate. The outpouring of support has been huge! One of the changes that we made over the last year is that we started using Resy; we never took reservations before at Ruffian. And that's been able to help us track the interest because we can actually see the metrics rather than just using our point of sale. We've been really busy. Kindred opened this past Wednesday, and we were really full all four days."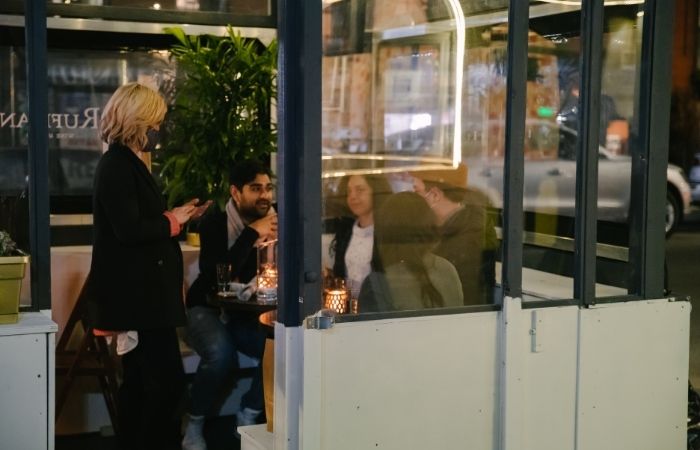 Group of people enjoying Ruffian wine bar's outdoor hospitality, Image Credit: Alexis Percival
In terms of customer behavior, have you noticed any difference to sort of pre-pandemic? How are people behaving at the moment?
"It's been a bit of a roller coaster. We reopened both restaurants over the summer, and people were really excited - then gradually as winter was approaching, frankly, the general population just kind of got a little meaner. You could tell that people were exhausted.
"And I think [at that stage] it hadn't really been normalized, the mask-wearing and the social distancing. I think [customers] felt it was punitive rather than necessary, and it was really stressful for the employees. But this time around, I mean, I've had so many customers be like, 'I'm vaccinated. Are you vaccinated? Can I hug you? I'm so happy to see you. I'm so glad you guys are still here. We've already been to Ruffian and now we're so glad that Kindred's open.' So this past few weeks I've just been really joyful."
Is it the same sort of crowd that you've always had?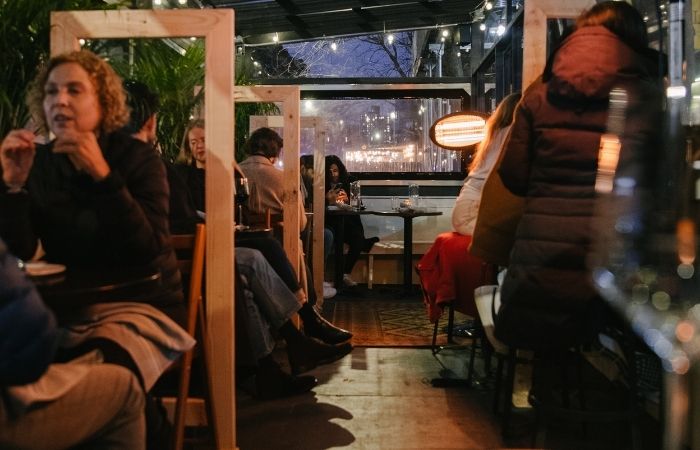 Kindred and Ruffian gets local support from loyal clientele, Image Credit: Alexis Percival
"Kindred and Ruffian are very much neighborhood and restaurant industry places. I've been looking around at who's seated and there's not ever really a seating where I don't know at least a couple of faces. We've got a lot of regulars, and people really showing up for us, knowing how their actions help keep us alive."
Has your wine list changed?
"Yeah, absolutely. So in the case of Ruffian we had over 300 SKUs at our tiny little restaurant, and over the past year we sold off our entire inventory through the wine shop. The liquor authority of New York allowed on-premise places to sell as if it was off-premise, and that allowed us to hit the reset button.
"Re-buying this time, we lowered the overall bottle price. Not that we ever had super-premium expensive bottles on our list, but you always have things that are pushing the ceiling up. So we really lowered it, we want bottles to move a little faster and not stick around as long.
"Kindred's been a real roller coaster too, because it was only open for five months before we closed last March. And when we reopened, we've really targeted lower price-point things. Also, Kindred is more focused around the Adriatic - and so it can be slightly more challenging to keep diversity of styles on the list, but having a pause allowed me to really target the things that we needed functionally on the list."
Have you noticed any themes in what guests are drinking? Is there anything that's been particularly popular since you've been reopened?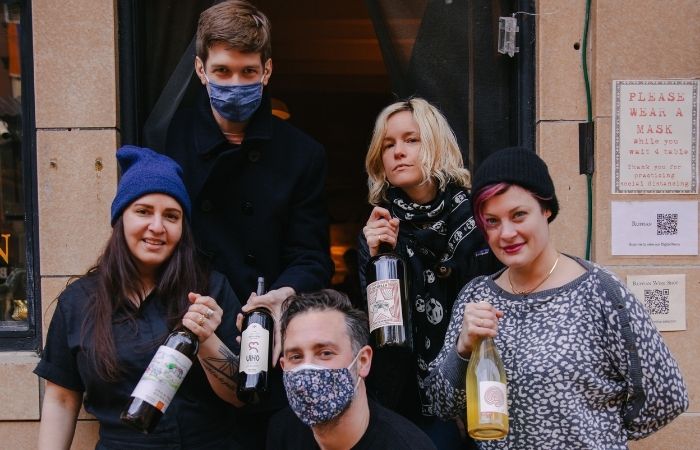 Wine bottles to-go at Kindred and Ruffian wine bars, Image Credit: Alexis Percival
"That hasn't changed a whole lot. We're known for low-intervention wines from interesting places; we do a lot of skin contact and amber wine sales. So that's still going strong - that interest is still there, that curiosity to try something new. In terms of price point, I honestly haven't noticed a decline in people's spending. If anything, I've noticed people willing to spend a little bit more, if they have it, to support us. There's a sense of like, 'Oh, to heck with it. If you say that that bottle is that much better, we'll spend the extra $20.'"
Are your customers being restrained or are they celebratory? What's the atmosphere in terms of people's levels of consumption?
"At both spots, check averages feel about the same. In bottle sale, it does feel a little bit more celebratory; people are splurging a little bit more. Now that being said, I obviously have no way to track the numbers of people who are not coming out because their finances are restrained. There's no way to really tell.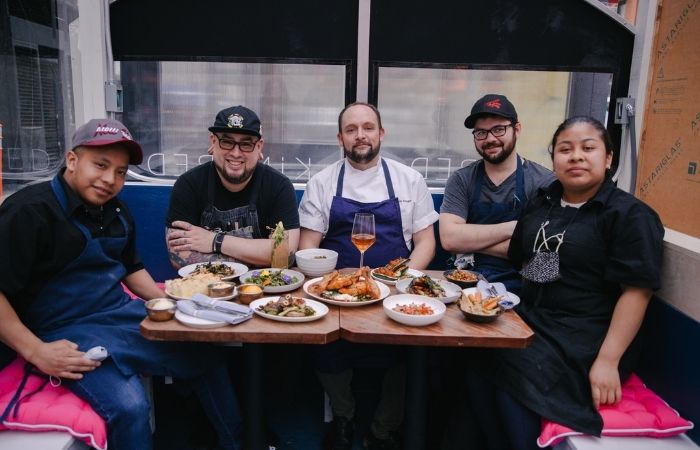 Kindred kitchen crew posing for a candid, Image Credit: Alexis Percival
"I'm sure there's a lot of people who have tightened their budgets. We've also been very mindful, particularly at Ruffian, about having attractive price points for the food and the beverage in order to give people a nice dining experience. We do a three-course tasting menu at Ruffian for just $35. We want people to be able to come out and enjoy themselves and not have it be this whole to-do."
Does the fact that all the wine is being drunk outside affect what type of wines you serve?
"In New York City right now, outdoors is at cellar temperature. We have that going for us at the moment! We were all open summer through December at both spots. We were very mindful of that [element], though. All of our wines are stored cool so that they are coming out at the right temperature. And then we just kind of gauge it out on the patio.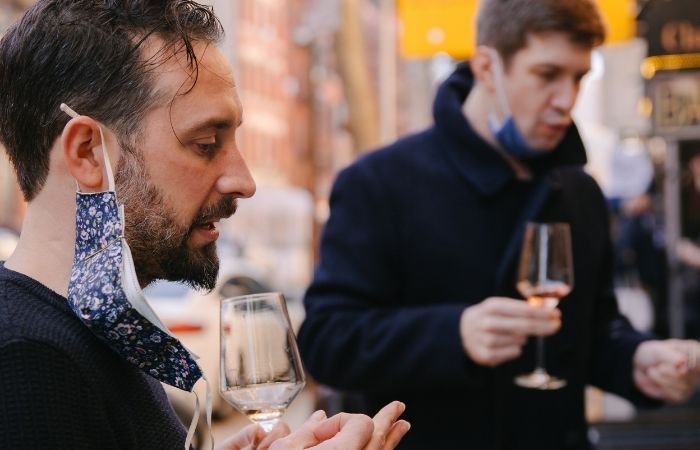 People drinking wine outdoors, Image Credit: Alexis Percival
"There is a trend towards people drinking their red wines on the cooler side. In the winter we were having a little bit of an issue with our bigger white wines being a little too chilly. But overall, I think we're doing a good job controlling it and just being mindful of that. I mean also, frankly, we serve a lot of pét-nat style wines, and so we're always mindful of that. Otherwise our wines explode all the time."
One of the most fascinating aspects of the Pandemic in New York are the shelters. Do you'll think they'll outlive this crisis?
"It's hard to get the genie back in the bottle, right? I think that a lot of the arguments that were made against cafe seating that prevented places from getting it, we're now seeing are not valid. Are there less parking spaces? Yes, there are. Is it harder for, let's say, trash collection to get in? Is it harder for deliveries? Of course it is. If you have multiple restaurants side by side, it becomes more difficult. But overall people really like it. It saved a lot of restaurants in the city and it's allowed people to be able to dine safely.
"We've rebuilt our structures multiple times at huge expense to us, and people don't realize this. It's not just the building of it: New York City's electrical infrastructure is overburdened and overtaxed. And so to bring power to these outdoor structures, to wire them for sound, for the heaters that take electricity, all these things are major investments. I would really hope that we're allowed to keep them. I understand that maybe they might have to put some restrictions or some planning or permitting in place, but I would really hope that they get to stick around."