Spain's Rapidly Transforming Sparkling Wine Scene

22/07/2022 A sea-change is occurring, allowing terroir-driven and expressive wines with full flavor profiles to now appear on the Spain wines market.
Have you seen what's happening with Spanish sparkling wines featuring an appellation on the label?
We survey what has happened and the brands to look for. No European country, and perhaps nowhere in the world, has such an exciting production of traditional method sparkling wine today as Spain. This goes well beyond Cava, though this well-known appellation too has taken huge strides in the past decade.
The Cava regulatory council, in cooperation with producers, has redefined wine quality in all regards and expanded its geographic area. The region of Penedes has entered the fray with the devotion to organic viticulture and the reserve aging of Clàssic Penedès. A new brand, Corpinnat, aims to distinguish itself from supermarket-level Cava. And now, Rioja, a bastion of superb red, white, and rose wine excellence, now has its own classification of quality rose and white sparklers, including single-vineyard Rioja sparkling wine. Single-vineyard espumosos (the Spanish term for sparkling wines), in fact, is a highlight of this new trend in all appellations.
So, here's an overview of each region and its wines, which should definitely be a part of any higher-end wine program.
D.O. Cava
The appellation is non-contiguous and covers five provinces of Spain, including Catalunya (its historic heartland), but also includes Extremadura, Valencia, La Rioja, Aragon, Navarra, and Pais Vasco. The vast majority (95%) of production remains in Penedes, Catalunya, bordered by France and the Mediterranean Sea. The three classic grape varieties are Parellada, Xarel-lo, and Macabeo (also known as Viura), but the D.O. also allows Malvasia and Chardonnay for white wines and Garnacha, Monastrell, Pinot Noir, and Trepat for roses. Trepat is one to keep an eye on, including for still wines. Roses require a minimum of 25% red varieties.
Cavas are now divided into two broad categories: Guarda and Guarda Superior, which you will begin to see on labels. Guarda is entry-level Cava and must be aged in a bottle on the lees for a minimum of nine months. The real innovation is occurring with Guarda Superior wines, which include the Reserva, Gran Reserva, and "Paraje Calificado" designations or quality levels.
Reserva wines must be bottle aged for 18 months (previously 15) and Gran Reservas for 30 months, and both must now be from certified organic cultivation. Gran Reservas can only be made as Brut Nature, Extra Brut, or Brut; the same is true for Paraje Calificado, which requires a minimum of 36 months in the bottle before release, though most of these complex wines see much longer periods.
In Spain, a "paraje" is a location, much like a "lieu-dit" in Bourgogne. These are specific, geographically-limited places with names, which are not villages. In most cases, we are talking about a specific vineyard. Right now, just 10 wines have achieved this status. Much higher quality standards attach to Paraje Calificado Cavas. Before gaining this accreditation, the vines must be at least 10 years old with production limited to 48 hectoliters per hectare, which corresponds to a yield of 8,000 kg of grapes per hectare or less. All bunches must be hand harvested and wines have to be produced and bottled on the winery site. The regulatory council and the winery assure complete traceability from the vineyard to the market for these single-vintage sparklers.
These express the finest work of Cava producers, with tertiary flavors similar to vintage Champagne. They typically age long beyond the required 36 months and feature aromatic complexity with very ripe white and yellow fruit, complemented by toasted nuts and dried apricots alongside notes of Mediterranean herbs, mushrooms, and truffles. "The mouthfeel is extremely creamy with a silky texture," assures the D.O., with tiny, vibrant, and completely integrated bubbles.
Examples include Cava de Paraje Calificado Can Sala and Pere Ventura Gran Vintage 2014.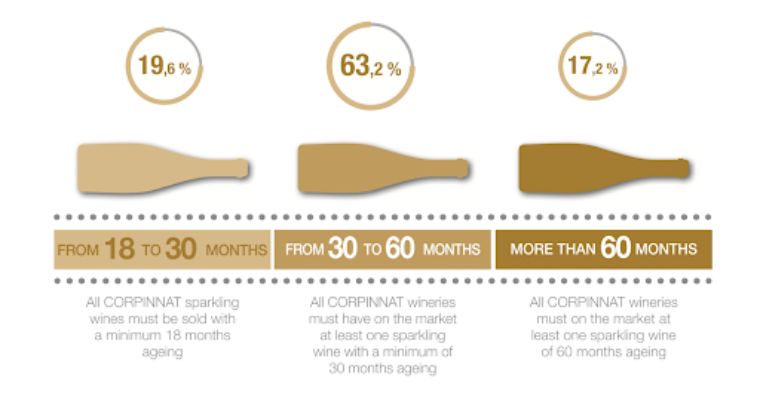 Corpinnat
This is a brand and "seal of excellence" for a group of wineries that left D.O. Cava a few years ago: Gramona, Llopart, Recaredo, Nadal, Torello, Can Feixes, Sabate I Coca, Julia Bernet, Mas Candi, Pardas, and Can Descregut. They all grow vines and wine in the historic center of Penedes wine production. The defined area is an area of roughly rectangular shape, defined by the Penedès pre-coastal depression and adjacent hills holding 997 square kilometers, including all or part of the following regions: Alt Penedès, Alt Camp, Baix Penedès, Garraf, Baix Llobregat and Anoia.
In a short time, largely due to the prestige of the member wineries and their quality standards, Corpinnat has become well known among fine wine connoisseurs in Europe. They export about 20% of their production. The association vouches: "80% of the sparkling wines reach the market with an aging process that is longer than 30 months and of which 17% are more than 60 months." All wineries must own their own vines or contracts with suppliers must be for a minimum of three years, with a competitive minimum price guaranteed. This is because of several recent occasions of strikes by grape growers over low prices. Their aging standards surpass those of Cava, with a minimum of 18 months for all wines; wineries must also offer one wine aged at least 30 months and another aged at least 60 months. With 604 hectares of proprietary vineyards and 228 hectares of third-party or leased vineyards, Corpinnat wineries have quickly become a force on the Spanish sparkling wine scene. Their departure was a harsh blow to D.O. Cava and has spurred many of the quality reforms the Cava regulatory council undertook.
Clàssic Penedès
Representing the sparkling wines of D.O. Penedes, this appellation became the first 100% organic in the world, and unlike D.O. Cava, all wines originate from within the region. They express a specific terroir and sense of place. They are all also Reserva quality, with a minimum required bottle aging of 15 months. There are currently 16 producers.
As with Corpinnat, but earlier, these wineries wanted to distinguish themselves in the higher-end market, including prominently on-premise sales, distancing themselves from lower-level (and inexpensive) Cavas. As wine expert Miquel Hudin put it in 2016: "the common association of the name [Cava] is more with cheap bubbly than craft wine." All winemakers must, by regulation, produce their own wine, a contrast from Cava giants Codorniu and Freixenet (though they also produce excellent Gran Reserva and Paraje Calificadawines). All Penedes sparkling wines must be vintage, with the disgorgement date on the label.
Examples include Can Morrall del Moli Classic Penedes Vinyet, with 24 months of bottle aging, and AT Roca Rosat Reserva 2019, made from 50% Macabeo and 50% Garnacha Negra.
DOCa Rioja
Until about 2020, any sparkling wine found in on-premise lists from the famed red wine region Rioja carried the Cava label. Now, because of regulatory changes in 2017, there are Espumosos de Calidad de Rioja, (or quality sparkling wines of Rioja). Like the other appellations mentioned here, these white or rosé wines are made using the traditional method only. The minimum aging period here is 15 months, with 24 months required for Reserva and 36 months for what the regulatory board calls Gran Añada, or Great Vintage. All sparklers must be approved by a third-party tasting panel controlled by the regulatory council. Only Brut, Extra Brut, and Brut Nature levels are allowed.
[[relatedPurchasesItems-41]]
Winemakers can use any of the grape varieties allowed in DOCa Rioja; for sparkling rosé wines, they must use at least 25% authorized red grapes, which of course includes Tempranillo and Garnacha. Other regulations to maintain high quality include hand harvesting and restrictions on yields.
As in Penedes, producers can choose to remain with D.O. Cava or put the new Espumosos de Calidad de Rioja label on their bottles. About six producers chose to make the switch, again motivated by the capacity to market higher-end wines, expressive of a specific terroir, known to carry extremely high standards for viticulture and winemaking. Having the Rioja name, famed around the world, can't hurt.
Overall, we're witnessing a huge quality explosion in Spanish sparkling wines motivated by winemakers desiring to produce excellent, complex, and long-aged wines that express a specific terroir. While Guarda-level Cavas will remain inexpensive and an excellent value, multiple examples now exist of sparklers that compete with fine Champagnes: Paraje Calificada, Classic Penedes, Corpinnat, and Espumosos de Calidad de Rioja. They should have a place on any fine-dining wine list.
Header Image: Penedes Vineyards