Spotlight: Emerging Wine Regions

26/10/2021 Colorado Autumn: It's All About the Wine Road Trip Experience some of the greatest wineries you've never heard of.
The signs of autumn are all around me, here in Colorado. Leaves have turned golden orange, red and yellow, and are playfully floating to the ground. Pre-dawn mornings have me searching for another blanket for warmth. My dog is frisky when we walk around the reservoir filled with maturing ducklings and goslings. The sunflower's blooms have faded and squirrel-nibbled apples are scattered across lawns. Harvest season is early in Colorado and farmers try to beat wildfires, drought, and frost before their crops are lost. Water is scarce in the West Elks and Grand Valley AVA's, and this year, even more so.
Harvest helpers are harder to find under C19 rules adding another layer of stress and another obstacle to overcome. Yet, Colorado wine country is receiving a lot of press. Just this month, Colorado wine country was featured in Food & Wine and Decanter magazines. In the past year, various Colorado wineries have been featured in the New York Times, Wall Street Journal, Vintner Project, Wine Enthusiast, Vinography, and Wine Spectator, just to name a few influential media outlets shining a light on Colorado's hidden gem. Great wine!
While the earliest recorded Colorado viticulture dates to 1883, it is 1890 when the first vineyard plantings of any scale were recorded, when the founder of Grand Junction planted 60 acres of grapes in the Grand Valley. They were a mix of wine grapes like Zinfandel and Muscat and "table" grapes like Thompson Seedless. By 1909 US Dept of Commerce reported around 1000 grape-producing farms in Colorado. Wine production came to a screeching halt when Colorado passed prohibition 4 years before (1916) the Volstead Act (18th Amendment ratified in 1919 and went into effect 1920).
While Prohibition was never intended to target the wine industry per se, the impact was perhaps most notable on that industry as many vineyards across the United States were ripped up and replanted to other crops. In Colorado, the Palisade peaches we enjoy today were perhaps the prime beneficiary.
As in much of the US, wine grape growing & winemaking remained relatively dormant in Colorado until the mid-late '60s. The first milestone for Colorado's modern wine industry came in 1968 when a Denver Periodontist name Gerald Ivancie established Ivancie Cellars in Denver. One interesting side note is that Ivancie hired the legendary Warren Winiarski (later founder of Stag's Leap Cellars and of "Judgement of Paris" fame) away from Robert Mondavi to consult on the startup.
While Ivancie and Winiarski imported California grapes, they were instrumental in sowing the seeds literally and figuratively for re-establishing vineyards in Colorado's Grand Valley by convincing some Grand Valley growers to convert land back to vitis vinifera vineyards. Ultimately, Ivancie Cellars did not succeed as a long-term venture, but his impact on setting the future course of Colorado wines cannot be underestimated.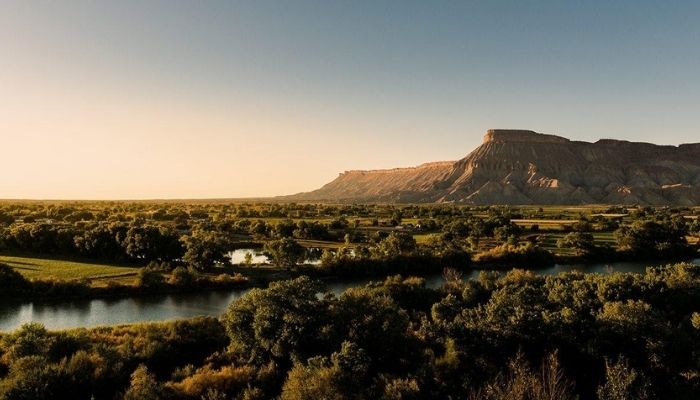 Grand Valley AVA
Fast forward to 1974 when Colorado State University – with a grant from the US government – planted test plots of wine grapes throughout the 'four corners' area of southwest Colorado. A major boost to Colorado wine production was the passing of The Colorado Limited Winery Act in 1977. The Act required the use of 75% Colorado grapes to make wine in order to receive significant tax incentives. While the 75% requirement was removed some years later, the establishment of Limited Wineries and the incentives and benefits associated have continued to be a foundation of the Colorado wine industry.
In 1978 when Jim when Anne Seewald of Colorado Mountain Vineyards (later Colorado Cellars) released the first commercial wines with Colorado grapes. In a relatively short 10-year span Colorado went from no vineyards or wineries to speak of to the base for where we are today.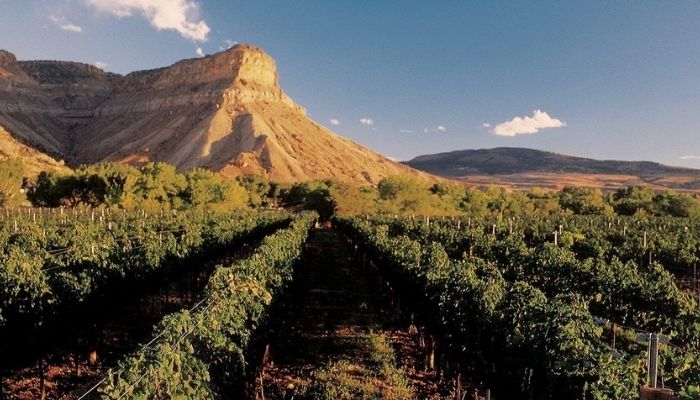 Grand Valley AVA
Driving through Colorado's Grand Valley AVA, the geographic resemblance to Spain's famed Rioja region known for its silky reds and rustic white wines is apparent. The West Elks AVA region nods to the Spanish Pyrenees Mountains particularly toward the Bay of Biscay in Basque Country, which is also known for its tangy, racy white wines and roses.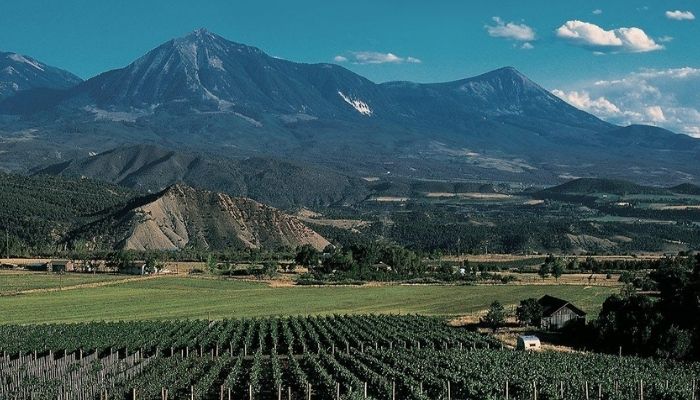 West Elks AVA
Plan your road trip for September and October; the most beautiful months in Colorado. The searing heat of the summer gives way to warm days and cool nights. Lush wildflowers, prairie grasses, and the Crayola green Aspen groves transform into glittering gold, red, and orange, seemingly overnight. Summer sweetness becomes pungent sage and stately pines bask in the high-altitude autumn sun. Autumn in Colorado is perfect for weekend road trips to the western slope with stops at farmers' markets, fruit stands, and tasting rooms, before ski country is overwhelmed with drifts of snow and the bunnies it brings.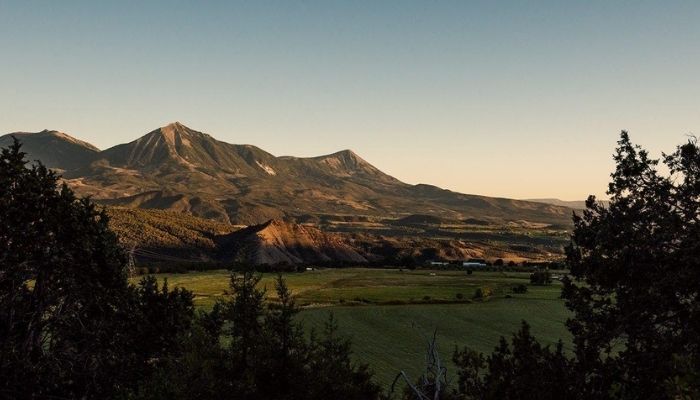 West Elks AVA
Colorado is vast, the size of France, and the road trip possibilities are endless. One less familiar trek takes you west along I70 through Vail and Glenwood Springs before heading south through the Roaring Fork Valley. Just before you reach Snowmass and Aspen, take a right at Carbondale, and drive along Highway 133 over the gorgeous McClure Pass dropping down into the North Fork valley below. Explore the Paonia Reservoir before dropping down into the gorgeous North Fork Valley of the Gunnison River below.
There you will find Paonia and Hotchkiss, otherwise known as the West Elks AVA (American Viticultural Area). The West Elks AVA is hitting the national stage with a vengeance. As one of the highest wine regions in the world, West Elks is home to some of Colorado's finest vineyards and most innovative wineries. West Elks has short growing seasons punctuated by powerful high altitude Rocky Mountain sunshine. Cool climate grapes like Riesling, Pinot Gris, Pinot Noir, St. Vincent, and Chardonnay thrive here producing aromatic and racy wines with balance, body, and fantastic acidity.
Former restaurant sommeliers now winemakers, Jayme Marie Henderson and Steve Steese helm one of the most promising wineries in the region, The Storm Cellar. The pair produces exceptionally well-crafted, award-winning white and rosée wines from their vineyards on the precipice of a mountain.
Plan your trip now because autumn in the Colorado Rockies books up fast.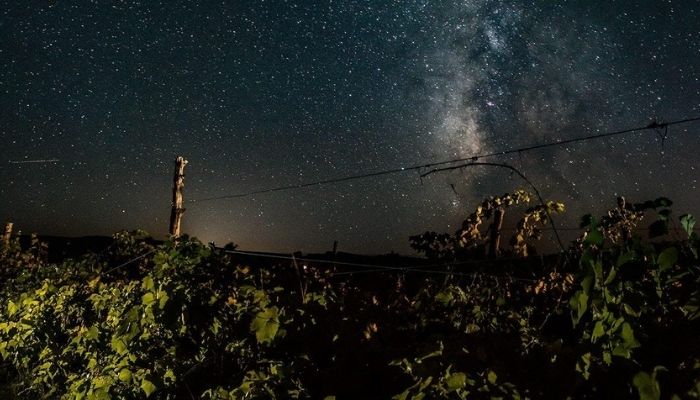 Basic Colorado Wine Facts
Comparatively very small acreage

~1000 vineyard acres statewide / ~<67m acres total CO

~ 150 wineries statewide

2019 Colorado Production ~228K Cases/~<3m bottles

Compare to CA by example: ~590k acres / ~100m acres total CA

Italy 1.7m acres / France 2.0m acres / Spain 2.4m acre
Colorado Has Two AVA's and Each Has Quite Different Climates and Terroir
West Elks AVA

Grand Valley AVA

2001

1991 / 40 years of wine or more

Continental Climate/ Mountain Slopes
Secluded and picturesque

Continental, Mesa plateaus, and river basin
High Plains desert

48,000 total acres

75,990 total acres

55 acres under vine

600 acres under vine

12 plus wineries

25 plus wineries

Delta County

Mesa County

Hotchkiss, Paonia, Cederedge

Palisade, Grand Junction

5400-6500 feet in altitude
The highest vineyards in the Northern Hemisphere

4000-5000 feet in elevation

North Fork River Valley

Colorado River basin

Granite, Sand, and Loam, some lime, alkaline soils

Sandy loam, red sandstone, stony, clay

7 cold hardiness, quite cool
Hard freeze winters

6 cold hardiness, hot days, moderate nights, freezing winters
30% shorter growing season

Great diurnal shifts
Long, warm days, with high-altitude sunlight and cool nights enhance the sugar and phenolic (flavor) ripeness while maintaining high levels of acidity.

Great diurnal shifts

Several unique microclimates within the AVA

Fewer unique microclimates within the AVA

Grape Varietals & Hybrids

Grape Varietals & Hybrids

Chardonnay, Riesling, Pinot Gris, Gewurztraminer

Chardonnay, Riesling, Pinot Gris, Gewurztraminer

Semillon, Viognier, Sauvignon Blanc
Orange and Black Muscat

Pinot Noir, Chambourcin, St Vincent,
Merlot, Cabernet Franc

Cabernet Franc and Sauvignon, Merlot, Syrah, Malbec, Sangiovese, Cinsault,
Tempranillo, Teroldego, other varietals
It will be interesting to watch both regions and Colorado's other wine-producing regions, as the industry emerges. I think we will see many winemakers embrace grape varietals and hybrids that are better suited to their unique terroirs, climates, and stylistic choices, as Colorado gains more and more attention. The winemakers and grape growers that are considering the land and climate are producing outstanding wines rather than simply choosing to grow and produce cash crops.
Sip
West Elks AVA
The Storm Cellar is one of the highest altitude vineyards and wineries in the world and likely the highest in North America.
Jack Rabbit Hill Farm & Winery
Jack Rabbit Hill Makes low-intervention wines that express the terroir of the West Elks.
Qutori specializes in Pinot Noir but produces Chardonnay and bourbon barrel-aged wines.
Alfred Eames Cellars produces high elevation red and white wines and some of the best Colorado Pinot Noir to be found.
Stone Cottage Cellars is devoted to the West Elks terroir and classic varietals: Chardonnay, Merlot, and Pinot Noir.
Grand Valley AVA
Whitewater Hill Vineyards produces classic varietals on the ancient sea-bed valley floor in the Grand Valley.
Mesa Parks produces award-winning estate-grown red wines.
Sauvage Spectrum is experimenting with all things bubbly and crafts some of Colorado's finest sparkling wines.
Plum Creek Winery claims the distinction of Colorado's oldest winery. They are still winning awards for their wines.
Carlson Vineyards crafts classic Colorado wines focused on cold-hearty varietals and hybrids.
Further Afield
The Abbey at Holy Cross Winery
Benedictine monks established the Abbey, Larry Oddo made the winery a success.
Located in the Four Corners, Sutcliffe is Colorado's most southwestern vineyards and winery.
Fox Fire Farms winery focuses primarily on hybrid grapes suited to high elevation and short, cool growing seasons.
Carboy Winery, with four locations, is modern, urban, experimental, and incredibly successful.
How to Get There
Drive
Just under 4 hours.
From Denver: Take I-70 west through Vail and Glenwood Springs, head South toward Aspen. Take a right at Carbondale onto CO-133 S and drive over McClure Pass into the North Fork Valley.
From Denver: Take US 285 S through Fairplay, Buena Vista, and Monarch, to US-50 W through Gunnison and Crawford, then turn on to CO-92 W into Paonia.
Fly
Fly into Grand Junction, Aspen, Crawford, or Montrose and rent a car.
Train
Amtrak: The California Zepher from Union Station in Denver to Grand Junction arrives daily. Pick up a rental car and take U.S. 50 to Highway CO-92 E. Enjoy the hour and twenty minutes drive through the glorious Colorado countryside.
Images courtesy of the Colorado Wine Board 2021
Article Written by: Simone FM Spinner.
Other articles that you might find interesting
America's Wine Regions: Texas High Plains