Top 12 Digital Marketing Trends For The Wine Industry In 2022

10/01/2022 The impact of Digital Marketing on the wine industry calls for dedicated attention from brands, vintners, and enthusiasts alike. Here is a list of 12 Digital Marketing trends that you can incorporate in your marketing strategy in 2022 to see a massive impact on your digital presence.
"Today, a great eCommerce experience in wine is no longer a nice-to-have option. It is a must-have channel for consumers. The digital space in wine is evolving before our eyes", says Justin Noland, Senior Director of DTC Marketing and Ecommerce for Treasury Wine Estates in his Podcast "Libation Domination". It is truly a digital epoch in the Wine Industry. With the advancing tech innovations and newer experiences on the rise, Digital Marketing has also arrived to catalyze the global wine presence on the interwebs. Did you know that simple data from your POS can actually supercharge your sales and marketing strategies? If you are a stakeholder in the Wine Industry, here is a checklist of trends that you should look out for in 2022:
1. Email Marketing
Email Marketing is an underrated way to stay in touch with your loyal audiences. It allows you to address them directly and keep them up to date with all the things that your brand is up to. It also retains a pool of people who have tried your product and would want to know more about the future range of launches. This data is a way to build and sustain a relationship through mailers and newsletters over frequent intervals. Retention is the new acquisition, and you should make the most of this opportunity for a one-to-one, dedicated conversation. Segmentation of audiences is possible and more impactful via email marketing.
Lisa Kalfus, vice president of marketing at Wente Family Estate segmented her audience's email data based on their interests. It resulted in reduced club attrition rates and increased ticket sales. She said that their events sell out 50 percent faster as they know which audience prefers education and which likes entertainment. This also allows brands to activate personalization as a key feature in their communication. Bringing a human touch can actually be a gamechanger in this automation-driven world. So 2022 could be when you make your automation human.
2. Creating Engaging Content
Content is king. We live in a creator economy and content is our currency. Creating engaging content about and around your brand serves varied purposes. It firstly helps with discovery via strong Search Engine Optimization (SEO) practices. Great content that is rich in keywords and backlinks will help you rank higher in search results. Secondly, content is a medium to give your audience a taste of who you are beyond the bottle. Storytelling is the most important tool today and telling great stories that weave your brand, beliefs, and people together is an underrated art. Some great usage of text and video content, as well as storytelling, will make your brand stand out in 2022.
Jordan Winery is a classic example of what happens when you say the right thing and the right time. Lisa Mattson joined the legacy organization and leveraged topical video content to tell their stories. They made parody videos, engaged their audience through humor, and strategically plugged in their products too. Video helped her bring out the people and stories behind Jordan Winery's work over the years. While the videos her team creates don't have a direct call to action at all times, there has been a noticeable difference. John Jordan sees the marketing pay off when all the indicators rise together: sales, visits, social media interactions, earned media, direct sales, and per-person spending.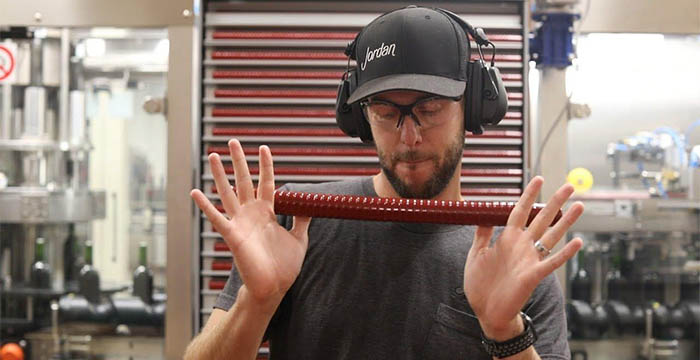 Jordan Winery's popular Despacito Parody shot as they bottled the 2015 Jordan Cabernet Sauvignon. Image Source: Jordan Winery
3. Influencer Marketing
Influencers can make the world go round. This trend will continue in 2022 and it is high time to incorporate influencer marketing in your marketing plan. Not only will the right kind of influencers speak to your target audience well, but they will also become ambassadors for the premium experience your range of wines offers. Influencers are renowned for bridging a slice of life narrative with an aspirational lifestyle projected on digital media. Your influencer marketing plan for 2022 should have a good balance of micro, nano, and macro-influencers that both occupy a niche in the wine industry as well as talk broadly about food and lifestyle. This will help target a wider range of audiences in different formats.
Raquel Royers, the marketing manager for Napa winery Clos Du Val, believes that "Influencer marketing is leveraging bloggers, writers, and online personalities within the digital space to help increase your brand reach, authentically share your story, and garner new customers/fans. We would rather have a long-standing relationship with a few influencers who understand our brand, over many influencers who are simply only there to reap the benefits of a free product or a check."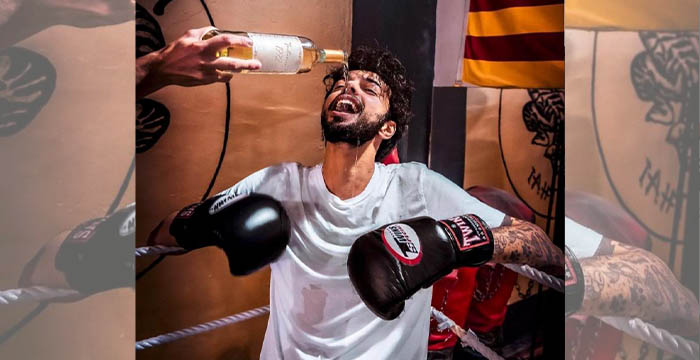 Popular Wine Influencer, Trotter Wine is the face of many global wineries. Source: Trotterwine Instagram
4. Social Media Marketing
Social Media Marketing has evolved a lot and 2022 will evolve at the fastest pace. It shouldn't be limited to just posting photos occasionally. All eyes and hands-on-deck should be focused on Tik Tok and LinkedIn this year. A good mix of paid and organic marketing will be the way forward in 2022. It is essential to tell a story via Social Media. It makes brands human and relatable. It also becomes a great platform to put your values and vision forward. But, it is also important to use the paid marketing tools that social media offers. These tools can be hyper-personalized to suit your demands and to reach new audiences through Ads and Promotions.
Taylor Eason, the former marketing director for Gundlach Bundschu Winery and now head of Santa Rosa, California-based food and wine marketing agency Cork & Fork Digital Media, has long observed the power of social media. She explains how over 30 to 40 percent of California direct-to-consumer wineries upload their email list to Facebook and use that to identify customers who have similar tastes and attributes. Ads and campaigns are then targeted to this lookalike audience. LinkedIn too is becoming the new Instagram in the Wine Industry. There is an increased focus on how the brand is represented in trade networks through engaging conversations about production, sales, marketing, business, and the like. LinkedIn has also become the avenue for Wine brands to connect with allied businesses that can help market wines better.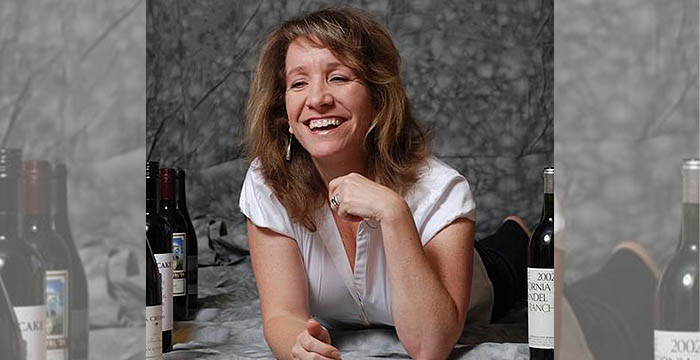 Taylor Eason, the former marketing director for Gundlach Bundschu Winery and now head of Santa Rosa, California-based food and wine marketing agency Cork & Fork Digital Media, has long observed the power of social media. Source: Rocket Reach
5. Data-driven Marketing
Data can drive a revolution. It will continue to do so in 2022. Many Branding and digital innovations in the Wine Industry will rely on studying data for its effectiveness. This data can fuel marketing innovations. Data-driven marketing can help understand the needs, desires, and future behaviors of consumers. This can help brands personalize strategies to gain the highest return on investment as opposed to broad strategies for gaining visibility. Asking the right strategic questions is of prime importance in this style of marketing. The focus on what kind of data is being collected and how it will be analyzed and used can help you double down on shaping your brand's perception as well as user behavior. All of this is possible using the right kind of automation.
Julie Rothberg moved to Sonoma County to become president of Medlock Ames two years ago. She realized the power of not just collecting but analyzing data to target different types of audiences effectively. She used this analysis to make smart changes to the existing business model. One such observation brought to light how out-of-state customers spent more than in-state buyers. It helped her determine if they want to do more out-of-state events or start wine club benefits for out-of-state members since they make less use of free tastings at the winery. All of this is possible through data-driven marketing.
6. Conversational Marketing
In this digital-first thrust into sales and marketing, wineries often find it difficult to keep up with everything that is happening at once. Digital Marketing requires you to be studying past insights, working on current campaigns, and envisioning future plans at the same moment. While this can be overwhelming, one of the best things to come out of finding solutions for this problem is Chatbots. When Stephanie Chevalier, an internet and eCommerce researcher, studied chatbot commerce, a whopping 67 percent of millennials said they were likely to purchase products from a brand using a chatbot.
Conversational Marketing is growing exponentially as it is bringing a whole new level of personalization and convenience to Digital Marketing and eCommerce. It allows for the brand to deliver information effectively using automation. As a wine brand in the industry, you are aware of the most general and brief questions users can have while interacting with your brand. Messengers and chatbots help streamline an automated flow of FAQs that not only answer most queries of a consumer but also help build a user flow when they seek more information. Chatbots, when coded well, can also double up as virtual sommeliers recommending the right wine for the right occasion.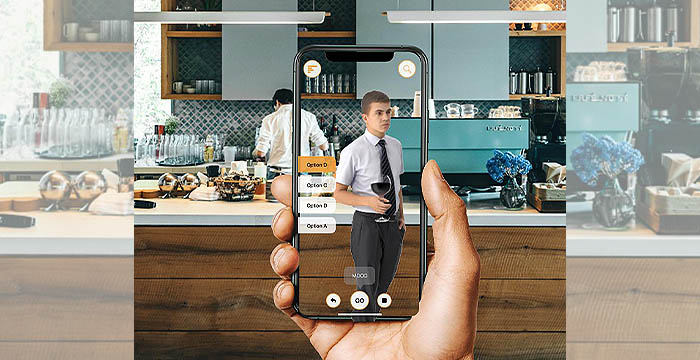 A Virtual Sommelier, anytime, anywhere. Source: Dotfarm
7. Virtual Engagement
The pandemic brought in trying times for the Wine Industry in 2020. As another wave waits to unleash impending doom, it is interesting to look at how wine offered a long-awaited respite during such testing times. Virtual tastings gained a lot of traction during this time and will make a solid comeback in 2022. Virtual tours of vineyards and wine appreciation courses also gained a lot of popularity in these times. One of the most popular ones was Seneca Lake Wine Trail. With Seneca Lake Wine Trail's wine tasting events, you can embark on a scenic road trip to the Finger Lakes wine country from the comfort of your home. They also hosted various types of events like traditional virtual tastings, Facebook Live concerts (with wine, of course), interviews with winemakers, wine vlogs, happy hours, and more. This brought people closer and gave them a taste for elite experiences that are a click away.
The idea of Virtual in the Wine Industry is also ready to go a step ahead. In the Wine trade, Dotfarm launched a Virtual Sommelier — a 3D personnel that suggests wines based on context and mood using Big Data. This conversational AR tool scans the environment in 3D and superimposes the virtual assistant in the space using the camera. This virtual assistant then listens to the preferences of users and recommends wines that would suit their tastes. It is possible through deep analysis and segmentation of Data.
8. Digital Advertising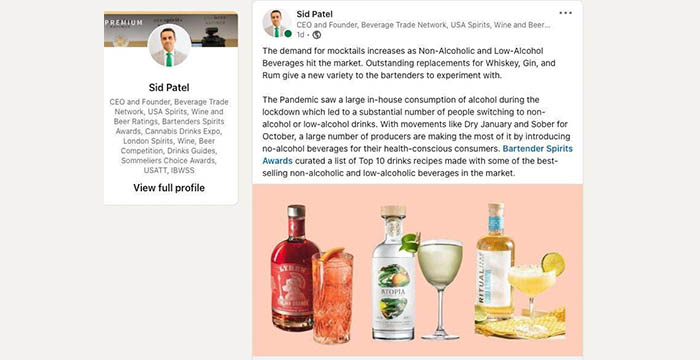 Here's how the Founder of Beverage Trade Network, Sid Patel, uses his LinkedIn page as a platform to start conversations about Wine and Spirits.
While we talk about advanced ways of using both paid and organic marketing to promote wines better, sometimes we forget to even utilize the basic forms of Digital Marketing at their maximum potential. Digital Advertising using Search Engine Optimization (SEO) and Search Engine Marketing (SEM) might be the most classic way of understanding digital marketing, but the rules in this methodology always keep evolving.
Wine Business Institute at Sonoma State University teamed up with SommDigital to conduct a study on the Wine Industry adopting digital marketing tactics to attract consumers in which 257 wineries reported on their digital marketing practices. When it comes to Digital Advertising, 36% of wineries do not advertise at all. Even more concerning is that those who do, spend very little, with 75% of respondents indicating they spend less than $100 per month. Only 2/3 of the sample use SEO and only half of these respondents have an in-house SEO manager, with 18% outsourcing the work. SEO is what helps wineries rank higher when a consumer looks for a certain keyword. SEO and SEM guarantee visibility and in 2022, these will be two imperative pillars of any wineries' outreach strategy.
9. Geostrategic Marketing
Geostrategy in marketing will prove essential for this hybrid world. Not only will it just allow wine brands to enter new markets but also reach out to the audiences of these markets to introduce themselves through innovative campaigns. Platforms like GeoStrategies can analyze existing data of a winery and help them identify newer markets with similar demographics and interests. This helps understand the market potential and build strategies to expand or franchise accordingly. If you believe your wine can have a global audience and demand, you can start with GeoStrategies to analyze the true numbers of this global reach. Just like Derton and Anthony Harvell, director of sales and operations at William Chris, wanted to expand beyond Texas. They reached out to GeoStrategies to expand into newer markets. With the focus on GeoStrategies, they are able to ascertain sub-markets and subregions down to the street level. They are also able to identify potential customers within geographic zones and see how close they are to a potential future target location. It primarily helps them plan their pop-ups, activations, and collaborations that are key for the future of the Wine Trade.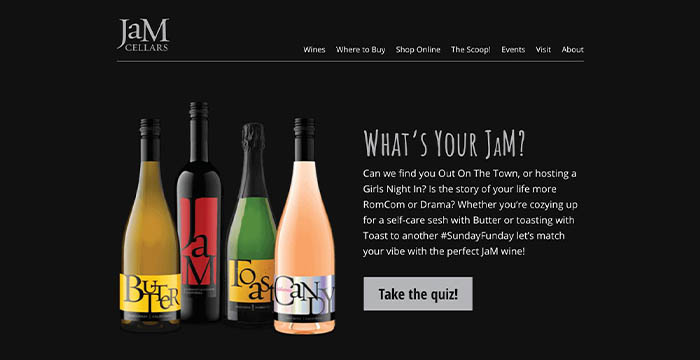 JaM Cellars' interactive website engages their audience and matches wines to their preference. Source: Southern Made
10. Voice AI Marketing
One of the most innovative things that have come out of the AI revolution is AI assistants like Alexa, Siri, Cortana, and the likes. Digital Marketing has gone a step forward to find the right ways to market on the Voice AI networks. The first winery to begin marketing on Alexa is JaM Cellars. For starters, the winery offers a voice message from the winery's founders, John and Michele Truchard on Alexa. It then can help users find the nearest store with JaM Cellars' wines through voice commands. The team at JaM can analyze monthly unique users and the number of their utterances, the amount and percentage of time they spent on each feature.
Alexa also collects the phone numbers of users that ask her to find the wines which are then shared with the winery. This data can be used for two purposes. Firstly, one can study the patterns of what locations are these enquiries coming from and use that for Geomarketing activities. Secondly, one can study the ordering trends and integrate 'order online' options that link back to an online shop, allowing verified users to purchase their wine on the go. Voice AI is going to be one powerful trend worth observing in 2022.
"Alexa, find me the nearest JaM Cellars bottle" Source: JaM Cellars
11. Bartenders spearheading digital conversations
Bartenders around the world today are leading the conversations on the digital sphere. By participating in awards and contests, they are already busy proving their mettle. This has gone a step ahead of where bartenders and mixologists have taken to Instagram, Tiktok, and LinkedIn to represent not only their talents but also to further the wine brands and establishments that they partner with. They are leading the movement both by aligning themselves with brands and establishments as well as independent bartenders that engage and educate audiences.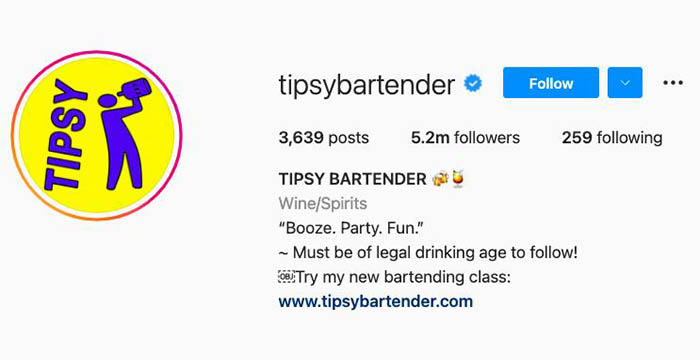 Source: Skyy John aka Tipsy Bartender
Here is Skyy John, aka the Tipsy Bartender, with over 5.2 million followers on Instagram that stay tuned to his innovative recipes. Similarly, here is Giorgio Bargiani, Head Mixologist at The Connaught, the world's top-ranking bar based in London. 2014 onwards, Bargiani has been a vocal representative of the art at The Connaught. He leverages his social media to give them a taste of what happens behind the scene at The Connaught.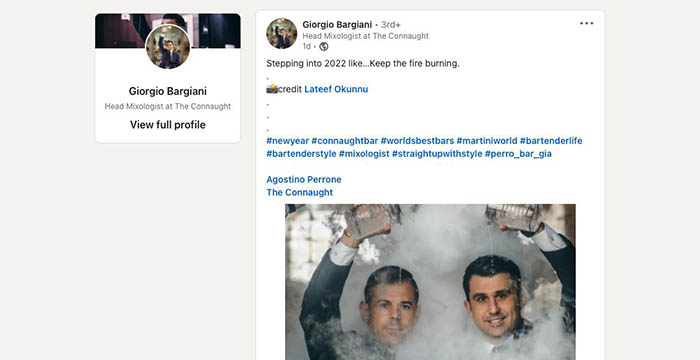 12. Short-form Video Content
Tik Tok and Instagram reels are not limited to just viral dance trends. Wine can now be spoken about while grooving to viral trending songs. The Wine Industry has leveraged the virality of short-form videos to educate audiences about all things wine. From how to acquire wines, how to appreciate them, what wines are a must-try, to what are the things one shouldn't do while enjoying wine, and so much more are served in bite-sized pieces of information for viewers to consume. Short-form content on wine today ranges from budget to luxury choices and from bare basics to vintner knowledge. Short-form videos have revolutionized access to wine, especially for the Millennials and the Gen Z. 2022 will only go on to show the impact of short-form video content that can be employed by wine brands as well as establishments on Tik Tok and Instagram Reels by themselves or via influencers to accelerate their impact on Social Media.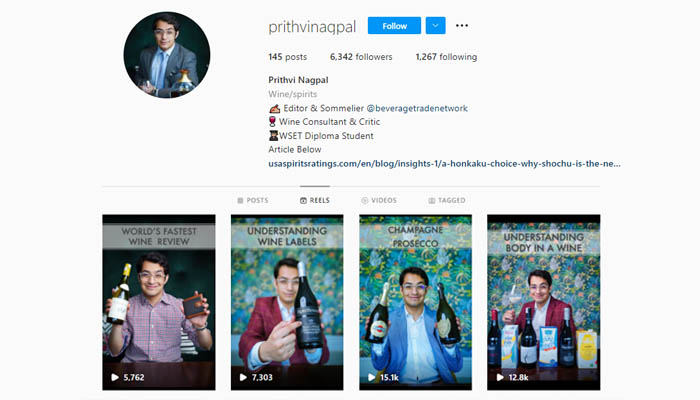 I personally use my Instagram to make short and engaging reels reviewing wines and educating my audience about the industry. Source: Prithvi Nagpal
The oncoming year will also make progress in AR and VR involvement in the Wine Trade in leaps and bounds. It will hopefully go on to affirm what Justin Noland believes is revolutionary about Digital Marketing trends in the Wine Industry, he says "Wine marketing varies so much from one winery to another, one brand to another, but it mostly boils down to telling stories, engaging consumers, and delivering a quality experience. Very little of the "what" is new or particularly innovative, but the "how" is. Our industry excels at world-class in-person experiences and hospitality. We need to bring these experiences in an approachable and fun way to a broader group of people online."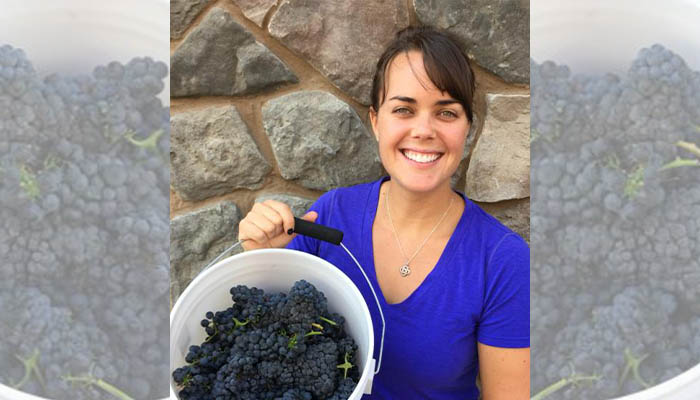 Sarah Morra Qualters, Director of Marketing, Corporate Brands & Emerging Channels, at The Wine Group, will be speaking on marketing at the 2022 International Bulk Wine and Spirits Show. Source: William and Mary Alumni Magazine.
In the end, as Sarah Morra Qualters — Director of Marketing, Corporate Brands & Emerging Channels, at The Wine Group — says, "Ultimately, wine provides joy to people's lives on a regular basis," she says. "I love that having wine can elevate any experience and make it much more memorable. There's a real passion there." This passion is what will continue to drive the digital revolution in 2022 and years to come.
Article By: Prithvi Nagpal, Editor & Sommelier, Beverage Trade Network