Why US wine importers should enter products in the 2023 Sommeliers Choice Awards

03/02/2023 SCA is unique in its focus on the on-premise market, which is why it places extraordinary emphasis on its sommelier judges.
USA wine and spirits importers and distributors may enter the 2023 Sommeliers Choice Awards (SCA) to gain recognition and credibility in the industry, showcase their products to potential customers and the trade, increase brand awareness, and establish themselves as leaders in their field. Additionally, winning awards can help with sales, boost brand reputation and provide marketing opportunities for their products. This includes the opportunity to count among the Top 100 On-Premise wines.
Who are the judges of the SCA?
The roster of judges for 2023, in fact, reads like a Who's Who in the world of sommeliers. The judges for the 2023 competition are professionals in the wine industry with a diverse range of backgrounds and experiences. Many of them are Master Sommeliers, a prestigious certification in the wine industry. Some of them work in wine sales, while others work in restaurants and country clubs as sommeliers and wine directors. Some own their own wineries or wine-related businesses. The judges include certified sommeliers, wine directors, winemakers, estate sommeliers, and wine consultants.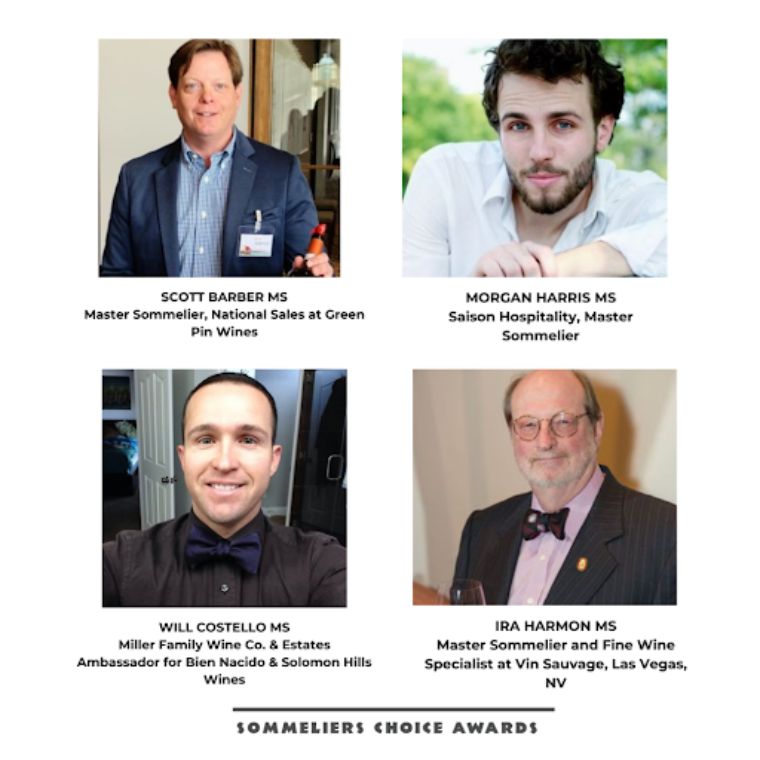 Image: Judges of Sommeliers Choice Awards
What are the steps in judging during the SCA?
The Sommeliers Choice Awards consists of three phases of judging: blind tasting, price score review, and packaging review. During the blind tasting phase, each wine entry will be evaluated for quality, typicity, and food compatibility, with a score marked out of 50. In the price score review, the judges will give a value score out of 25 based on the perceived value of the wine compared to its quality. In the packaging review, the judges will evaluate the packaging's appeal, clarity, uniqueness, and other factors, and give a score out of 25.
Why will wine importers benefit from the SCA?
Importers in particular can benefit from participating in the Sommeliers Choice Awards in several ways:
1) Exposure: The awards ceremony provides an opportunity for importers to showcase their products to a wide audience of industry professionals, wine and spirits enthusiasts, and media representatives.) )
2) Credibility: Winning an award at the Sommeliers Choice Awards can help to establish the importer as a credible and trustworthy source of high-quality wine and spirits.
3) Marketing: Winning an award can be leveraged as a marketing tool and help the importer to promote their products to potential customers and the trade.
4) Networking: The awards ceremony provides an opportunity for importers to network with industry professionals and other participants, helping to expand their network and create new business opportunities.
5) Competitive Edge: Participating in the awards helps importers to benchmark their products against their competitors and gain insight into the strengths and weaknesses of their offerings.
Overall, participating in the Sommeliers Choice Awards can help importers to increase their visibility, build their brand, and grow their business.
What are the marketing benefits of the SCA?
Winning a medal or an award at the Sommeliers Choice Awards can indeed act as a powerful marketing tool and selling point for wine brands. It provides a point of differentiation from other brands and can help to increase visibility and credibility in the market. Consumers are often attracted to products that have been recognized for their quality and value, and awards can serve as a symbol of these attributes. This, in turn, can help wine brands to stand out on the shelves and attract more customers.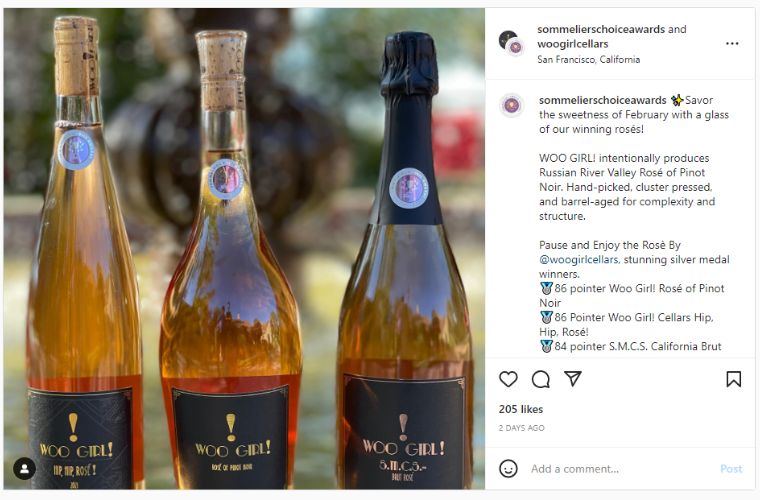 Image: WOO GIRL; Source: Instagram
There are more advantages to entering. The Sommeliers Choice Awards provides multiple benefits to entrants, including increased visibility among consumers through media coverage, a chance to reach trade professionals and sommeliers in the Beverage Trade Network community, press coverage from media partners, customized shelf-talkers and tasting notes, free medal stickers for winners, and detailed scores feedback in areas such as food compatibility, typicity, value, quality, and packaging. The awards aim to provide recognition and promotion for wine brands and provide sommeliers with valuable information to help them make informed purchasing decisions.
[[relatedPurchasesItems-41]]
So, if you want to enter now, what do you have to do?
The steps for entering the Sommeliers Choice Awards are:
1) Initial Sign-Up:
Register to create an account
Complete your company profile
Enter wine details
2) Payment Mode:
Choose payment method (online via stripe or offline)
Confirm payment
Access payment receipt
Submission Label/s will be generated in your account
3) Shipping:
Log in to the account, print the official SCA Submission Label/s
Attach a label on each box at the time of shipment
Share tracking details with the competition coordinator
Key Dates:
International Submission Deadline: March 10, 2023
Domestic Submission Deadline: April 14, 2023
Warehouse Closes: April 28, 2023
Judging Day: May 22, 2023
Winners Announced: June 07, 2023
Get your wines in front of Sommeliers, Wine Directors and On-Premise Buyers of USA. Here's How To Enter your wines.