Wine Tastings and Wine Tasting Dinners: A Guide for Young or New Sommeliers

07/09/2021 Working in a restaurant can be very rewarding, but it is not the only choice for sommeliers. In this article, Lauriann Greene shares tips to create an additional revenue stream.
Most people who are studying to become a sommelier think primarily of working in a restaurant when their studies are completed. Certainly, a restaurant is the most classic place for a sommelier to practice their art. Usually, you have an extensive stock to choose from and manage, you get to help diners choose a great wine to go with their food, and you hopefully have a good relationship with the chef so you can effectively pair wines with the cuisine.
There are also downsides to working in a restaurant. Shifts can be quite long, and you'll be on your feet nearly the entire time, which can be very tiring. The owner or chef may be more interested in selling a particular inventory and wanting you to push those wines, rather than allowing you to pair the best wine with the dishes ordered. The atmosphere can be very hectic and managing your inventory may be a time-consuming job.
Working in a restaurant can certainly be very rewarding, but it is NOT the only choice for a sommelier. You do have other options, instead of restaurant work, or in addition to it.
In my own career, I've done many wine tasting dinners, for groups of friends, for clubs/societies including wine clubs/societies, and perhaps most importantly, for corporate groups. One of the main advantages of doing these services is being your own boss; not having to answer to anyone other than the client to do your work, and set your own prices. Lots of advantages whether you do it as your main gig you supplement your main job with your extra earnings.
In general, this type of freelance work pays well. An experienced sommelier can ask for $100 per hour or more. You can include your hours of prep work, which will vary depending on the details of the job. You can also ask the same price for travel time if it's 30 minutes or more round-trip.
How to Find Clients
As for finding clients, the same advice applies to any kind of freelance work:
1. Attend local wine tasting events
Get to know the leader of the group, and let them know that you do wine tastings and wine tasting dinners. Suggest some possible themes that might grab their attention.
Make sure you have a business card that not only has your contact information on it, but also your sommelier headshot photo and perhaps on the back the type of services you propose which could include classes, wine tastings with some suggested themes, and wine tasting dinners.
2. Attend corporate networking events.
Corporations are often looking for new and different ways to entertain clients, employees, their top C-suite executives.
A wine tasting or wine tasting dinner is an elegant, convivial, informative event that will impress the people they want to impress and give them a novel way to entertain their people when needed. Give out your card (with the services you offer on the back) and be sure to follow up within a few weeks.
3. Put yourself out there on social media.
Create a LinkedIn page and include these services; include some video of you doing this type of work. Then do your LinkedIn networking: search for wine clubs, private clubs of all kinds, condominium associations... any membership organization that could be interested. Make your contacts, propose your services, and see what happens!
4. Let all your friends know you're doing this kind of work.
They work in corporations, belong to organizations, might need an idea for a fundraiser, etc., or be able to pass your information on to others.
Wine Tastings
Once you're hired to do a wine tasting, there are several questions you need to ask:
1. How many people will be attending the wine tasting?
It's possible to do a simple wine tasting in a big ballroom for 100 people, but I believe it's more effective to limit the number to 50, so there's still a sense of connection with each person rather than feeling very impersonal. If there will be 50-100 people, ask your contact if there will be a sound system with a microphone.
2. Is there a theme?
Do they want French wine, Australian wine, chardonnays, pinots...? If they don't have a theme, reassure them that you'll come up with appropriate types of wine.
3. How much time will you have to make your presentation?
Based on that, you can suggest the total number of wines to be tasted. I usually start with a short introduction to wine tasting techniques (look, nose, mouth, final evaluation); unless it's a tasting club or connoisseurs, it helps people follow along with the tasting.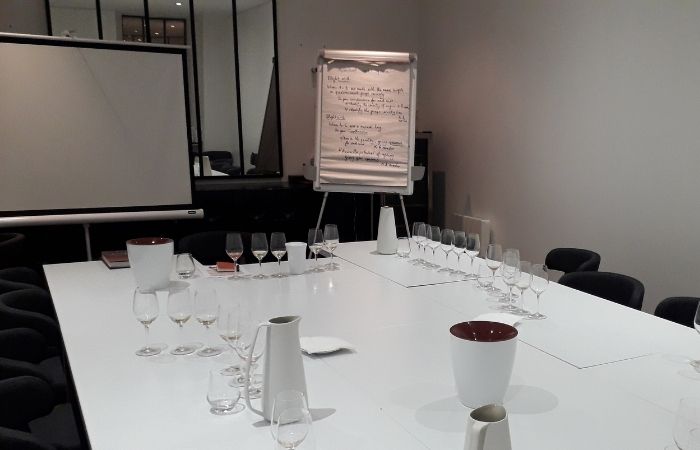 Wine Tasting Presentation setup, Picture Credit: Nicolas Fouilleroux, Sommelier-retailer at Soif d'ailleurs / Free-lance sommelier & wine educator, WSET Certified
Allot at least 10 minutes to each wine, enough time to talk about where it's from and go through the tasting of the wine. I like to bring a poster that shows the origin of each wine, particularly if it's a small enough group that they can see the poster.
5. Location:
Will it be at the offices of a corporation, in a ballroom at a hotel, at someone's home? Each situation will present its own set of advantages or challenges that you'll need to know about in advance.
6. Is it being catered, and will there be servers available, and most importantly, will they be supplying the glasses?
Unless it's a very small group (15 or fewer), you won't be able to do your presentation and serve at the same time.
7. How many glasses per bottle?
This is a tough one because it depends on the size of the glasses. Usually, for a tasting with several different wines, I would count on 5-7 glasses per bottle so each person gets a decent pour.
Wine Tasting Dinners
Much of the above applies to wine tasting dinners. The biggest difference is that you'll need to match the wines to the cuisine that's being presented. Early on, you'll need to have a chat with the chef, to find out not only the ingredients being used for each dish, but exactly how the dish is being prepared. A smoked salmon doesn't match with the same wines as a salmon in sauce.
Then you must calculate the number of bottles of each wine you'll need. For a dinner, count on ½ bottle total per person if you have 4-5 dishes total: the idea is to have enough to get a good taste with each dish but not end up drunk at the end of the evening. Usually, this will also fit in the budget for the hosting organization.
Some tips:
1. While the food is being served, talk about where the wine comes from and any other important facts about it (so the food doesn't get cold). Ask them to taste the wine first, then take a bite of the food, and then taste the wine again.
2. Talk about why you chose that wine to go with that dish and point out how they complement each other. Tell them basically the wine should enhance the food, and the food should enhance the wine; that's the most important tenet of wine and food pairing.
Wine tastings and wine tasting dinners are often social and/or business events. Be sure not to dominate the time, as your client will want their guests to have enough time to mingle and chat when they're not tasting wine. The wine is the "lubricant" for the evening, and adds a fun, unusual aspect to the evening to make it unique: that's really why you're there.
© Lauriann Greene, 2021
Header Image Credit: Nicolas Fouilleroux, Sommelier-retailer at Soif d'ailleurs / Free-lance sommelier & wine educator, WSET Certified
Get your wines in front of Sommeliers, Wine Directors and On-Premise Buyers of USA. Here's How To Enter your wines.