Know Your Sommeliers: Shashi Prakash, Food & Beverage Manager at Fonab Castle Hotel, Scotland

21/10/2022 The 7 steps of staff training with Shashi Prakash, Sommelier at the Fonab Castle Hotel, Scotland.
Shashi Prakash is currently working as a sommelier at the Fonab Castle Hotel, in Scotland. He pursued his bachelor's degree in International Hospitality Management from Queen Margaret University in 2009. He got interested in wine and took his WSET qualifications. Shashi claims that social media enables him to follow global product launches and industry trends.
Learn more about him and his journey in the space below.
Your current place of work.
Tell us about yourself.
I came from India to the UK in November 2009 to do my Bachelor's Degree in International Hospitality Management from Queen Margaret University. I had no plan to stay and work in the UK. I took my first job in a world-renowned hotel called Gleneagles. I have been working in hospitality for more than 11 years. I started my career as a waiter and had worked through the ladder and currently working as a food and Beverage Manager and Sommelier at The Fonab Castle Hotel, Pitlochry, Scotland. During my hospitality career, I have always enjoyed working in high-end places, from Relais and Chateaux Hotel to Michelin-star restaurants. Some people say that I have moved a lot from one job to another job, but I personally believe that I have learned a lot and have worked with some top talent in the industry. I tend to leave the job if it gets boring or monotonous. Hospitality is a creative industry where you create a new memory every day.
Why did you want to become a sommelier?
Long story. The first alcoholic drink I tried was a kingfisher beer back in October 2009 in India. I had never tasted wine before coming to the UK. When I was working at Martin Wishart, a Michelin Star Restaurant in Edinburgh, there used to be 2 sommeliers who would talk to the guests about why this wine goes well, this food, and vice versa. It was fascinating to see how knowledgeable they were and guests would admire their knowledge. Every Saturday after work, the sommelier would give me a glass of wine to try and I just loved it. For my career growth, I moved to another place in Peebles called The Horseshoe Inn, where I met the hotel owner, Mr. David Downie, who loved his Bordeaux Classic. Every week he would come to the restaurant and he would give me a glass of Claret to try. He was an early mentor to me. I started enjoying the wine and decided to take my WSET qualifications so that I can learn more about the wines and can see my restaurant career beyond food. For me, wine is a magical liquid that has so much to say. I am so thankful to everyone who has helped me on my Sommelier journey from my previous employers to my current employer and all the suppliers.
What do I look for in a new brand before taking it to my restaurant?
The quality of the product is the primary factor, the secondary is the price. Brand uniqueness is another key factor that I always look for in a new brand. The history behind the brand and if the restaurant clients will enjoy the new brand or not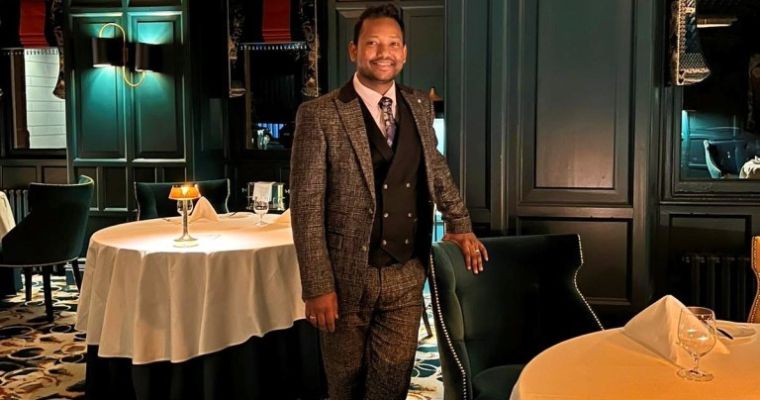 Image: Shashi Prakash
What sources do you follow to stay on top of industry trends and new launches worldwide?
I do follow lots of different sites from all around the world. I do like to read lots of wine magazines like Decanter, Wine Enthusiast, winemaker, and different wine books. During the lockdown, I started listening to wine podcasts and still very much enjoy myself while I am on my way to work. Wine Blast by Susie and Peter is just brilliant. I do try to attend lots of wine-tasting events with different suppliers. Social media does really help me to keep up with the industry trends and keep up with new launches worldwide.
Questions you would ask a customer who doesn't know anything about wine?
It's very common that lots of restaurant guests do not know much about wine. I always ask them about their taste preference, like if they like red, white, or sweet wine. I try to keep it simple and easy for the guests so that they can understand the wine rather than making it complicated. I do try to give them some recommendations and some glasses of wine to taste. If the guests like something, they will order that bottle of wine or a glass of wine.
What are some of the most important skills for a sommelier?
For me, passion and knowledge are the most important skills for a sommelier. You should always be curious and eager to know more than what you already know. The more you know, the more you can pass your knowledge to someone else. Being humble and a good listener is also another skill that a sommelier should possess. For example, some of the guests who come to your restaurant might know nothing about wine, and some guests might know more than you, so as a sommelier, we need to be humble and try to listen to guests' opinions rather than, that this wine needs to be enjoyed with this food only.
How would I train my new staff members in their first 7 days of them joining?
Day1 Welcoming: First and foremost, make sure the new staff members should be welcomed with warmth and affection by old team members.
Day2 Explaining to them the restaurant layout and seating plan.
Day3 Spending time on the Pass, the new staff members should understand and know how the Chef does the plating and what goes in each dish, and every single ingredient. The more the new staff knows about the dishes, the more they can describe them to the guests and pair wine accordingly.
Day4 Spending time in the cellar. Every restaurant cellar is different. So the new staff should know where the wines are kept and how they are stored.
Day5 Talking about the supplier and the dates, explaining to the new staff about our suppliers, order day, and delivery date.
Day6 Spending time on the floor, I will ask the new staff to shadow me so that they can have an understanding of our work.
Day7 Sit down: I sit down with the new staff and ask them questions about what they have observed in the last 6 days and how I can help to make sure they love what you do.
[[relatedPurchasesItems-41]]
What methods do you use to grow wine sales? Please explain with examples.
When I see some guests during the wine menu pages one after another. I do approach the guests and start talking to them about their likes and dislikes and what they are looking for and, without being cocky, I have so far managed to sell a wine that is profitable for a restaurant and pleasure for guests. Every week I do sell at least 3 to 4 bottles of wine, which is off the list and I easily make up around 79% of GP.
What methods do you use to grow profits?
Wine by the glasses and Coravin is our biggest growth for our profits, another important factor in listening to the guests' needs. If you can understand the guests' needs and fulfill their needs to the best of your ability, it will always lead you to a path of profits. A good relationship with your supplier is always a win.
How do you self-learn and improve your skills?
I am a keen believer in knowledge. The more you know, the more you grow. I do read a lot and taste plenty of wines. Every day I plan to learn something new.
What's the best part of your job?
Hospitality is a very vibrant industry and we meet so many guests every day, and when the guests thank you with big smiles on their faces, it's the best part of my job. I felt honored and humbled when a guest returned to my restaurant and said I loved the service and wine you offered me on my last visit and that is why I came again.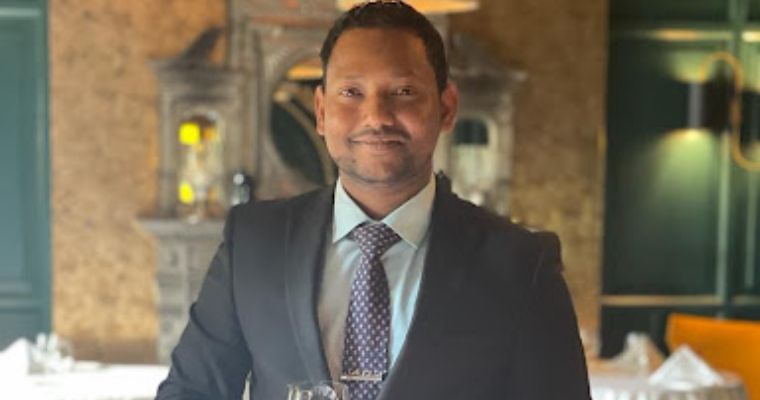 Image: Shashi Prakash
How do you elevate the guest experience? Please give 4-5 examples and insights here.
A warm and genuine welcome is best, a guest will know when you have a fake smile.
Collecting the guests' data and welcoming the returning guests and acknowledging them with their names at least 3 times during their stay. Making sure they get their preferred table, remembering their small needs like sparkling water with a slice of lemon always on the side.
Being honest with the guests is always good. One day, a table of 6 was dining in the restaurant and when I went to get the wine order they ordered a bottle of Volany Vieilles Vignes 2016. The host asked me what I thought about the wine. I gave my opinion of what I knew but said that you would enjoy your meal more if you would try Confession of a white Glove Chaser 2015 from South Africa, as some of the guests were having Ox Cheek, Venison, and Rib-Eye Steak. The host did not like what I said but one of his friends said let's try it and they loved my recommendations and eventually had 3 bottles.
When I pair the wine with the tasting menu, I always ask each guest for their honest feedback. If lots of guests do not like what I am serving and they say it's not for them as they have not enjoyed it, I never serve that wine on the menu again.
I am very fortunate that I have worked in some of the best hotels and restaurants in the UK and have looked after lots of celebrities, politicians, and wealthy guests. But I do tend to look after all my guests with the same level of professionalism and love what I do rather than by their social status.
Your favourite TV show right now?
Chef Table /The Inbetweeners
An unforgettable wine experience for you - tell us the whole story!
I went to a wine tasting in Edinburgh in 2012 where I met Paul Hobbs, a renowned winemaker. At that time I was a bit naive and did not know a lot about wine or about different winemakers. So, after I tasted around 80 wines, I was almost a bit tipsy and went to taste Paul Hobbs' wines and said, Oh, I do not like Cabernet Sauvignon. Paul looked at me and smiled and poured me a glass. I tried it and said, "Oh gosh I liked it and did not want to spit."
I loved the wine so much that I asked if I could have another glass please and talked to Paul for around 30 minutes. I had no idea what I had said to him. We exchanged our cards. Luckily, I met Paul in 2014 for another tasting and said sorry to Paul for what I said to him back in 2012. Paul smiled and said it was not a problem. I am glad that you liked my Cabernet Sauvignon. Paul invited me to Argentina to work in his vineyard during the harvest. Unfortunately, I could not go. I will always remember how humble and welcoming Paul Hobbs was.
What is the biggest faux pas that customers tend to make when ordering and drinking wine?
It's quite often when the guests say I do not like Sauvignon Blanc, but I love Sancerre. Sometimes some guests have said to me that I only like old world classics and they can't drink new world wine. In one of my previous places where I worked, 2 gents came to the lounge in the afternoon and ordered two club sandwiches. When I asked if they would like to drink something, they ordered Château Lafite Rothschild Carruades de Lafite 2016 and 2 Diet Cokes along with it.
Personally, I do not judge when I get some random odd request, as we are there to look after the guests and give them what they asked for, rather than making an option about it, there is nothing right or wrong about wine. At the end of the day, the guests pay for their wine. We should never judge.
Your favourite restaurant in London right now?
Any favourite food and wine pairing suggestions for London drinks enthusiasts?
Foie Gras with 2016 Rolly Gassmann Pinot Gris.
Your favourite book?
Think and Grow Rich by Napoleon Hill.
Name 3 sommeliers in the UK you like
Sonal Clare (The Wilderness)
Isa Bal MS ( Trivet )
Daniel Stojcic (The Raby Hunt)
What's your personal career goal? And how are you investing or planning to get there?
I had a couple of career goals, wanting to do my WSET Diploma, Introductory Sommelier Certificate, Certified Sommelier Examination, and WSET Sake qualifications. Eventually, I want to work for a group of hotels or restaurants where I solely look after the Food and Beverage operations. There are a couple more goals I have, but I want to take them to step by step rather than rush to achieve something. To achieve my goal, I am investing time in myself and trying to learn something new every single day. As long as I learn, I know I will GROW and will achieve my GOAL.
Give us one good story that you remember of a customer and you.
While I was working on the Isle Of Eriska with my wife, a family of 4 stayed at the hotel for around a week. They were from London. On their 4th day, they asked me if my wife knew how to make any Vegetarian Indian food and I said yes, so she asked if my wife could make some food for them the next day. I said yes without asking my head chef and my wife. Somehow, I convinced my wife to cook the food for them. They loved the food and asked me if they could meet my wife. They thanked my wife for the hospitality and it goes without saying they tipped around £6000 to the hotel. She gave me her card and asked me to keep in touch. When my wife was pregnant she consistently used to call me and ask about the well-being of my wife and she sent some gifts when my son was born we have always been in touch since they left the hotel. It was not about money or gifts, but it was their love and care, which I will always admire.
Header Image: Shashi Prakash
Get your wines in front of Sommeliers, Wine Directors and On-Premise Buyers of USA. Here's How To Enter your wines.