2020 and What's Next: Thomas Brenner, Sommelier at Chez TJ

02/12/2020 Thomas Brenner is part of the core team to reopen their restaurant for pick-up and outdoor dining during Covid-19 pandemic. In this interview we chat about how he managed 2020 and his future plans.
Thomas Brenner is a sommelier at Chez TJ, an SF Bay Area MICHELIN one-starred restaurant where three-tiered wine pairings are curated for their esteemed clientele with ever-changing tasting menus and vinous offerings. Thomas enjoys wine writing, wine-related history and all the intrigue that comes with it.
Passionate about providing superior hospitality and unparalleled guest accommodation, Mr. Brenner enjoys creating a welcoming environment in an elevated restaurant setting, while continuously driving sales and guest-satisfaction upwards.
Chez TJ is situated within the oldest house in Mountain View, CA and was built during the latter part of the 19th century. The wine cellar is contained within the original cellar below this historic landmark. Chez TJ has cultivated renowned chefs, enjoyed Wine Spectator awards, triumphant press, and maintained a Michelin star since the guide began including the SF Bay Area about 16 years ago. There is no menu on display, as the sole offering comes as a single prix-fixe tasting menu. Chez TJ offers their beloved guests a nightly, grand and vintage pairing, with an introduction to every pour paired with each course.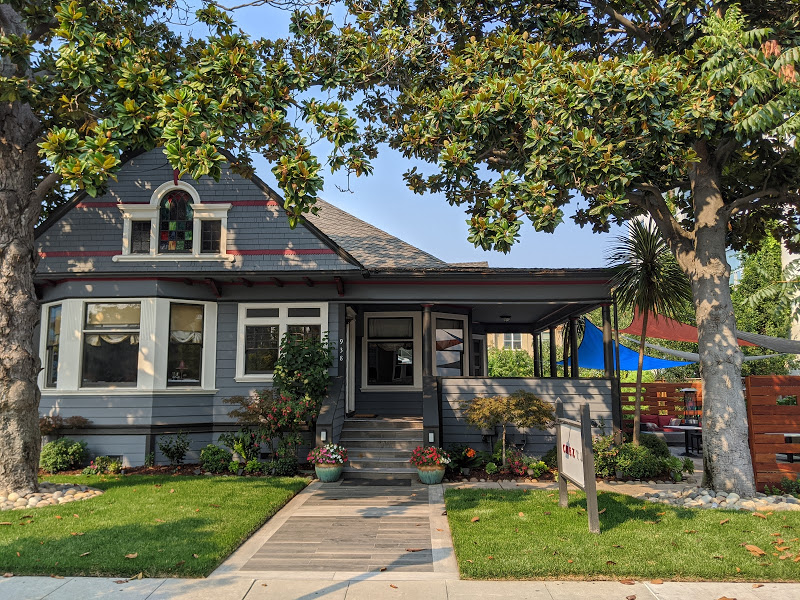 Pictured above is Chez TJ, Mountain View, CA after seeing the addition of a patio and garden-set outdoor dining expansion post-Covid-19. (11/2020 TB)
Thomas Brenner is a part of the core team to reopen his restaurant for pick-up and outdoor dining during the Covid-19 pandemic. He has reopened the doors of 2 Michelin-starred SF Bay Area establishments and a popular Brasserie across the Peninsula and South Bay after pandemic-related closures ravaged the industry. In this interview, we chat about how he managed the tumultuous year of 2020 and gain an insight into his travails and future plans.
How do you buy wine for your restaurant?
Periodically the beverage program encounters certain holes that need immediate filling. There can be a number of factors that indicate a need to purchase a certain wine. A Cabernet on offer by-the-glass (btg) may have gone up in price since the last time it had been purchased, a vintage change could be deemed unfavorable, or wine had proven to not last more than a day or two after its initial opening, despite using Argon gas.
There exists a myriad of reasons why a wine is selected for purchase and what constitutes a perfect for an individual beverage program. In such a case, where a certain need for a placement arises, we will contact several distributors and inquire about their current portfolio and inventory, comparable offerings, price points, and arrange a tasting whereafter we decide whether or not we go ahead with the procurement of a certain SKU for our program. BTG, multi-case, broken case, gratis bonus wines or free shipping, allocations, specials and other perks or current availability or demand of SKUs are also intrinsically linked with the decision-making when pertaining to the planned purchase of a wine or other varied bottling.
At times certain holes in a wine list will also allow for prioritized inventory depletion as well, freeing a wine-buyer from actually venturing outside of their inventory in order to fill a particular spot on a wine list for btg or btb (by-the-bottle) placements or utilization for pairings. Inventory depletion is a great way to move SKUs that are gathering dust and make room for justifying a need to purchase wines that fit the program and sell better. One must stay adaptive, especially during these trying economical times our industry has been facing as of late.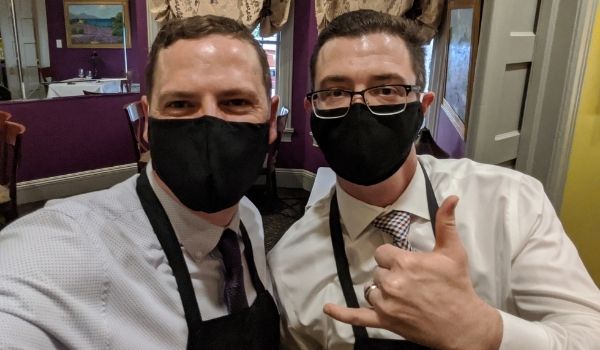 In Image: Paul Carayas, director and chief wine buyer for the beverage program at Chez TJ (Right), with Thomas Benner (Left).
When we notice certain size formats and styles (such as half bottle red Burgundies for example) to be in high demand, we make efforts to replenish a depleted inventory or seek similar bottlings from an array of varied distributors. Often seasonality dictates a certain need for styles of wine that have become less commonly enjoyed by our guests, and therefore purchased less frequently. Champagne during the holidays, and rosé wine and white wine during the warmer months are usually trends you can set your watch to. Nonetheless, dessert wines and the elite red wine styles and regions always need replenishment of both, the tried and true household staples, new producers and vintages of Bordeaux, Burgundy, California, and Barolo.
Sometimes we know a certain VIP enjoys purchasing bigger reds or elevated Champagne and, so in turn, we purchase such wines solely to suit an individual guest and their discerning personal preferences. We try our best to stay ahead of the curve and cater to our esteemed clientele. This process involves getting to know your client base and accommodating them to the fullest.
At our restaurant, we offer three tiers of wine pairings ranging from $150-$600 and have guests who at times may request French-only, or red or white wine-only pairings. We are prepared and stock current-release, as well as library wines that are intriguing, varied, food-friendly and are allocated, new or tried and true classics.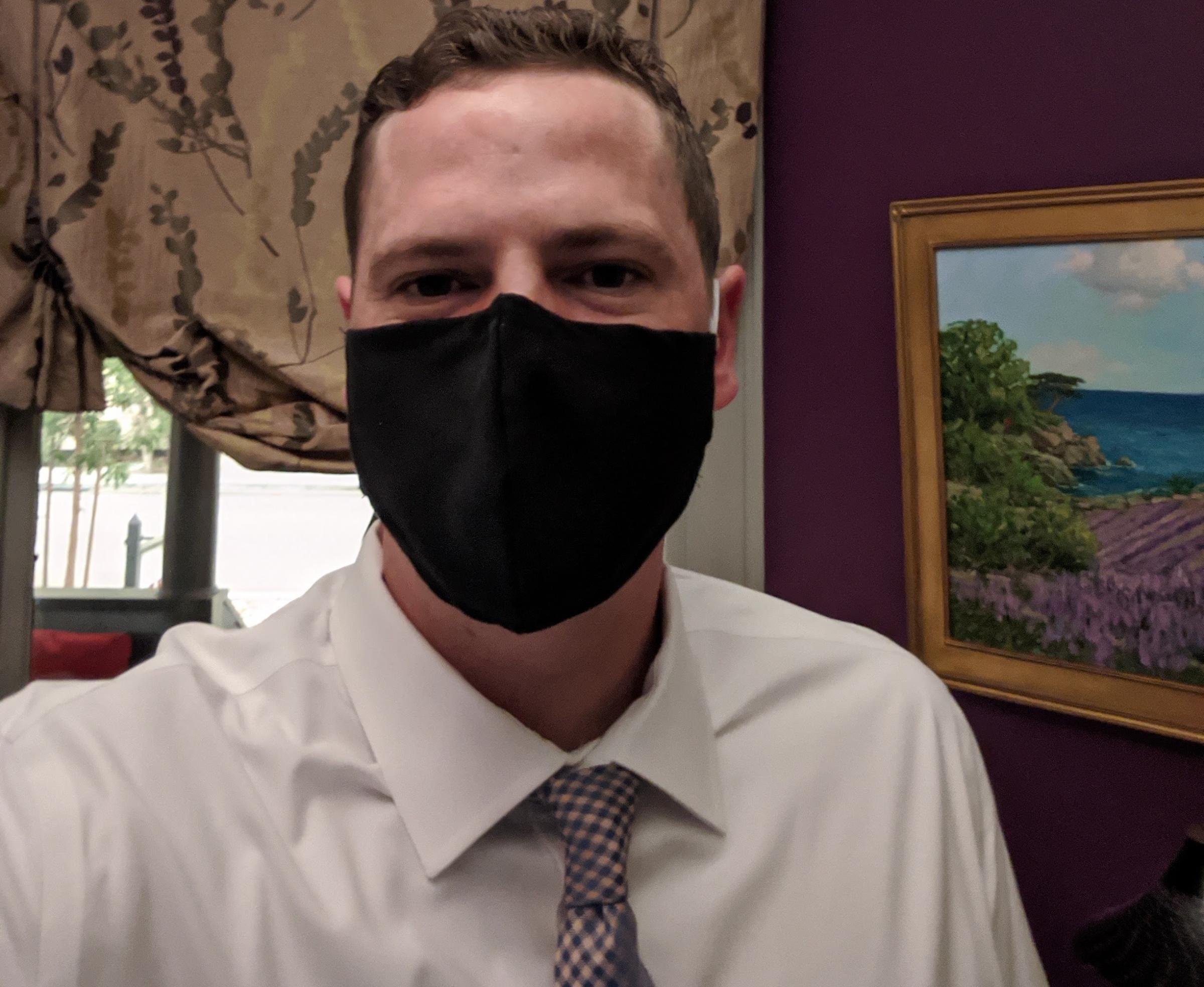 Thomas Brenner, Sommelier at Chez TJ
What defines a good sommelier
It is my belief that a competent Sommelier knows how to prioritize, first and foremost. This extends to timing, planning their steps ahead of time and being able to read and accommodate and exceed a guest's needs. One must be approachable, unintimidating, relatable and knowledgeable while procuring for your guest the experience they wish to encounter. This means staying humble in certain situations where a guest may have ordered a wine that was not textbook-appropriate for the culinary fare enjoyed alongside the wine pairing or said something factually incorrect that you may wish to correct. One must remember that your expertise and opinion are on display and one should be reminded to be exacting when it comes to this principle. Your guest, the experience, the setting for which you are responsible for and the wine are the star of the show - not the sommelier. A beverage professional facilitates excellence in hospitality and therefore maintains and exceeds continued sales expectations by consistently adhering to the professional expectation laid before them.
You would be well-advised to have your guest remain the focal point from beginning to end, serving only to facilitate a heightened experience and solely add to enhancements and never take from guest enjoyment by hindering any of the aforementioned priorities.
Hospitality and guest-accommodation are the key to being a great sommelier, simply put. Sales, reputation and repeated patronage, as well as increased interest from new revenue streams depend on this principle.
The next prerequisites obviously involve tact, articulation, knowledge, and proper execution of service. Having a low, mid and top-tiered wine from each category and price points alongside key hallmark vintages memorized (and their corresponding places in the cellar and wine list) is also tantamount to being a Sommelier of enhanced stature and skill.
Tips for young Somms to increase restaurant sales
Read your audience. Even though you know better than most that a certain Semillon, Melon de Bourgogne, Gewürtztraminer or Blaufränkisch are excellent wines of great quality and approachable price-points, we have to be aware of the fact that such wines don't really fly off the shelves, if at all. The golden rule! Buy for your restaurant and guests, not entirely for the menu that holds your name by elevating ego, preferred business arrangements or empathy with wine sellers, or a differing personal preference. This is a business after all. A beverage program can be the biggest contributor to profit in the hospitality sector and should be treated as such.
Some establishments, such as a classic steakhouse, will always have a need for bold, big-name Napa Cabs and Aussie Shiraz, Zinfandel and Bordeaux. Certain ethnic restaurants, however, will need to focus their beverage selections and a sommelier's knowledge base around geographical parameters, for example.
What's an ideal wine menu for you?
The ideal wine menu for me is easily digestible, correct in every way, truly stocked with that which it lists and boasts a range of varied styles, vintages, regions of origin and price-points alongside reputable producers and lesser-known vintners and wine types. A perfect wine list will feature renowned vintages and producers while affording guests an option to splurge or celebrate with a half-bottle of Prosecco or Moscato all the while. I like to have available to me white, red, rosé, sparkling, still, dry, sweet and fortified wines to choose from and accommodate my specific needs when I dine out.
How was 2020 going before covid-19? How did you respond to crises in terms of staff layoffs?
We have seen furloughs and overall reduction in staffing positions that used to be filled by bussers, somms, managers, etc. Layoffs affected every rank and title over the past few months, industry-wide. Indoor dining has been curtailed and an outdoor dining or pick-up/curbside program has had to be very adaptive if a restaurant were to prevail during these challenging times. I was able to rely on my previous contacts and extended network to stay relative, involved and engaged.
Did all your operations close at some point? How did you pivot and manage the delivery side of things?
I worked for and relaunched 3 restaurants during Covid-19, seeing through the reopening of doors to a new world of mask-filled and altered service protocols. All of them closed for a period of time and reopened with vastly reduced staff. Chez TJ was closed for 6 months. After almost 40 years of offering only indoor dining, the restaurant's ownership seized the opportunity to build an elegant patio, as well as a garden-set environment for seatings. We adapted and became equipped for the first time to offer guests an outdoor dining space. Over the past 9 weeks we have accumulated an arsenal of effective heating devices for comfortable winter time outdoor dining, while complying with and exceeding what we have been relegated to these days. We had to pivot toward take-out formats industry-wide and curbside food pick up with retail wine sales and still are adhering to such formats at many restaurants nationwide to this day.
What steps have you taken to limit touchpoints and make it safer for consumers to dine now?
We have masks on at all times, offer QR codes to our beverage program, report our health status on a daily basis and sanitize every square inch and item in our operation repeatedly throughout services. Bathrooms are disinfected after each use and masks and sanitizers are offered to guests entering the doors of the restaurant. Certain elevated service standards had to be curtailed due to personal space restrictions and prevention of cross contamination. This includes the act of pulling out chairs for guests, taking portraits or replacing serviettes for guests to name a few examples that immediately come to mind.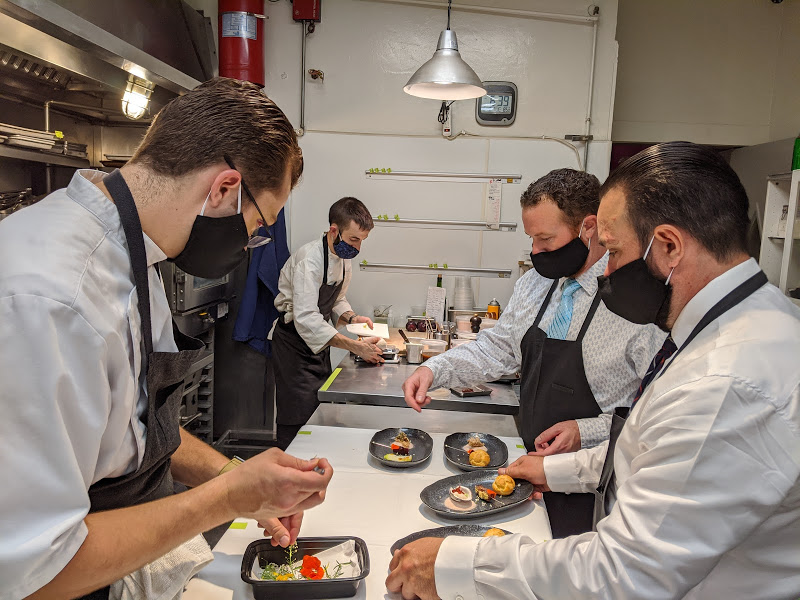 Chefs and Front of House wearing masks during dinner service at Chez TJ, Mountain View, CA. (9/2020)
Are there any lessons you can draw from what you have been through?
I can only say that during these tenuous times adaptivity, astutely catering to a niche and offering solely what guests demand is of the utmost priority when it comes to fulfilling an adaptive and successful culinary and beverage program in the hospitality industry. This would include, but is not limited to, an impeccably sanitary and safe environment, diverse culinary and vinous offerings, a memorable experience and elevated ambience with above-standard service. In my opinion, these steps would count among what a successfully adaptive enterprise would be constituted of.
What do you think will be the key factors in growing back your lost revenue?
Reducing costs will count among the key factors in growing back lost revenue. The current changes and climate for the beverage industry (and dining as a whole) has affected everything from the wine buying selections to opening hours, dining space and employment in the sommelier and overall dining industry. Offering new outlets for sales, such as curbside and retail bottle offerings and pairings, honing in bottlings on offer and advertising while maintaining standards have proven to be the key to overcoming current obstacles in the sales environment the industry currently faces.
How are you buying new products? Are you meeting sales reps and tasting wines?
We are meeting with reps regularly, with masks on and avoiding cross contamination and institute safe spacing from one another during tastings. We meet with wine reps weekly or when a need for a particular category of beverage has to be procured.
What has been your biggest challenge during the pandemic?
Maintaining a reliable and reduced support staff has proven to be the biggest challenge during the pandemic. Talent retention and adaptivity to changing needs of lawmakers and guests are key factors to be addressed when it comes to prevailing during times of adversity and struggle in the current workforce environment.
Have you seen changes in consumer behavior in the wines they are drinking now
I have noticed that buyers have cut back a slight bit in regards to wine-related transactions, but certain dining and retail outlets have enjoyed a surge in beverage sales. A well-curated selection of quality beverages and service is and will always be paramount to maintaining and expanding sales forecasts. I have noticed a trend leaning toward both, accessibly priced offerings and top-tier programs and beverages. Maintaining a well-curated inventory of the easily-digestible pour, be it world-class or simply pleasing in terms of monetary regard can assure the upward tick of sales generation in the beverage industry.