All Roads Lead To Burgundy, Says James L Bube MS

12/01/2022 James L Bube is the Wine Director and Master Sommelier for Hogsalt, A Nationally-Acclaimed Restaurant Group in Chicago.
Jim is a Wine Director at Hogsalt in Chicago. Formerly the General Manager of Mercantile Dining and Provision in Denver, Jim focuses heavily on mentorship in the wine industry when not cooking or trying to make the perfect canelé. Over his career, Jim has worked the restaurant floor, rose to top management at the 3rd largest wholesaler in IL, managed a 7 state territory as an importer prior to joining Hogsalt as wine director. Jim has helped organize an annual, immersive, 2-day hospitality and tasting boot camp for the wine industry drawing participants from across the United States and is regarded as one of the most coveted sommeliers in the industry.
Tell us a little bit about yourself. How did you begin your career and how did you progress into this role?
I was in wholesale as a Sales Rep and Manager for many years before starting at Hogsalt. I asked my new boss out to dinner in hopes of drumming up business and was surprised that the company was expanding and looking to add a Wine Director. After discussing details it seemed I'd be a good fit and have been happily employed since!
Define your role and the tasks involved in your role.
I'm the Wine Director. I'm responsible for the wine training, profitability, and selections of all wines company-wide.
If not a sommelier, what else would you have been?
I studied Graphic Design and Philosophy. As I'm color blind, I'd likely be in academia as a Teacher.
What questions would you ask the restaurant owner before you plan your wine sales growth strategy?
I think it is very important to understand the clientele of the restaurant and the desired market. At Hogsalt we don't currently employ sommeliers so it's imperative that our servers are well trained and can confidently sell our selections. Loading our lists up with esoterica that does not resonate with our guests and stresses the staff out is counterproductive.
How can suppliers work with you to drive sales?
Relationship management is a big part of my role. I consider many of our suppliers close personal friends and this can be helpful when there are rare, allocated wines that may be doled out at our supplier's discretion. Further, open lines of communication are crucial nowadays as supply chains are strained so having up-to-date information on the availability of volume items is of great importance.
What are the three main things you focus on daily in your role?
Supply of quality items, Staff Training and Organization
What are the points you look at when selecting a new wine for your wine program?
Consistent supply, Conscientiously farmed, and Artistically relevant wines that sell are what we look for.
Define a good sommelier and what qualities you would look for when hiring one.
A sommelier is above all else a server and a great server checks their ego at the door and does everything in their power to make the guest's experience as great as possible.
What do you look for when you have to evaluate the effectiveness of a wine program?
Sales and Profitability. My salary is paid for by the value I deliver to my employer and my ability to find wines that both are appealing to our guests at reasonable markups and deliver at the bottom line is my stock-in-trade. That's the game.
If you had to pick one red and one white wine as your personal best, which wines would they be?
All roads lead to Burgundy. The highest highs I have had in wine enjoyment have been from Pinot Noir and Chardonnay from Burgundy. 2002 Mugnier Musigny and 2010 Coche-Dury Corton Charlemagne are probably the two greatest wine experiences I've had.
Wine involves a lot of storytelling, what's your go-to wine story?
I think the geological history of wine regions is both endlessly fascinating and enlightening. Understanding how the place came to be and why it matters is what I find really interesting.
Is Price = Quality in Wines? What's a value-for-money wine that you would recommend?
I generally don't spend much on wine. You can buy world-class wine at $30 or under from most regions of the world that are 85-90% of the possible quality of their respective appellations with few exceptions.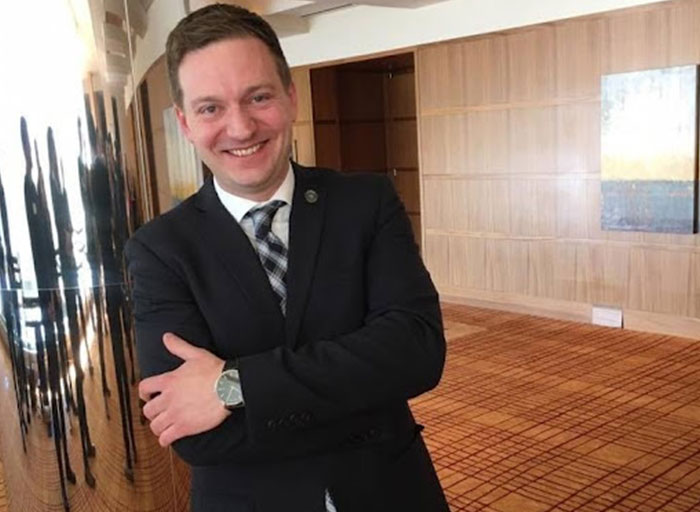 The best and worst part of your job
The best part of the job is inspiring passion about beverages to a diverse crew of professionals. Lately, the worst part has been having to quickly pivot when something runs out of stock due to supply chain issues.
Any favorite food and wine pairing suggestions?
A great favorite remains spicy Sichuan Chinese and Kabinett Mosel Riesling. To die for.
Which varietals or countries are in demand these days for your business?
Cabernet remains the king in Chicago.
Favorite Song, Podcast, and Book
The Huberman Lab podcast has been in heavy rotation lately. No real favorite song or book, but thrilled to be getting into the new Jasper Morris tome "Inside Burgundy."
Interviewed By Prithvi Nagpal, Editor & Sommelier, Beverage Trade Network
Image: Hogsalt