Explore New Realities and Expand Your Wine Selection Says Lupo Thoenes

08/09/2022 Lupo Thoenes is the Head Sommelier at Hélène Darroze, a Three Michelin Star Restaurant at The Connaught Hotel, London.
Tell us a little bit about yourself. How did you begin your career and how did you progress into this role?
My career started from a small Trattoria (Italian Restaurant) in Bologna while I was studying at the university. The owners had a small wine cellar and I started recognising wines there. I started becoming passionate about wine and wanted to learn more about it. After I finished university, I started studying wine and landed my first job in the Three Michelin Star "The Waterside Inn" as a Commis Sommelier. After two years of hard work and tasting a lot of wine, I left the restaurant as the Assistant Head Sommelier to join The Connaught family. I am currently working as the Head Sommelier at the Three Michelin Star "Hélène Darroze" at The Connaught Hotel working along with a team of 7 people and a 3000 bins wine list.
Define your role and the tasks involved in your role.
As a Head Sommelier, part of my responsibilities is to create tailor-made proposals to exceed expectations and enhance the experience of my guests, implement the beverage offer with innovative proposals to boost the sales, contribute to the development of the beverage proposal with the Director of Wine and to train both the Sommelier and Front of the house team.
If not a sommelier, what else would you have been?
An actor.
What questions would you ask the restaurant owner before you plan your wine sales growth strategy?
I would ask him to Define a budget, Discuss common targets and Identify our current and prospective clientele. The style of the wine proposal should reflect the philosophy of the restaurant.
How can suppliers work with you to drive sales?
I believe communication is the keyword here. Clear and effective communication is what is needed between the trade and supplier community.
What are the three main things you focus on daily in your role?
Customer satisfaction, Staff wellbeing and Improvement.
What are the points you look at when selecting a new wine for your wine program?
Exploring new realities, Expanding the wine selection and Establishing new relations.
Define a good sommelier and what qualities you would look for when hiring one.
A good sommelier needs to be Knowledgeable, Intuitive, An Excellent Communicator, Humble and Curious.
What do you look for when you have to evaluate the effectiveness of a wine program?
Consistency, Variety of the proposal and a Sense of place.
If you had to pick one red and one white wine as your personal best, which wines would they be?
This is always the hardest question to answer. I believe it is very difficult to select a single wine when you have had the opportunity to taste so many. If I would need to choose two wines, they would probably be 1992 Musigny Blanc, Domaine Comte Georges de Vogue and 1989 Romanée-Conti, Domaine de la Romanée-Conti. I am a huge Burgundy fan and those are two of the rarest gems I had the opportunity of tasting.
Wine involves a lot of storytelling, what's your go-to wine story?
Each wine has its own story behind it. That is one of the great things about wine. It is produced by human beings and they all have different stories and heritages. A good one is about the two sons of Montrachet, one knight (Chevalier) and a half brother, and a bastard (Bâtard). So you end up with Chevalier-Montrachet and Bâtard-Montrachet.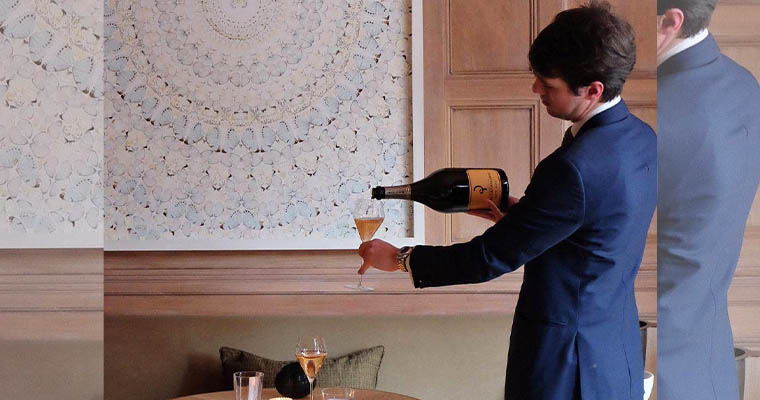 Is Price = Quality in Wines? What's a value for money wine that you would recommend?
Price is not always quality. It is definitely often quality, but not always. South-Africa is producing great Chenin Blancs and Pinot Noirs which are fairly priced and Assyrtiko is always a go-to value for money wine for me.
The best and worst part of your job?
The best part is the relationship with the guests, colleagues and the wine community.
Any favorite food and wine pairing suggestions?
I am a fan of simple pairings. A Riesling Spätlese with Foie gras. A nice Sangiovese with some Charcuterie. A Sauvignon Blanc with Goat Cheese.
Which varietals or countries are in demand these days for your business?
The classics are always in demand. Bordeaux blends from Bordeaux, Chardonnay and Pinot Noirs from Burgundy and Classic Italian Wines.
Favorite Song, Podcast, and Book
Song - Let it Be by The Beatles
Podcasts - Ted Talks Daily
Books - This is as difficult as the wine question. My all-time favorite is 'The Picture of Dorian Gray' by Oscar Wilde, but lately I enjoyed No Rules Rules: Netflix and the Culture of Reinvention by Reed Hastings and Erin Meyer.