From Studying Medicine in Italy To Becoming A Sommelier: Lorenzo Lentini Talks About His Journey

08/09/2022 Lorenzo Lentini is the Head Sommelier at Davies and Brook, A Michelin-Star Restaurant at The Claridge's London
Tell us a little bit about yourself. How did you begin your career and how did you progress into this role?
It all started when I was working as a bartender and I did not know anything about wine. The Head Sommelier of the company introduced me to wine and in an instant, I saw how vast that world could be. It intrigued me. From there on, I moved to London and I started working in a Michelin-starred restaurant and everything kind of rolled naturally till the moment where I am now, one experience after another.
Define your role and the tasks involved in your role.
The Head Sommelier position at Davies and Brook is primarily a managerial one. This is because we have a very strong team of Sommeliers and they are taking the lead in guiding their teammates in the wine world. I'm there to coordinate them, hopefully, inspire them, and solve any problem that could come. I'm working hand in hand with the Wine Director, Gabriel di Bella, to have an amazing wine list and we are in constant research for wines for the By Glass program, and new ways to keep the team happy and cohesive.
If not a sommelier, what else would you have been?
There are a couple of answers to this question, "Kid Lorenzo" and "Grown Up Lorenzo". For a couple of years, I studied medicine in Italy, it was my dream when I was young. As a grown-up, I discovered a natural passion for Physics. I'm a science kind of person and I can see myself pursuing those two paths if not wine.
What questions would you ask the restaurant owner before you plan your wine sales growth strategy?
"Which clientele are we targeting?" Of course, as a restaurant, you want to be as inclusive as possible, but the core of your sales will be different. If you plan to work with fine wines you need to work with "En Primeur" and with auctions, and they require a completely different strategy and more storage capability.
How can suppliers work with you to drive sales?
I think we are noticing how personal relations are influencing the collaborations between a supplier and a restaurant. After the pandemic, the number of duties that a sommelier has to carry on stayed the same, but the number of staff reduced, in some cases even half. This is the time when you have to trust your distributors and they have to retain this bond. The time to schedule tasting and meeting with producers has been reduced lately.
What are the three main things you focus on daily in your role?
1. The well-being of the team.
2. Communication between all the people that are involved in the restaurant's life.
3. To be honest with myself, it helps the team and the customers in the process of trusting each other.
What are the points you look at when selecting a new wine for your wine program?
It needs to make sense for me and the rest of the sommelier team. I love it when, after choosing a new wine by the glass, their first impression is "damn, it is good, and for this price!".
Define a good sommelier and what qualities you would look for when hiring one.
A good sommelier is a good person primarily. I look for someone that has high organizational skills and can communicate their thoughts clearly. Those skills will come in handy during their career, with both the guests and the rest of the team. Passion will always fluctuate, what needs to stay constant is the commitment that you have to your job. The constant attention to detail will reinvigorate your thirst for wine with new adventures and challenges.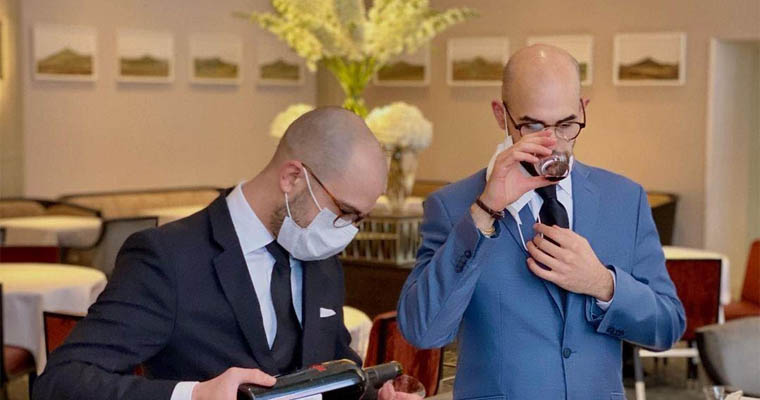 What do you look for when you have to evaluate the effectiveness of a wine program?
First of all, the wine program needs to represent the restaurant and the clientele. It needs to have a good By the Glass selection that gives an idea of the full wine list and the team must be excited to sell the wines present in the cellar. They will be the main point of reference for you, if the stock moves in and out it is a good sign.
If you had to pick one red and one white wine as your personal best, which wines would they be?
White - Philippe Pacalet, Nuits-Saint-Georges Blanc – it has its own style with a unique richness and freshness. A product that shows different shades year after year.
Red - Raul Palacios, La Penitencia – I'm a big fan of Spanish wines and I always liked Mencia as a grape, but too often I found it lacking in nerve and freshness. That is not the case with this wine, it is smokey and juicy depending on the age.
Is Price = Quality in Wines? What's a value for money wine that you would recommend.
Price is related to quality, but not always. Wine is a product that is meant for the satisfaction of many different palates, which is what makes it complicated to answer this question. I think sommeliers and consumers start to appreciate more natural wines because of the extremely high value that you get from them. Though they are sometimes unreliable, one bottle will show beautifully and the second will be less nice. So, if I had to pick a bottle, it would be: Markus Altenburger, Grüner Veltliner, Ladisberg, Leithaberg DAC.
What price points are hot for your customers?
My customers are drinking mainly Champagne, Burgundy White, and Bordeaux Red. The hot price point is definitely around £200, but outside those 3 categories our guests are looking for great wines and they can find many options around £100, and those often are my sommelier's favorite ones.
The best and worst part of your job?
The best and worst part of my job is interacting with people. We are complex animals and as such we are capable of amazing interactions. I think the difficulty, on both sides, is to understand when to create those connections and with whom.
Any favorite food and wine pairing suggestions.
Champagne works with everything for me. If picked at the right moment, it is so complex that it works on its own and even with a Rib Eye Steak! Having said that, once I was blown away by a Roasted Partridge Breast served with Pickle Chanterelle Mushroom and Partridge Bisque paired with Marsala Altogrado from Nino Barraco. Richness and saltiness in harmony.
Which varietals or countries are in demand these days for your business?
There is an increase in demand for Champagne growers. People start to consider their products like wine and not just a festive product. Guests also changed the way they look at Californian Pinot Noir, thanks to the work of many amazing producers and Spain constantly increases the amount of fine wine released in the market.
Favorite Song, Podcast, and Book
Song - Macklemore - Can't hold us. Though I really like the version from L.E.J. (a French band that sings a Cappella).
Podcast - I don't really listen to podcasts, I like the content on YouTube more, I'm an oldy. I really like the channel "Kurzgesagt – In a Nutshell". They do informative videos mainly about scientific topics.
Book - Isaac Asimov's Foundation. It is a series of novels, and they tell the story of the Foundation, an institute founded by Hari Seldon to preserve the best of galactic civilization after the collapse of the Galactic Empire.