Know Your Sommeliers: Elizabeth Dames

01/11/2023 Exploring the World of Wine with Elizabeth Dames: Get to Know Insights, Tips, and More From a Dedicated Wine Director on Her Path to Becoming a Master Sommelier.
Elizabeth Dames, the Wine Director at The Perlant in Atlanta, is a rising star on the journey to becoming a Master Sommelier. Her career commenced as a Food and Beverage Manager, and her growing passion for wine redirected her professional path. With strengths in staff training, humility, and effective communication, Elizabeth dedicates herself to daily self-improvement through relentless study and keeping a finger on the pulse of industry trends. Her ultimate ambition is to attain the role of a Corporate Beverage Director, a goal that reflects her boundless passion and unwavering dedication. Through her commitment, Elizabeth ensures that every guest's wine experience is truly exceptional.
Your current place of work.
The Perlant, a hospitality-rooted, wine-focused private membership club in Atlanta, GA.
Tell us about yourself.
My name is Elizabeth Dames, I am the Wine Director for The Perlant, a hospitality-rooted, wine-focused private membership club opening next year in Atlanta, GA, and I am currently pursuing the Master Sommelier designation with the Court of Master Sommeliers. I jokingly call myself a pin collector because I love taking certifications, the pressure of taking a test helps drive my study habits. I am a mother of two and a wife to the most amazing partner! I wouldn't be where I am today without the continuous support of my husband. Like most sommeliers, I love drinking Riesling and Champagne, and love a Last Word Cocktail.
Why did you want to become a sommelier?
I have always loved traveling and enjoyed learning about other cultures and languages. So, when I started taking a few introductory wine classes as part of my job as a Food and Beverage Manager, I quickly realized the world of wine connected all of my favorite things in life. Wine is a way to travel with every meal, and getting the opportunity to guide people through the wanderlust with each bottle feels like the best privilege anyone can have.
Questions you would ask a customer who doesn't know anything about wine?
I like to start by figuring out when they want to drink the wine, so I'll ask if they are looking to have a wine to sip on before any food hits the table, or if they are looking for something to go with their meal (or both!). Then I like to gauge whether they want something red or white, or pink, or sparkling. I also try to keep this very light and not intimidating, so I'll often ask exactly that, "What are you in the mood for? Something white or red? And then I typically do a little inflection change or a sort of happy squeal and add "one or pink or sparkling!" This typically gets a chuckle from the guest, which helps release any tension or intimidation they might feel from talking to the sommelier. Then from there, I'll ask whether they would want something bright and refreshing or something a little heavier and smooth. Then I'll recommend a few general styles with some high-level flavor descriptors. This is the part of the process when I read body language rather than ask questions. If they light up when I am describing a particular wine, I'll stop there and point to a few options on the wine list at varying price points.
What are some of the most important skills for a sommelier?
Humility, Listening Skills, Communication Skills. Of course, having a broad knowledge of the world of wine is of utmost importance, but being able to filter that knowledge for the benefit of the guest's experience is crucial. Using that knowledge through the lens of humility and hospitality is the sign of a truly great sommelier. A sommelier also needs to be able to ask the right guiding questions and then needs to be an active listener when the guest is responding. Many times, guests don't know the exact terminology when describing wine styles they like, so the sommelier needs the skill to listen and interpret what the guest has said, and then be a great communicator to offer wine suggestions without overwhelming and intimidating the guest.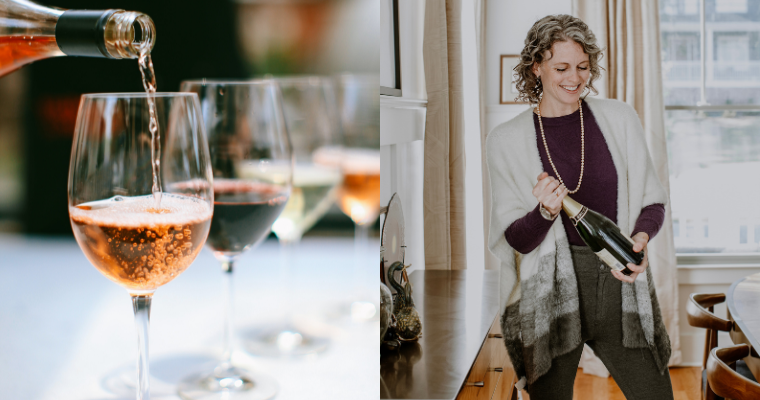 Image source: Pexels (L), Heidi Harris & Elizabeth Dames (R)
How I would train my new staff member in their first 7 days of them joining.
In their first few days, I would want them to get comfortable navigating the space, so giving them a full in-depth tour of the space, particularly the cellar and its layouts is a priority. Since wine is the most important aspect of our brand, new hires need to be familiar with the wine offerings, so they will receive time to read, review, and ask questions about the wine lists. They will also be asked to choose 3 wine producers from the list and to learn their entire story as though they will be asked to lead a staff training. Additionally, any new hire needs to understand our standards of service, not only the physical steps of service but also all service expectations. In the next 3-4 days, they will shadow one of the training staff members through their shift, watching, learning, and asking questions; this will include a shift or two in the kitchen to see food and flow of service from the Back of the House. In the final few days of the initial week, they will receive an assessment test that covers food and beverage service for management to gauge whether they are ready to step into their role unassisted or if additional training is needed.
What methods do you use to grow wine sales - top line? Please explain with examples.
Staff training is an important part of growing wine sales. Doing a new producer highlight during each pre-shift helps the staff feel confident to speak about wine at their table, and gives them tools on how to up-sell.
For example, if someone is looking to have a glass of wine and simply asks for a Chardonnay without specifying a brand, teaching the staff member to be able to describe the high-end option over the "house" pour almost always ends in the guest selecting the higher priced option.
Another technique I teach the staff in that same situation is to assess whether the entire table would like the same style of wine and to suggest they buy a bottle of wine over each ordering a single glass. If that can be accomplished, then the opportunity to sell a nicer bottle of Chardonnay suddenly becomes much more likely. It all comes down to confidence and the power of persuasion, so if the staff has been given the proper tools to guide the conversation like an expert, their guests will have a great experience, the staff will make more money, and revenue will go up.
Another method I use to increase top-line wine sales is hosting specific wine-related events, whether having a winemaker dinner, a tasting event, or an educational event. This of course requires marketing, but ultimately it brings people in the door specifically to drink wine. The price of the wine event will automatically bring in wine dollars, and then almost inevitably people will stay after the event and order more wine.
What methods do you use to grow net profits?
To grow net profits, I would look at my pricing first. I would determine my top 3 selling SKUs and increase their sale price, not drastically because it's important to show that the list is priced fairly, but even a small increase on the best sellers helps move the needle in the right direction.
I also focus on teaching the staff how to sell the higher-end bottles. We use a sliding scale on our markup (rather than a set 3x's markup), but even with this model, we make more for the bottom line when selling a bottle that costs us $200 for $350 which nets us $150 compared to selling a bottle that cost us $8 for $38 which only nets us $30. Preparing your staff to feel confident in speaking about (and properly serving) the pricier bottles ultimately helps increase our net profits.
Negotiating with distributors to find the best prices for the wines I want to add to the list is also a strategy I use. For example, when deciding to add a wine to the by-the-glass list, I talk with the distributor about what the lowest price possible is for that specific wine. if the wine normally costs $10, but I can convince them to sell it to me for $8, I can still charge $10-12/glass and add directly to our bottom line. I also take full advantage of all presale prices, case deals, and close-out items being offered. Taking advantage of those price breaks again allows me to hold my sale price while lowering my costs.
How do you self-learn and improve your skills?
I continue to set personal goals for myself. I am currently pursuing the Master Sommelier designation, so to pass that exam, I have a daily study schedule and a study group that pushes me to dig deeper into every topic. I have a non-negotiable 2 hours a day that I spend learning more or reviewing a wine region. Staging at high-end restaurants around the country is also a great way to be sure I am sharp in my service skills. I also read as much current event information as possible to be sure I am up-to-speed on any law changes, newly approved wine regions, and any changes in drinking trends. Right now, I am reading "Peak, Secrets from The New Science of Expertise" by Anders Ericsson and Robert Pool to improve the effectiveness of my 2-hour study time. I have taken the MS Theory exam twice and have not made it through, so it is extremely important to continue to adapt and evolve how I am studying to ensure eventual success. To do the same thing over and over and expect different results is folly.
What's the best part of your job?
It's different every single day! I never know who I'm going to meet, what wine I'm going to learn about, and what guests I will have the opportunity to guide to a new drinking experience.
How do you elevate the guest experience? Please give 4-5 examples and insights here.
Making a personal connection with the guest/member – since I work in the private club world, there is a different expectation for the dining experience, the Cheers effect if you will. My first job in elevating a guest's experience is to not only recognize them but to know them by name and to remember what their preferences are. Being able to draw on information from previous interactions shows them that I care enough about them to remember.
I like to make them feel great about their wine selection. I always offer praise to anyone choosing the wine, it makes people feel great if the Sommelier is gushing about the bottle they chose, no matter if it's the cheapest or most expensive bottle.
Exuding genuine hospitality through body language and energy - genuine smiling, shoulders back, a strong and confident pace through the dining room, engaging conversations tableside, making people laugh, showing that I am having a great time doing my job. If people feel like I am happy to be there, they will feel happy to be there.
Not only remembering food allergies but being extremely communicative with a customer/member about how we have taken every precaution to ensure they will be safe. We had a member with a severe milk allergy and she would always be a bit nervous when dining out. Every time I saw her name on our reservation sheet, I would be sure to communicate that to the floor captain/manager, kitchen staff, and service staff. When the member would come in for her reservation, I would explain in detail how the team prepared and communicated about her allergy. You could tell immediately by her physical relaxation that she felt comfortable. The main point is this scenario has nothing to do with wine, which is an important reminder, that Sommeliers are part of the service staff at the end of the day, so elevating a guest's experience many times will go beyond beverage service.
Your favorite TV show right now?
Peaky Blinders, the writing is incredible, Cillian Murphy is such an incredible actor and the entire cast makes every scene completely believable and draws you into the story.
An unforgettable wine experience for you - tell us the whole story!
In August 2023, I had the opportunity to be on the volunteer Sommelier team for the Staglin Family Vineyard Music Festival fundraiser for Brain Health. Not only did we have the chance to offer our talents to help execute their walk-around tasting and formal dinner, but they also organized for us to have some of the most unparalleled wine experiences. A few highlights were going on an in-depth tour at Mayacamas Vineyards and Winery with winemaker Braiden Albrecht, complete with ATV rides up to the top of Mt. Veeder where we could see San Francisco.
Another highlight of that trip was being guided through Bond's St. Eden vineyard with Max Kast, Master Sommelier. He had the brilliant idea to have us taste individual grapes from various points in the vineyard so we could taste and feel the difference in tannin structure, sugar accumulation, and acid development. Then we were allowed to do a vertical tasting of 5 different St. Eden vintages. I would also be remiss if I didn't mention that we also had personally cooked dinners in the vineyards at Tres Sabores with winemaker Julie Johnson and at Abreu Vineyards with winemaker Brad Grimes. The entire 3-day experience from start to finish was life-changing, but most importantly all of those experiences were donated by so many people in support of the Staglin Family and the important work they are doing to raise money for Brain Health. It was the best of all worlds – having incredible life-changing experiences around food and wine while also being able to give my talents to help raise money to find a solution for the mental health issues that plague so many people.
What are the biggest faux pas that customers tend to make when ordering and drinking wine?
American drinkers – think that sweet wine is bad and reject the dessert wine pairing. They are missing out on some of the world's most exciting and delicious wines!
Assuming all Riesling is sweet – My favorite thing is to surprise people with a bone-dry style of Riesling when they are looking for something crisp and refreshing.
Being too intimidated to ask the Sommelier for help and ordering the same bottle of wine they drink at home. They are missing out on experiencing something new. The Sommelier is there to help them find new things that are similar to what they already like, and use their knowledge.
Thinking they have to know the right verbiage, or that sommeliers will look down on them for asking questions. So often people say things like "This is probably a dumb question . . ." and it couldn't be further from the truth! I love it when people want to know more and sommeliers know that wine is intimidating (I still get intimidated sometimes!), it's our job to explain anything and everything, so no question is stupid! Ask away!
Any favorite food and wine pairing suggestions for drinks enthusiasts?
Lobster and GG Riesling – most people tend to ask for Chardonnay, which is certainly delicious and a classic pairing for a reason, but I love how Riesling gives your palate a bust of refreshing acidity to counterbalance the richness of the lobster.
French Onion Soup and Alsatian Pinot Gris – This is a complimenting pairing in that the flavors of the food and the wine are similar - the richness and sweetness from the reduced onions in the soup, plus the melty cheese is the perfect match for the slight residual sweetness and cheese rind flavors of the Pinot Gris.
Oreos and Brachetto d' Acqui – Brachetto is a slightly sweet, slightly sparkling rosé made in Piedmont, Italy that tastes like fresh strawberries and orange peel. It is a delightfully fun wine and adds some fruit and acidity to the richness of the Oreos.
Your favorite book?
The New French, Jon Bonné – the maps are fabulous! I am also completely obsessed with Inside Burgundy, by Jasper Morrison. It is the pinnacle of resources for Burgundy and every time I read it, I feel such a strong urge to book a plane ticket to Beaune!
What's your personal career goal? And how are you investing or planning to get there?
I would like to be the Corporate Beverage Director for a large company that has multiple locations in multiple cities and countries. I am working to become a Master Sommelier to be a top professional in my field. I also make mentorship a priority in my career. I host blind-tasting groups and help people prepare for the service exam portion of the Court of Master Sommelier exams. I am also a volunteer educator at a local wine school and help with fundraising events for local wine professionals. All of these things I do because I think it's important to give back, but it also helps create a positive brand for myself. When people or investors are asking around as to who is the best, I am proud and humbled that my name comes up consistently. Being the type of driven person to try to become a Master Sommelier, helping others, and honing my hospitality skills with over 10 years in Private Clubs has helped get me into a new position that is exactly what I have wanted for my career. With this new position as the Wine Director for The Perlant, I have a ground-floor opportunity to build a position and program from my perspective, that has the plan to grow to 30 locations across the US.
Give us one good story that you remember of a customer and you.
I recently had the opportunity to use Los Bermejos, Listan Negro Rosado Brut Nature for an event. It was such fun to be able to explain to one particular group about the Island of Lanzarote in the Canary Islands being covered in volcanic ash and the extreme measures that are taken for viticulture to survive. I even got to show them a picture of the island which you could see their minds being blown. I always compare Lanzarote to looking like the surface of the moon, but one gentleman exclaimed that they looked like alien birth pods! Everyone laughed and it was all just plain fun! It didn't hurt that the wine was also absolutely delicious.
How can suppliers work with you to drive sales?
They can come into the restaurant to do staff training with sample bottles, the more tools we give the staff to sell wine, the more sales will increase. Many times, suppliers have visited the wineries they represent so getting first-hand accounts of walking the vineyards and talking with the winemakers is extra valuable information to have when talking about the wine tableside.
They also many times have communication access to the winemakers/winery team so they are a crucial piece of the puzzle when trying to plan events to be able to have the winemakers come visit. Sales will certainly increase for a particular wine or winery after guests can have an interaction with the person who made it.
Suppliers can also help drive sales by doing consumer tastings. The more opportunities to have consumers taste and learn about specific wines, the savvier they become and hopefully the more wine they will choose to buy.
Can you share with us an example of a solid wine program?
Lucian Books and Wine has a spectacular list, it balances the big-name producers will smaller producers, and has the perfect balance of international and domestic offerings. There is something for everyone at all different price points.
What are the four main things you focus on daily?
Always have an attitude of learning
Training – trying to pass that attitude of learning on to others.
Budget, invoices, pricing – finances have to be in order, so it's super important to be daily checking in on that.
Positive affirmations – making sure I am in a good mental headspace to be able to continue to give to others – we need to always have our head and heart in the right place for true hospitality to flourish.
What are the points you look at when selecting a new wine for your wine program?
Price point – does the price make sense for the wines we already have on the list? For example, if we already have several Chateauneuf-du-Pape listed at $80, likely, I won't likely bring in another one at that price, I will look for one that would sit around $60 or $99 on the list to give greater breadth to our offerings.
Winemaking – I am always looking for wines that are made with the notion that we need to take care of Mother Nature. I don't necessarily mean a wine must be made using only "natural" techniques, because I do understand that in certain regions biodynamic and organic viticulture is extremely challenging due to external disease pressure. That said, I do make selections based on the producers who are doing everything in their power to not only create a magnificent wine but who are also doing their best to take care of and improve the ecosystem. Those wines end up feeling the most alive in glass.
Taste/Drinkability – The wine has to taste good! It sounds simple, but sometimes sommeliers can get so geeky that they forget that the most important part is that people have to want to keep drinking it!
The Story – So much about the consumption of wine is about the romance of it all. A person's perception of a wine will change drastically depending on their mood (this is why they said a wine always tastes better at the winery than it does when you get it home). Wines that have a unique story, or important historical connection, or a story about overcoming hardships, these wines are easier to sell and enjoy because guests (and myself included) can't help but get caught up in that romance and emotion.
Does it make sense for the clientele – The wine has to make sense for the concept, and needs to be able to sell, so I am always asking myself whom I can sell any particular wine.
The X Factor – I think this is tied up with some combination of the story, the winemaking, and the drinkability. It's what I call the X Factor, that sort of etherealness that you can quite put your finger on, you can only feel it. I recently heard Pedro Parra, who is one of three people in the world to hold a Ph.D. in Terroir, describe this as a wine having "sound." He went on to explain that Eric Clapton has a sound, the Beatles have a sound, and so it is with wine, that there is something unique about some wines from specific places, from specific terroir, that have sound. I look for that. If a wine has that x-factor, many times I'll throw out all the other filters I use when choosing a new wine because it is so abundantly obvious that everyone needs to experience it.
According to you, what makes a good sommelier, and what qualities do you look for when hiring a sommelier?
A good Sommelier can listen, interpret, and communicate effectively all while exuding kindness and warmth. All sommeliers need a vast understanding of the beverage as a whole, but to be a good sommelier, they need soft skills. At the end of the day, a sommelier's role (and anyone in hospitality for that matter) is to be sure every guest has the best experience possible, so a good sommelier knows how to protect the ego of the wine connoisseurs, they know how to alleviate the fear of the novice wine drinker, and they know how to make a tactful suggestion within the money-conscious guest's budget. A good sommelier knows it's not about them and their drinking preference.
The biggest quality that I look for when hiring a sommelier is determining if they are genuinely passionate about wine or if they are in it for their prestige. A good sommelier understands that their entire purpose is to bring joy to someone else. I try to find those who talk about helping others as opposed to those who talk about their achievements.
What do you look for when you have to evaluate the effectiveness of the wine program?
Determining the effectiveness of a wine program comes down to the numbers, and whether they are moving a lot of wine. I would run a sales mix to see if they have a balance amongst the various SKUs that they sell. Do they sell a lot of one or two SKUs and the rest of the list has been stagnant or do they have a nice balance across their list?
I would also look at their turn rate. Programs with a higher turn rate show that they have made correct decisions on wines that sell as opposed to wines that sit on the shelves. Another piece of the puzzle would be to determine if the program is profitable. A program with a high turn rate that isn't making the company is certainly not an effective program.
[[relatedPurchasesItems-61]]
Get Feedback From On-Premise Buyers, Wine Directors, and Master Sommeliers. Enter Your Wines Before January 31, 2024, To Save.