Know Your Winemakers: Joseph Patrick, Winemaker and Vineyard Manager at Jones Family Farms.

26/09/2022 "Winemakers Play a Key Role in Marketing and Sales," Says Joseph.
Joseph Patrick graduated with a degree in viticulture and enology and joined the Jones winemaking team as a winemaker in 2020. He has previously worked at the renowned Red Newt Cellars and the Glacier Ridge Vineyards on Seneca Lake. Since his return to Jones, Joe's varied experience and expertise have elevated the wines to a new level. From planting to bottling, winemaker Joseph Patrick is in charge of all parts of the process.
Tell us a little about your background and journey into winemaking.
My introduction to the Wine industry is a bit unorthodox. As a high school freshman, I began working part-time at a local Farm/ Winery. As my role there grew, so did my interest in Agriculture and Wine. Overflowing with curiosity and ambition, I began drafting ideas. I knew I had to try my hand at making a batch of wine. Keep in mind that I was just turning 15 years old at the time, so this proved quite the challenge. Between my studies and a part-time job, I devoted all of my time to researching what it would take to make wine. A few weeks later, I had my ducks in a row and was ready to proceed. I discussed this winemaking proposal with my parents, who found it quite hilarious at the time. With their blessing, I could order all the required equipment to produce my first batch of wine.
Skipping ahead a few months, I'm bottling my very first wine. It was a fortified blueberry wine. I had decided on blueberry as it was wintertime and fresh Winemaking Grapes were unavailable. To my entire family's surprise, it actually wasn't too bad. Being the ambitious teenager I was, I entered Winemaker Magazine's Amateur competition. Little did I realize this would be a pivotal moment in my career. To almost everyone's surprise, my wine took home a bronze medal. Now 16, you can imagine the rush I felt winning even the smallest metal available. At this moment, I felt such a desire for more.
[[relatedPurchasesItems-41]]
Over the next few months, I continued making batch after batch of wine before showing some of these rudimentary wines to my boss, who ran the local Winery. The result of this conversation allowed me to pursue more hours in the vineyard and winery. By the time I was 17 years old, I was nearly a full-time employee. I couldn't get enough; it had gone from passion to a crazy obsession.
Based on my academic success, I was able to graduate high school a few months early. I later went full-time at the winery for nearly a year until moving to the Finger Lakes Wine region to diversify my education and work experience. I enrolled in Finger Lakes Community College's Viticulture and Enology program. While a full-time student, I worked for Red Newt cellars and Glacier Ridge Vineyard.
I feel my time at FLCC and Experience at Red Newt excelled me to a new classification of a winemaker. I was no longer self-taught, reading second-hand how-to books. I could now work with the newest and most cutting-edge equipment and technology. Additionally, while working alongside renowned Winemakers.
Before graduation, I was approached by my original Winery. While I had other opportunities on the table, there was something sentimental about where it all began. I accepted the position and worked alongside the other winemaker at the time. Within a year, I was promoted to Head Winemaker and Vineyard manager. I fell in love with this industry extremely young and never looked back. In my younger years, there was always a 'magnetic' pull toward Winemaking.
I recently won "Best Overall Grape Wine" and "Best Connecticut Wine" at the 2022 Big E Wine competition at just 22 years old. It's mindboggling to think a Wine produced when I was just 21 years old, surpassed Wineries from Seven states…
Your current role, and what does your day look like?
I am currently the Head Winemaker and Vineyard Manager for a 6500 case Winery and 15 Acre Vineyard. I am solely responsible for producing all the wine and overseeing the cultivation of the Grapes. It's a one-man show here, meaning I do everything from ordering the corks/labels to filtering, fermenting, and bottling the wine. As crazy as it sounds, I am the only Winemaker here. My day-to-day drastically changes from week to week. Some weeks are devoted to stabilizing and filtering wines, and others are devoted to paperwork and harvest logistics. I only utilize external labor during bottling and crush days; I physically need employees around to operate some machinery.
Since coming onboard full-time again, I've changed nearly every wine in the portfolio and added six new wines overall. Our retail and wholesale sales have skyrocketed. At the start of 2022, I also started a wine club for devoted community members.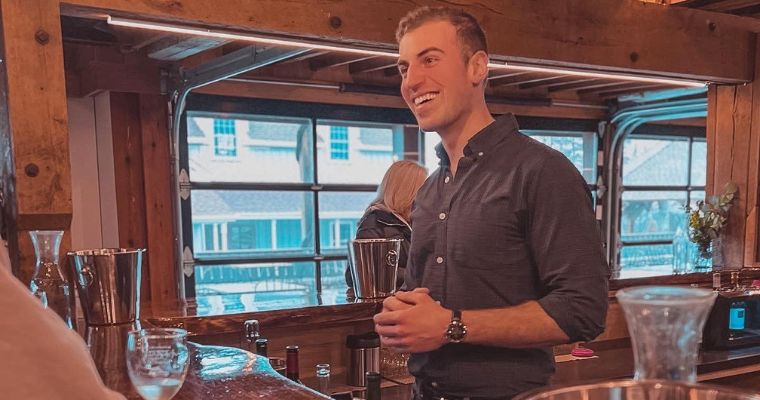 Image: Joseph Patrick
What inspired you to become a winemaker?
It's an extremely rewarding feeling when I can make a product for someone else to enjoy. Not only am I crafting a product with my hands but also with my mind. Years of experiences I've had and felt, plus winemaking judgments/decisions, have led me to that final product. Each vintage, you sharpen your blade, refining yourself and honing your skills. We all make mistakes, but often, in the wine industry, they can be looked at as blessings. Because, with wine, each action certainly has a perceptible reaction, allowing you to learn what works on the job quickly.
For me, It's not just an 8-5, day-in-day-out job. I always think of my wines, my next steps, and how to prepare for each. Every year, I get a blank canvas to create art. Evidently, it starts rough and coarse as any sculpture would. However, over the next few weeks and months, you began to see the physical changes in your product. The decisions I make through fermentation all the way to the bottle affect the outcome.
In the end, when I can serve a guest my wines and get the reaction of, "wow, that's good", along with a smile, it makes it all worth it. I am able to see the physical reaction and enjoyment my product brings to someone; the thousands of hours of hard work seemingly become easy.
What are some of the most important skills for a winemaker?
Time management is the most important skill a winemaker must have besides their own personal winemaking style. Logistics is the biggest factor in almost every decision you make in this industry. Effectively managing your time can lead to better fulfilment of winemaking procedures and practices. You will have a consistent, high-quality product when you complete your duties effectively and efficiently.
How do you think a winemaker can help drive marketing and sales personally?
Winemakers play a key role in Marketing and Sales and are among the most influential business members. If a winemaker is utilized for meet and greet events and wine club events, you can open up more marketing channels and avenues for sales.
On top of using the winemaker as the face of the winery and a draw for public interaction, He/Her be key in developing the Wines' packages. The Winemaker knows their personal style and how it should be represented. I personally am heavily involved in label development. In the end, that is the first thing most consumers will see. Additionally, a proper 'Winemaker written' description on the label will go a long way in displaying the wine.
Lastly, The winemaker always has the power to adjust their portfolio according to market demands. If there are reoccurring pulls on specific wine styles, they can push their Wines' style and inventory in that direction. While still maintaining a diverse portfolio.
Define a good winemaker.
An artist who is passionate enough that they are willing to sacrifice both physically and mentally to see the creation of the best wines possible.
What is the hardest part of a winemaker's job?
Time management, logistics. There never seem to be enough hours in a day or days in a week!
What do you do when you are not working/making wine?
Not much else! I'm inevitably devoted to my craft. I'm the only winemaker for this company, so I'm always quite busy! I recently took my first PTO day since February; besides that, it's typically 6-7 days a week, 8-10+ hours a day.
If I do feel I can take Sunday off, you can typically find me on the golf course or treating myself to dinner downtown.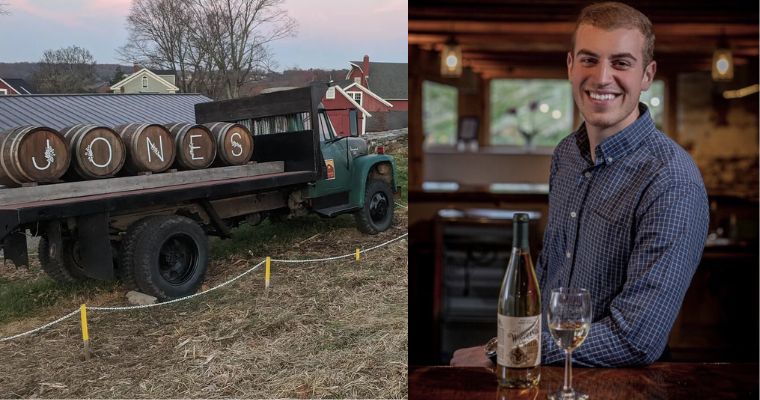 Image: Joseph Patrick
What are the current challenges winemakers are facing, according to you?
Labor shortages for vineyards and the occasional harvest help. When good labor is found, they always seem to have increasing rates per hour.
What skill or topic are you learning currently in wine and why?
Recently I have been perfecting Pet Nat wines. Getting the turbidity in the finished bottled wine is always a challenge. Additionally, keeping them stable while opening has proved problematic sometimes.
22' will be my third vintage of them. The last two vintages sold out within weeks.
What is your idea of a good life?
Well, for me, I can't say honestly. I can only dream for now as I haven't reached that point in my life; where I know exactly what I want from life. Regardless, I feel you should be surrounded by people who love you, no matter where you may be, and be financially stable.
Who are your top 3 sommeliers whose work you admire?
Thomas pastuszak, Dustin wilson & Aldo Sohm.
Your favourite 2-3 wine books?
Wine Grape Production Guide of Eastern North America, Concepts In Wine Chemistry ( Yair Margalit )
Header Image: Joseph Patrick