Q + A With Ivan Soriano

02/11/2021 Ivan Soriano gives insights into the on-premise wine industry and operational tips for sommeliers
I've been in the business for about 5 years now. I enjoy going to tables to talk about wine, I like guests feeling special when they come to our restaurants. I'm a music fan, I play percussion and guitar. I am a huge fan of comedies. I love Mexican cuisine, Peruvian cuisine and seafood!! So with that I'm a Somm who would rather enjoy a nice glass of white wine rather than red. Apparently, that's very rare in our business lol - Ivan Soriano
How long have you been in the drinks industry?
Five years
Your current place of work / Last place of work
Ventanas at the Modern and Son Cubano
How according to you has the role of the sommelier evolved, especially now during covid times?
Having been blessed that both restaurants I work for have huge patios, my job as Sommelier hasn't really changed in demand for wine. What has changed is the process of opening a wine and speaking with the guest about specific wines they are interested in. Wearing a mask, opening a bottle with gloves, and having to social distance while trying to speak to guests.
What are some of the most important skills for a sommelier?
In my opinion, the most important skill is reading a guest. Being able to recommend a wine to a guest according to prior wines they have had. For example, if a guest tells me I want something good what do you recommend? I always follow with what wines have you tried before? Producers, regions, or variety. This helps me make a recommendation that's right up their alley.
The second important skill, I would say being able to train staff on wine. Keeping it simple enough for the staff to remember and enough information for them to be able to speak wine with a guest.
What do you look for when you plan to buy wine for your business?
I always look for a good value. A wine with unique characteristics like a Txokolina from Getaria, Spain. Also, wines that can't be found at every local wine shop. I like to focus on wines depending on the season. Red for Fall and Winter. White for Spring and Summer. Light Roses for Spring, heavier Roses for Fall.
The first page of menu at Ventanas at the Modern.
Where and what you drink when not working?
I like to support local restaurants. If they have unique wines like an oxidized chenin blanc or a white rioja or anything out of the ordinary i always order one of those wines. If not then just a beer will do. Favorite beer is Allagash White, light refreshing and tasty!!
Your favorite places to get happy hour deals?
Local restaurants or restaurants with a nice wine list.
What are the new wines to taste now?
I'm a big fan of white wines. Lately, I've have a Txokolina, Gavi di Gavi, Soave, and farmer fizz!!
Tips for other sommeliers
Always stay humble, we all know how hard it is to learn, read and taste wine. It isn't an easy occupation, we have all spilled wine on a guest, we have all had guest send back a wine we have recommended, it happens. Just always remember that at one point you didn't know Chablis was part of Burgundy or that it was Chardonnay, at what point you didn't know Sancerre also makes red and roses. So when a new trainee is asking those simple questions, remember when you were there. Stay humble! Read as much as you can and taste, taste, taste!!!
What do you enjoy the most about this job?
Introducing a new wine to a guest and/or introducing wine in general to a guest. Sometimes my favorite moment in a day is introducing Pinot Noir to a guest who for their entire live only drank Cabernet. Who would tell me I don't drink wine because its too bitter or it gets me sleepy. Have you ever tried Pinot Noir ? Boom! Live changing.
Tips on how you can sell wine to your restaurant customers
I always ask 3 things.
1. What regions do you like?
2. What producers, if any?
3. Whats variety is your favorite?
From that I like to recommend something similar from a different country or region. Just introducing something different. Some guest go for it and some stick to what they know.
Tips on how restaurants can market wines to drive wine sales
Specials, happy hour or have your slowest night of the week become half priced bottles. That always attracts guest. Some sort of deal. Making the guest feel special, like they're spending less for something good.
Little more about Ivan Soriano
Ivan Soriano was born in a little town in the state of Guerrero, Mexico. Ivan grew up in Passaic, NJ. He is now living in Clifton, NJ. The start of his career in the restaurant business comes when he gets hired as a Busser at The Capital Grille in Paramus, NJ.
Ivan quickly becomes the best busser at their disposal. Ivan goes on to become Employee of the Month in his first month, as well as receiving a 2nd Employee of the Month at the end of the year, breaking previous records for fastest Employee of the Month and multiple wins in a single year for a new hire. In a steakhouse that houses over 50 Front of the House employees, it's no easy task.
After two years as a busser, a server tells him something he will never forget, "if you don't want to clean tables and work long hours, learn the food, learn the steps of service, learn your wine!" Soon after, he gets introduced to a Pinot Noir from Burgundy by the Sommelier, which changes his life.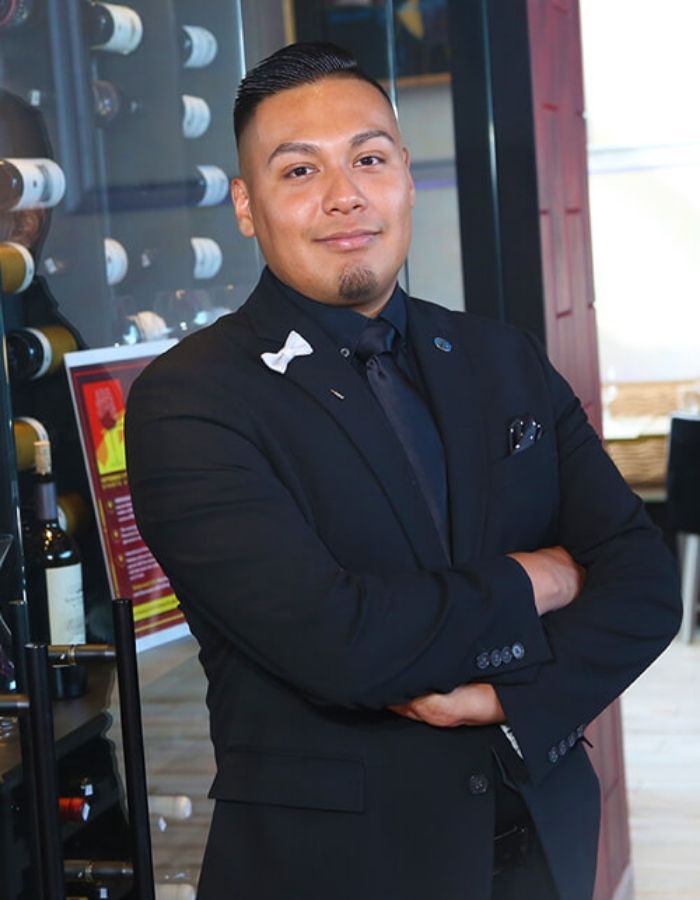 He gets bit by the "Winebug." In 2016 he took a course with the WSET, Wine, and Spirits Education Trust, passing the Level 2 exam. Soon after becomes a Server at Capital Grille, then at the famous River Palm Terrace in Edgewater, learning more about service and different cooking techniques, sushi, sake, and high volume service.
Shortly after, he begins work at a newly built restaurant and modern French brasserie in the heart of Montclair named Faubourg. Alongside NYC hospitality veterans Dominique Paulin and Chef Olivier Muller, Ivan learns more about the hospitality side and the French style of service. With the help of Phillipe, the Sommelier at Faubourg, he begins his new pursuit to become more than a server to become a Sommelier.
With help from a friend in the wine business, Ivan is introduced to Manager Manny Solano of VENTANAS Restaurant and Lounge and is immediately hired as the Wine Director. Ivan hits the growing running and soon implements new wines by the glass to pair with the Asian-fusion food that VENTANAS is known for and adds varietal wines that you may have never known existed. Its been a good start, and now Ivan is also implementing the same ideas and philosophy to VENTANAS' sister restaurant, Son Cubano, in Port Imperial, West New York, New Jersey.