To drink good wine you don't need to pay a fortune! says the Head Sommelier of Hush, Mayfair: Stefano Marotta

03/03/2022 Head Sommelier and Manager of the Hush Mayfair, Stefano Marotta talks to us about an effective wine program, what makes a good sommelier and selecting the best wines for your wine list.
Stefano Marotta is the Head Sommelier and Brasserie Manager at Hush, a private members club with an award-winning cocktail lounge and one of the best outdoor dining spaces located in the heart of Mayfair, London. Having vast experience for over two decades in hospitality and a degree in accountancy, Marotta specializes in budgeting, profit and loss management, creating wine programs, and making amazing wine lists. He started his journey by managing his own restaurants before moving to London, where he gained his interest in wine. In this interview, he shares various aspects of the wine business from his diverse experience being a sommelier.
[[relatedPurchasesItems-32]]
Tell us a little bit about yourself. How did you begin your career and how did you progress into this role?
I have been in the hospitality business for over 20 years and before London, I have been self-employed for 9 years running two restaurants of my own, one in Scotland and one in the Canary Island. Back in 2010, I came back to London and started to get interested in wine and auctions. I was working at Franco's in Jeremy street and the canteen was amazing with over 400 Italian labels. As a game, I started to buy wine with the owner and always sold them and he gifted me the WSET courses.
Define your role and the tasks involved in your role
As Head Sommelier, I am in charge of designing the Wine list and finding the best suppliers and products for our guests. Also from the financial side, I do the GP and control the costing and wastage. I also organize the training for staff although the best part is to run the service and upsell.
If not a sommelier, what else would you have been?
I am also a Manager and I feel lucky to have had the chance to fulfill my dreams.
What questions would you ask the restaurant owner before you plan your wine sales growth strategy?
I always ask what he wants to achieve as a result and then plan accordingly.
How can suppliers work with you to drive sales?
Suppliers can work with me investing in marketing and events but more important can sponsor us decorating or Courtyard quarterly and gaining one of the best spots in Mayfair to sell their products.
What are the three main things you focus on daily in your role?
First things in the morning are office work, orders, and planning for the day and events. Then is service time and meeting in the afternoon. When the evening starts the focus is on sales again.
What are the points you look at when selecting a new wine for your wine program?
It depends on what I am looking for and on which occasion. The thing I like most is to be able to sell it and despite the price, it has to be a great wine, something you will drink another glass.
Define a good sommelier and what qualities you would look for when hiring one.
A good sommelier is an individual who will share his passion and knowledge with colleagues and guests with an eagerness to learn more and an appetite for tasting new wines.
What do you look for when you have to evaluate the effectiveness of a wine program?
Most important is the focus they put on the vineyard, the family history, the soil, and the choice of the winemaker to obtain the final product.
If you had to pick one red and one white wine as your personal best, which wines would they be?
I grew up in Italy and I believe it is the land with the most indigenous grapes. I do like the wine of the south of Italy which perfectly matches the Mediterranean diet. Also, I will choose wines that you can drink every day. The choice of white is Fiano Di Avellino Feudi San Gregorio, delicate yet fresh floral notes of chamomile layered with peach and candied orange aromas. The soft palate is enveloped with a lovely freshness through to a vibrant spicy and mineral finish. The choice of red is Taurasi Feudi San Gregorio's fragrant aromas of Maraschino cherry, cinnamon, and nutmeg complemented by undertones of vanilla and anise. Full of juicy black fruit flavors, the palate is full-bodied and well balanced with sweet, soft tannins with an aromatic, persistent finish. I personally love the producer and the style and I have been to the vineyards a few times.
Wine involves a lot of storytelling, what's your go-to wine story?
I personally introduce my wine to guests after the trip to the vineyards and start to tell them the history of it and the way they produce it. Also, food pairing is an important aspect.
Is Price = Quality in Wines? What's a value-for-money wine that you would recommend?
To drink good wine you don't need to pay a fortune! Quality = Price is very important today and the more you match them both with a wise choice the more you have returning customers and guests enjoying one glass more. My selection of by the glass is worth a try and I do recommend it for every day easy drink.
What price points are hot for your customers?
Some of them compare prices on Vivino without understanding that it is based on the Bordeaux wine merchant and doesn't include a tax on arrival in England and expedition costs.
The best and worst part of your job?
The best part is sitting and tasting new products to introduce to the wine list. The worst part is when a guest tells you that the wine is corked but is not and you change it just to be polite.
Any favorite food and wine pairing suggestions
I am Italian. First of all white wine on seafood and red on meat! Jokes apart white burgundies on spicy food, for crudites light whites with a note of melon and peach, little tropical and minerals, meat sauce pasta and meat dishes Italian red or Bordeaux a bit more complex with dark fruits note, leather mushroom a bit earthy cigar box. Chicken dishes with sauces red Burgundy light and fresh with big acidity.
Which varietals or countries are in demand these days for your business?
My wine list is focused on the old world mainly France, Italy, and Spain although with some options from the new world as well.
Favorite Song, Podcast, and Book
Song: Another brick in the Wall, Pink Floyd
Book: The Old Man and the Sea, Ernest Hemingway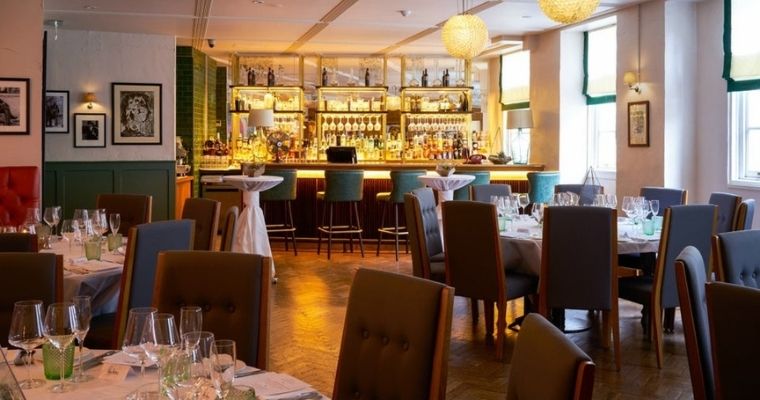 The beautiful interior of Hush Mayfair
Source: Four Square
Interviewed By Prithvi Nagpal, Editor & Sommelier, Beverage Trade Network
Get your wines in front of Sommeliers, Wine Directors and On-Premise Buyers of USA. Here's How To Enter your wines.