"You never know how great you are unless you test yourself."- says Will Costello, MS.

28/07/2022 Will Costello, Master Sommelier & Estate Ambassador talks about his profession, passion, & experience as a wine judge. 
Will Costello is a Master Sommelier and Export Manager at Miller Family Wine Company. He has competed in numerous wine-related competitions, including The Court of Master Sommelier's TOP/Somm. Will has also passed the Advanced Certification of the WSET with Distinction and was listed as "Top New Sommeliers 2013". Before joining Miller Family Wine Company, Will has been representing the Estate Wines of Bien Nacido and was the Wine Director at Mandarin Oriental, Las Vegas, where he used to look after the entire wine program. He has also been on the judging panel of the Sommeliers Choice Awards, and in this interview, he shares his experience in the wine industry.
Tell us about yourself, your background, and what are you currently working on.
I am a father, husband, and wine enthusiast. I also love being active. I have climbed some of the largest mountains in the world, including Mt. Kilimanjaro, Aconcagua, and Denali. I also race in endurance races and race motorcycles. I am currently working towards an Ironman 70.3 in Mexico Nov 2023. It's a long way away, but I like a long goal, much like passing the Master Sommelier exam.
How was working with Chef Pierre Gagnaire?
Chef Pierre is one of the most enjoyable and humble Chefs you will ever meet. I last saw him at his restaurant in Paris in May 2019. He welcomed us to sit down and enjoy a drink while we caught up with him. And we just dropped in without any notice. He is that kind of man and a wonderful human being.
When and how did you get the passion for wine?
I fell in love when I worked at a Michelin restaurant called Addison. The wine list was so large, and the wines so expensive, I was enamored. I fell in love with how varied and interesting the wine world was. And from that point forward, I knew I would stay in love with wine. You can never learn everything about wine; I love it.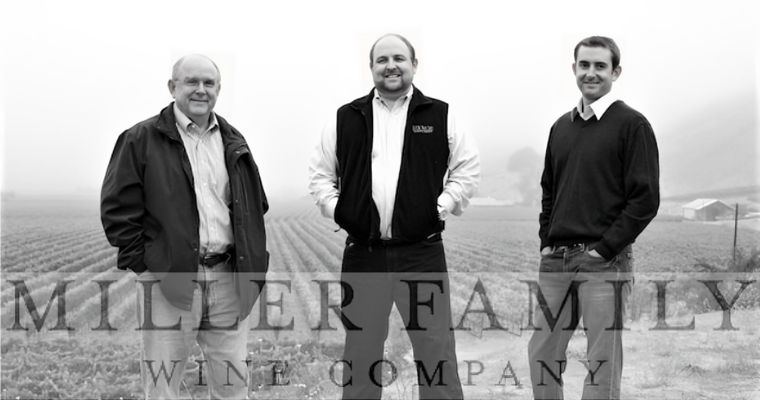 Tell us about your role as export manager and as an estate ambassador.
As the export manager for Miller Family Wine Company, I sell our world-class wines all over the world. We currently sell to 17 countries and have 22 different importers. I have the chance to share wines from California's Central Coast with people on most Continents. It's amazing. As the Estates Ambassador, this role is more friendly to the people who eventually drink our wines, since I get to pour at wine dinners, festivals, and for consumers who simply want to experience our wines.
As a judge at the Sommeliers Choice Awards, give us some insights as being on the judging panel and share your experience.
I love the fact that we get to judge not only the wine quality but also the packaging. I was highly impressed to taste some wines from regions. I don't usually taste. It has also given me a chance to experience wines in different price points and consumer segments that also fall outside of my consumption.
As you have competed in numerous wine-related competitions, tell us how it helped you and why this exposure is important for a sommelier.
You never know how great you are unless you test yourself. Whether it's mental or physical, in the pursuit of being the best, these competitions helped me see where my weaknesses fell and how I could get better.
What are the challenges you face while producing or exporting bulk wine?
Currently, the biggest challenge is logistics and shipping timelines and costs. It can take almost six months to get wine to Denmark from California. With this, the costs are also prohibitive for some companies. The other major challenge is that wines from our region are not so well known globally. So when Napa Valley can be found in every corner of the globe, Central Coast, Paso Robles, and Santa Barbara have a little more work to do to share how great these wines are to drink.
What areas are you planning on exporting to next?
We have two new importers in India, and it's exciting since the growing population of wine drinkers in India is only going to grow over the next 20 years. And since the Miller Family Wine Company has been farming since 1871, 20 years is right around the corner. It would be nice to sell some wine to France and Spain and to visit the country and pour some wine for the people. Our goal is to add ten new countries each year over the next five years. Nigeria, Kenya, and South Africa would be wonderful as well.
How do you retain clients?
Consistency of our quality. It's as easy as that. Make great wines that taste great every year at a great price.
Tell us some success stories at Miller Family Wine Company & Estates, such as making large exports and producing quality.
Currently, we sell every single wine we make in South Korea. We have four different importers in South Korea, and we have amazing consistent sales. Even our Non-Alcoholic wine is supported there. This is amazing to see, and assuming we can see the same success in all places we export, we would be extremely happy campers.
The path of becoming a Master Sommelier is tough, what were your biggest lessons during those years?
Being a leader and thinking about the right path and not the easy path! You have to blaze your trail to find success. And this means that those who have the greatest success have worked the hardest to find their way.
Name some of your favorite wines and what would you pair them with?
My favorite wines in the world come from Santa Barbara because they represent precision, fruit, and value all rolled in one. From the old world, I love Chablis for the same reasons. Value and precision, and in the case of chardonnay, very long aging. In both cases, the wines work well with crunchy vegetables, light-bodied fish, and anything that reminds you of spring.
Who is your big example in the wine world?
I am impressed by Stephen Miller, President of Miller Family Wine Company. He has been consistent in the wine world for 50 years and will have another two generations of his family with the same values.
As a Master Sommelier, what tips would you like to share with someone who aspires to become a Master Sommelier?
Work with the best wines in the world daily, which means sometimes moving to a new city and working your way up. But, reading about wines in a book or using flashcards will not truly get you the real experience needed to KNOW these wines.
What message would you like to give to young sommeliers?
Find the real reason you are in this profession. For some, it is to drink great wine. For others, it is hospitality, and for some, it is the pursuit of knowledge. But whatever that reason is, use it as a guiding light because some many ups and downs and trends change like the wind. While being adaptable is great; being able to have a core reason for why you do this every day is way more important.
Durvank Naik, Content Writer, Beverage Trade Network
Header Image Source: Facebook
Get your wines in front of Sommeliers, Wine Directors and On-Premise Buyers of USA. Here's How To Enter your wines.