Winners at the 2021 Sommeliers Choice Awards Announced

08/06/2021 Sommeliers Choice Awards announces the best wines of 2021.
The Sommeliers Choice Awards does things differently from the majority of the wine competitions out there. Not only do they award medals to those wines that show great quality, but they also take into consideration four other factors, namely, food pairing ability, typicity, value, and packaging. The main reason behind this is to set a benchmark for wine buyers across on-premise establishments and focus on those parameters that drinkers consider before choosing a wine.
This year's Sommeliers Choice Awards saw entries from nearly 30 countries, covering 142 different types of varietals. The highest number of entries this year came from the USA, followed by Italy, Spain, and then Australia. The Sommeliers Choice Awards, for the first time, also saw entries from countries like Japan, Ireland, and Serbia.
Just like every year, the wines were judged based on five parameters: Quality, Food Pairing Ability, Typicity, Value, and Packaging. The judging process is specifically curated with these parameters, keeping in mind that this is the same criteria professional wine buyers use to decide which wines go on their own lists in their restaurants, bars, or retail shelves.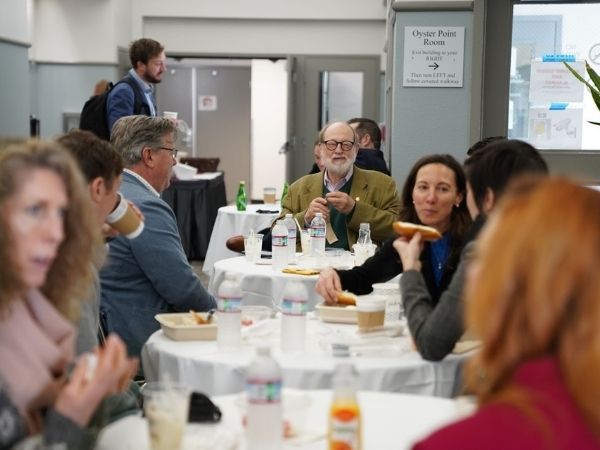 2021 Sommeliers Choice Awards Judges having breakfast at the in-person event
The 2021 judging panel comprised some of the best Sommeliers, Master Sommeliers, Wine Buyers, Masters of Wine, and other industry experts. This year, the competition prides itself on having 20 Master Sommeliers under one roof, judging and tasting wines.
Some of the names that graced this year's judging panel are Maximilian Kast MS (Master Sommelier and Director of Education at Broadbent Selections Inc); Sean Widger (Wine Director at Alexanders Steakhouse, San Francisco); Cami Lehmann (Purchasing, Wine Programs and Marketing at Maggiano's Little Italy, Carrollton, TX); Sahar Gharai (Wine Buyer, and Sommelier at La Dolce Vita Wine Lounge) and many more.
2021 Results
The 2021 results are out and reflect the best wines from around the world. Amongst the 142 grape varietals, the most popular ones were Cabernet Sauvignon, Chardonnay, Pinot Noir, Sauvignon Blanc, and Shiraz.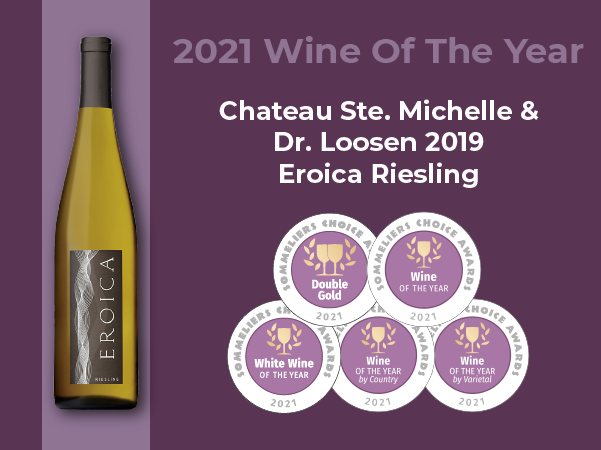 The overall winning wine came from the USA, scoring a total of 97 points and a Double Gold Medal. The title of Wine of the Year was awarded to Chateau Ste. Michelle's 2019 Eroica Riesling, which is produced in collaboration with famed Mosel winemaker Ernst Loosen. Paying homage to the wines of Washington, the Eroica Riesling also took home the titles of 'White Wine of the Year', 'Best in Show by Country', and 'Best in Show by Varietal'.
Top Winners of the 2021 Sommeliers Choice Awards
Wine of the Year - Chateau Ste. Michelle & Dr. Loosen 2019 Eroica Riesling
White Wine of the Year- Chateau Ste. Michelle & Dr. Loosen 2019 Eroica Riesling
Red Wine of the Year - Reynolds Family Winery Persistence
Sparkling Wine of the Year - Albinea Canali Lambrusco "FB" Metodo Ancestrale
Rose Wine of the Year - Baron De Ley Rioja Rosado 2020
Wine of the Year - BTG (By The Glass) - Long Shadows Vintners - Poet's Leap Riesling
White Wine of the Year - BTG (By The Glass) - Long Shadows Vintners - Poet's Leap Riesling
Red Wine of the Year - BTG (By The Glass) - Bodega del Abad, S. L. - Carracedo
Sparkling Wine of the Year - BTG (By The Glass) - Albinea Canali Lambrusco "FB" Metodo Ancestrale
Rose Wine of the Year - BTG (By The Glass) - Baron De Ley - Baron De Ley Rioja Rosado 2020
Best wines by Country
USA: Chateau Ste. Michelle & Dr. Loosen 2019 Eroica Riesling
France: Domaine of the Bee 2017
Italy: La Scolca D'Antan
Spain: Bodega del Abad, S. L.Carracedo
Argentina: Antigal Winery & Estates UNO MALBEC
Australia: Levrier by Jo Irvine 2015 Levrier by Jo Irvine Anubis Cabernet Sauvignon
New Zealand: Amisfield Pinot Noir
Chile: Vina Valdivieso Single Vineyard Cabernet Sauvignon
Germany: August Kesseler Riesling R
South Africa: Alvi's Drift Albertus Viljoen Chenin Blanc
Portugal: Adega Cooperativa de Redondo Porta da Ravessa Branco 2020
Best wines by Varietal
Cabernet Sauvignon: Reynolds Family Winery Persistence
Chardonnay: Trois Noix Chardonnay
Pinot Noir: Sass Winery Pinot Noir 2016
Merlot: L'Ecole No 41 Merlot Estate
Shiraz/Syrah: Paragon Wines Riddoch Elgin's Crossing Coonawarra Shiraz
Sauvignon Blanc: Fautor Winery Fumé Blanc 2017
Zinfandel: 2017 Levrier by Jo Irvine Peritas Zinfandel
Sangiovese: Vecchie Terre di Montefili Vecchie Terre di Montefili 'Vigna Vecchia'
Pino Grigio/Gris: Montinore Estate Pinot Gris 2019
Riesling: Chateau Ste. Michelle & Dr. Loosen 2019 Eroica Riesling
Malbec: Antigal Winery & Estates UNO MALBEC
View the full list of winners of the 2021 Sommeliers Choice Awards HERE