2019 Eroica Riesling crowned Wine of the Year

07/06/2021 Meet 2021's Wine of the Year - Chateau Ste. Michelle x Dr. Loosen 2019 Eroica Riesling, combining a rich heritage with a push of sustainability.
USA's Chateau Ste. Michelle shone at the 2021 Sommeliers Choice Awards (SCA), taking home the title of Wine of the Year for its 2019 Chateau Ste. Michelle x Dr.Loosen 2019 Eroica Riesling. The 2019 vintage of the Eroica Riesling was also crowned as 'White Wine of the Year', 'Best in Show by Country', and 'Best in Show by Varietal'.
The 2019 Eroica Riesling is a part of Chateau Ste. Michelle's collaboration with famed Mosel winemaker Ernst Loosen, from vineyard to bottle. Sommelier's Choice Awards' 2021 Wine of the Year proved to be a delight amongst judges with its sweet lime and mandarin orange aromas with subtle mineral notes. The acidity of the Riesling is beautifully balanced by flavorful Washington Riesling fruit. To achieve the Eroica style, the Chateau focuses on bright fruit with crisp acidity and enhanced minerality.
For a consecutive three years, the Sommeliers Choice Awards has succeeded as one of the leading wine competitions across the globe, bringing light to those wines that deserve a spot on a restaurant or bar's wine list, retail shelves, and those that also make a great addition to a drinker's personal collection.
The judging process at the Sommeliers Choice Awards stands out from similar competitions. While the emphasis is on the quality of the wine, SCA also focuses on a bottle's food pairing ability, typicity, value for money, and its packaging - taking into consideration all the factors that we, the drinkers look at, before buying a bottle.
The judging panel at the competition is one of a kind, composed of some of the best sommeliers, Master Sommeliers, Masters of Wine, and wine buyers across the country. This year, the Sommeliers Choice Awards saw 20 Master Sommeliers together, tasting and judging the best wines the world has to offer.
The heritage of Chateau Ste Michelle
Chateau Ste Michelle is known as Washington state's founding winery and was built on the 1912 estate owned by Seattle lumber baron Frederick Stimson. The winery's roots date back to the Repeal of Prohibition.
In 1967 a new line of premium vinifera wines was introduced, under legendary winemaker Andre Tchelistcheff. The first vines were planted in 1972 at Cold Creek Vineyard in Eastern Washington. Four years later, in 1976, Ste. Michelle Vintners built a French-style winery Chateau in Woodinville and changed its name to Chateau Ste. Michelle.
Today, the winery celebrates over 50 years of winemaking. Since then, Chateau Ste. Michelle has combined Old World winemaking traditions with New World innovation. In fact, Chateau Ste. Michelle is one of the few premium wineries in the world with two state-of-the-art wineries, one for red and one for white. The whites are made at the Chateau in Woodinville, WA, while the reds are made at the Canoe Ridge Estate winery in Eastern Washington, which was planted in 1991.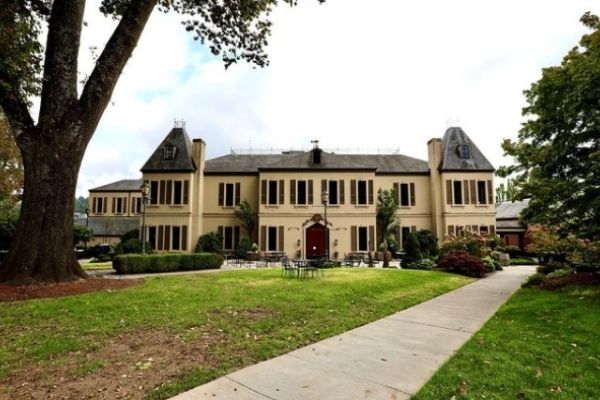 Chateau Ste Michelle
A sustainable effort
While making great wines, Chateau Ste. Michelle also gives back to Mother Earth, by making sure their winemaking practices are carefully curated and moving towards sustainability with inclusions of energy consumption, water conservation, and solid waste reduction and management. They've also implemented a wide range of winery recycling programs for materials such as glass, paper, cardboard, pallets, stretch wrap, cell phones, batteries, and fluorescent bulbs.
Chateau Ste. Michelle is a Washington State certified EnviroStar business. And, since the 2009 vintage, both Cold Creek and Canoe Ridge Estate vineyards received LIVE (Low Input Viticulture and Enology) and Salmon-Safe certification.
Home to a collection of wines
Apart from the Eroica collection, Chateau Ste. Michelle is also home to various other collections. This includes Impetus, the Artist Series, Ethos Reserve, Special Sites Collection, Single Vineyards, Indian Wells, Columbia Valley, Elements, Limited Release, Tenet, and Domaine Ste. Michelle - each one telling its own story.
The Artists Series stands out, focusing on the inspiration that artists and winemakers take from each other. Head winemaker Bob Bertheau crafts exceptional Bordeaux-style blends of unique power and character that honor world-class artisans such as Dale Chihuly, Alden Mason, and Andre Petterson.
Meanwhile, the Elements collection is different from others, with the wines being infused with fresh fruit and botanicals to intensify the unique character of the varietals, these wines are great for all occasions and an excellent choice for those who are new to drinking wine.
Paying an ode to the land are wines from, the Special Sites Collection is the ultimate expression of the acclaimed vineyards and small AVAs in Washington state: Cold Creek Vineyard, Canoe Ridge Estate, and now Red Mountain AVA. Distinctive single-site wines that celebrate a unique sense of place.
Visit Chateau Ste. Michelle
With a rich heritage and a groundbreaking entry into Washington state's winemaking world, the Chateau Ste. Michelle is a must-visit.
Washington State's oldest winery is surrounded by 105 wooded acres and unique craftsman-style architecture, acting as an oasis for everyone who visits. With all there is to experience, an hour can quickly become three.
The Chateau offers rotating experiences in light of times and events going on. June is Pride Month, so the winery has curated a special experience, namely INTRINSIC Wine Co. Pride Month Tasting Experience - a pop-up tasting experience at Chateau Ste. Michelle featuring the wines of the INTRINSIC Wine Co.
Available Reservation Times:
Wednesday through Sunday: 11:00 am – 3:30 pm
Friday & Saturday Twilight Tastings: 5:00-7:00 pm Walk-in tastings only, no reservations available.
Reservations are approximately 75 minutes. Maximum 5 guests per reservation.
Price - $20 per person
The winery also offers other experiences to indulge in, including a tasting of their Elements Collection, a Brunch Box experience, Patio tasting, and many more.
Shop Chateau Ste. Michelle Wines
Header image credit: Chateau Ste. Michelle
Get Feedback From On-Premise Buyers, Wine Directors, and Master Sommeliers. Enter Your Wines Before January 31, 2024, To Save.