Ehlers Estate 1886 Wins Wine of the Year By Varietal at 2022 Sommelier Choice Awards

08/06/2022 The results for the Sommelier Choice Awards are out and we are delighted to announce that United States' Ehlers Estate 1886 wins big this year.
Ehlers Estate 1886 bags a Double Gold, Wine of the Year By Varietal, Wine of the Year, Wine of the Year By Country, and Red Wine of the Year Award at the 2022 Sommelier Choice Awards, held on May 16 in San Francisco, USA.
Ehlers Estate's story is entwined with passion, patience, and hard labor, like the tendrils of vigorous vines that have been a part of the landscape since the mid-1800s. The Ehlers Estate vineyard is situated on a historic winegrowing site in the famed St. Helena appellation of Napa Valley. Since the mid-nineteenth century, grapes have been grown on this prized property. Under the leadership of renowned enologist Jacques Boissenot, the vineyard was replanted in 1995 using a variety of clone and rootstock selections. The Ehlers Estate vineyard, which produces outstanding Cabernet Sauvignon, Merlot, Cabernet Franc, Petit Verdot, and Sauvignon Blanc, is now farmed according to strict organic farming standards.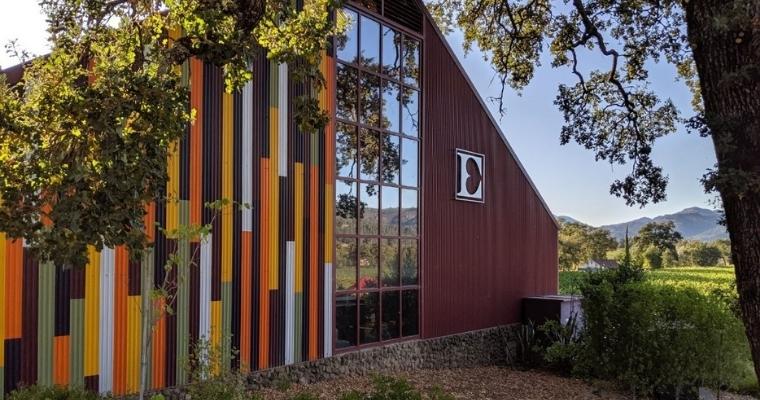 Ehlers Estate
The site is situated between the Mayacamas Mountains to the west and the Vaca Mountains to the east, at the narrowest point of the Napa Valley, and benefits from a distinct local microclimate. This location allows for steady airflow through the vineyard, which produces fog in the morning but clears out in the afternoon before being burned off by the midday sun. In the afternoon, cooling on-shore winds guarantee that the grapes ripen slowly, steadily, and evenly.
The Ehlers Estate vineyard is farmed completely utilizing earth-friendly organic farming practices as part of a vineyard-focused, socially responsible approach to winemaking. These techniques help to preserve the fruit's purity and character, resulting in outstanding wines with a true feeling of location.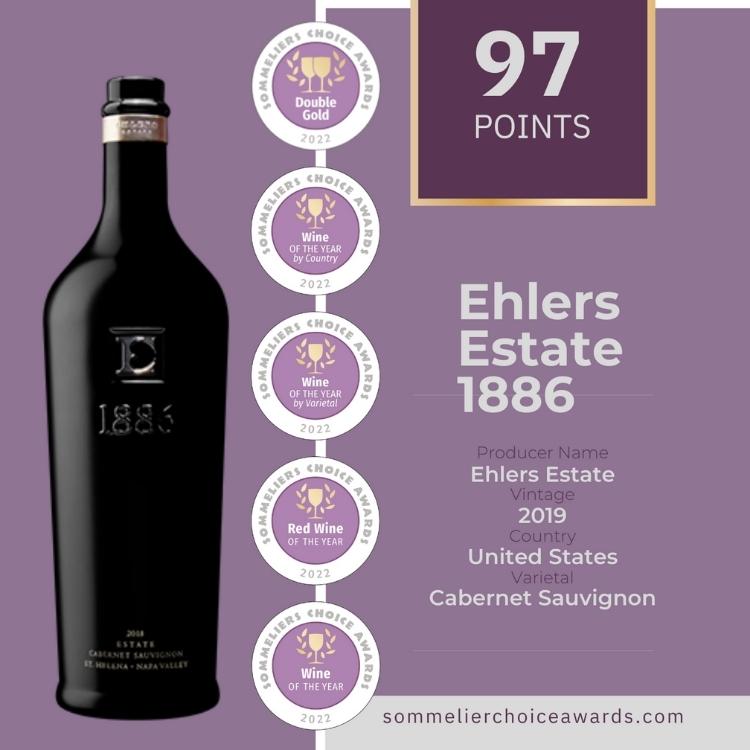 2022 Sommeliers Choice Awards' Winner 'Ehlers Estate 1886 Cabernet Sauvignon 2019, United States' by Ehlers Estate.
2019 has been a near-perfect vintage. This wine is the flagship wine for Ehlers Estate a true reflection of the Estate vineyards and the timeless value of long-lasting wines.
Name- Ehlers Estate 1886
Producer- Ehlers Estate
Country- United State
ABV- 14.5%
Judges' tasting notes
"A dense, lively, poised but powerful wine that is seamlessly stitched together in aromas, flavors, and structure. A brilliant balance of dark fruits and oak notes with firm tannins followed by a chocolatey finish."
[[relatedPurchasesItems-41]]
Here are some of the top winners of the 2022 Sommeliers Choice Award
Best Wines by Varietal Winners:
Cabernet Sauvignon: Ehlers Estate 1886, United States
Chardonnay: Grand Ardeche Chardonnay 2019, France
Shiraz: Beresford Grand Reserve Shiraz, Australia
Malbec: Kaiken Ultra Malbec 2019, Argentina
Merlot: Merlot, Trefethen Family Vineyards, United States
Pinot noir: Pinot Noir Anderson Valley, United States
Tempranillo: Sara Rivera Tempranillo 2018, Spain
Riesling: Terragena Wiley Vineyard Riesling, United States
Sauvignon blanc: Late Harvest Sauvignon Blanc 2017, Moldova
The fourth edition of the Sommeliers Choice Awards, organized by the Beverage Trade Network, a global media and B2B networking platform servicing suppliers, buyers, and beverage professionals in the global beverage industry. At Sommelier Choice Awards wines are judged by Award-Winning Sommeliers, Wine Directors, and On-Premise Wine Experts. The Sommeliers Choice Awards Competition look forward to providing on-premise buyers and sommeliers a valuable benchmark for understanding which wines would make a compelling addition to their wine list. We are pleased to announce the winners of the 2022 Sommeliers Choice Awards Competition.
Get your wines in front of Sommeliers, Wine Directors and On-Premise Buyers of USA. Here's How To Enter your wines.