Half-Dozen Awards for Montinore Estate at the International Sommeliers Choice Awards

22/07/2021 'Pinot Gris Of The Year' was awarded to Pinot Gris 2019 by  Montinore Estate at the recent Sommeliers Choice Awards.
Montinore Estate won 6 medals at the International Sommeliers Choice Awards 2021. Here is the list of winning wines by the USA based winery :
Pinot Gris 2019: Gold Medal - 94 Points
Pinot Gris 2019: Wine of the year by Varietal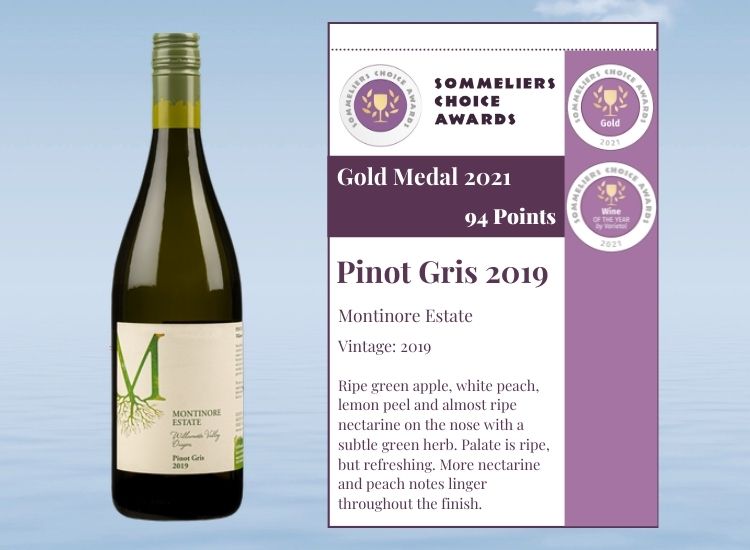 Pinot Gris 2019 bagged Wine Of The Year By Varietal at the Sommeliers Choice Awards
Almost Dry Riesling 2020: Gold Medal - 91 Points
Reserve Pinot Noir 2017: Silver Medal - 87 Points
Vivacé: Silver Medal - 86 Points
L'Orange 2019: Silver Medal - 85 Points
Tale of Origin
Montinore Estate was established in 1982 and is one of the largest producers of certified estate wines made from Biodynamic grapes in the country. Their estate vineyard is planted on an east-facing slope along the Coastal Range foothills and encompasses 200 acres in the Willamette Valley, ¾ of which is planted to Pinot Noir and Pinot Gris.
Riesling, Muller-Thurgau and Gewurztraminer make up the majority of the remaining acreage. The Tidalstar Vineyard, which was planted in 1999 and acquired by Montinore in 2017 is a 30-acre vineyard in the Yamhill-Carlton AVA and is planted almost 100% to Pinot Noir. Whereas the Estate Vineyard is Demeter Certified, Tidalstar is LIVE certified and in the process of being converted to a fully biodynamic property.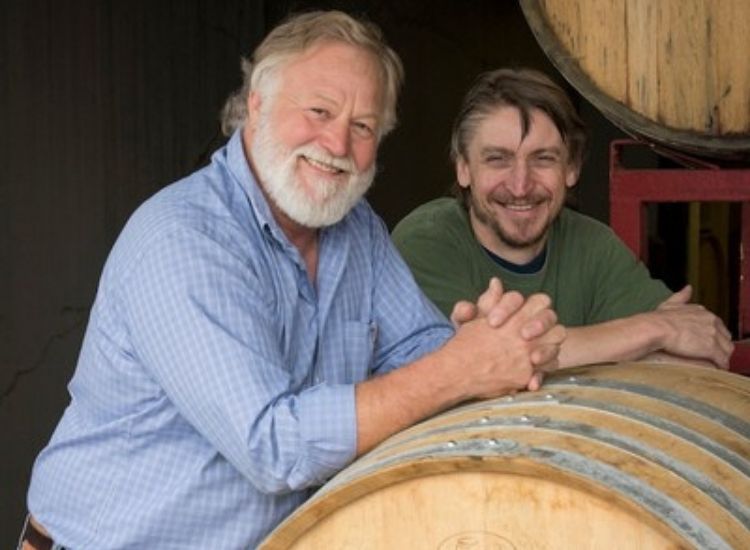 Rudy Marchesi side-by-side with Head Winemaker Stephen Webber.
Partner and Chief Viticulturist, Rudy Marchesi, is a New Jersey native but moved to Oregon in 1998. Rudy started as a consultant at Montinore and initiated its transition to Biodynamic farming in 2003, before ultimately becoming its proprietor in 2005. By 2008, Montinore Estate had achieved Demeter and Stellar Certification, ensuring their quality wines were simultaneously approachable and environmentally conscious. He is a recognized leader in Biodynamic viticulture and was appointed Chairman of Demeter USA and was named Oregon Wine Person of the Year in 2018.
Montinore Estate - The Vineyard

Planted in 1982, Montinore Estate is a 200-acre Demeter Certified Biodynamic® and CCOF Certified Organic estate that lies at the northern end of the Willamette Valley appellation and along the east-facing slope of the Coastal Range foothills in Oregon. In addition to the certifications, dry farming and sustainable growing practices is utilized. The goal with Montinore Estate has always been to create complex wines that reflect the soil and overall place from which they come. This is an ideal site for the nine grape varieties grown there: Pinot Noir, Pinot Gris, Riesling, Gewürztraminer, Müller-Thurgau, Lagrein, Teroldego, Muscat and Sauvignon Blanc.
In 2008, they received Biodynamic® certification from Demeter, the only Biodynamic® certifying agency in USA. As described by Demeter,"Biodynamic® agriculture is a philosophy and methodology that views a farm as a self-sustaining ecosystem entirely responsible for creating and maintaining its individual health and vitality without any external and unnatural additions. It is one of the most sustainable forms of agriculture, creating healthier food for healthier people and a healthier planet."
Close attention to each step of the grape-growing process is rooted in the belief that exceptional wine is born of a sustained marriage of soil, climate and artful stewardship.
Winemaking Process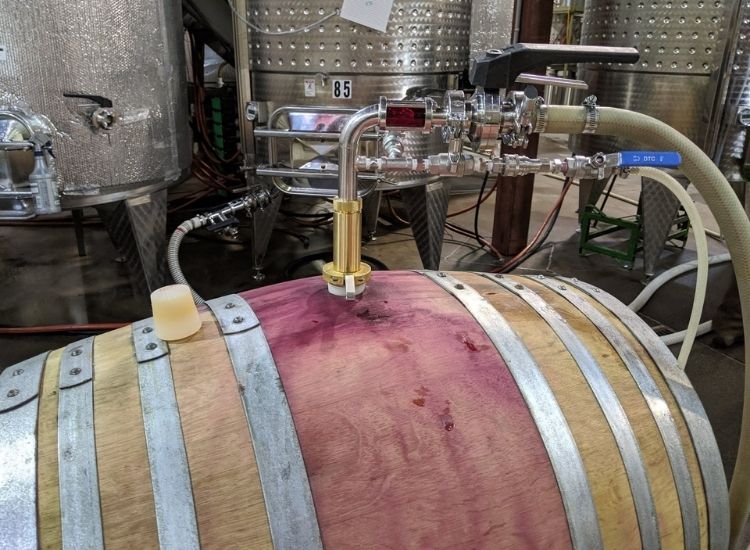 Wooden barrel used for fermentation.
Rudy Marchesi, side-by-side with Head Winemaker Stephen Webber, works closely to shepherd the grapes through the evolution from fruit to wine.
By employing thoughtful Biodynamic® and organic growing practices and utmost care in winemaking, the quality of the vineyards is reflected in the grapes and then in the wine. Their approach to winemaking focuses on producing wines that are an expression of where they are grown, while ensuring they are approachable, food-friendly and structured for graceful aging.
From harvest dates to fermentation vessels and temperatures, from cultivating their own yeasts to selecting the perfect barrels for aging, each decision is thoughtfully made with one end goal in mind: To craft wines that reflect the place where the grapes are grown, offering freshness, liveliness and complexity, while showcasing the best characteristics of each variety.
Rudy's Italian heritage helped develop his palate for acid-driven, food-friendly wines, which is why he fell in love with Oregon more than two decades ago. He strives for flavors that complement a variety of foods, harkening back to the northern Italian dishes on which he was raised. In addition to Pinot Noir and cool climate whites, they also grow and produce estate Teroldego and Lagrein, grapes that originate in the Dolomite Mountains of Italy and are a nod to Rudy's legacy.
Stephen came from DiStefano winery to Montinore Estate in 2006. He had previously spent extensive time working in Australia, where he gathered much of his larger-scale winemaking experience. A vintage in Alsace, France sealed
Stephen's love of cool-climate white varieties. Under Stephen's direction and expertise, the winemaking team crafts superior Pinot Noir, fascinating Italian varietals and an array of aromatic white wines not widely available in the Willamette Valley.
Get your wines in front of Sommeliers, Wine Directors and On-Premise Buyers of USA. Here's How To Enter your wines.