L'Ecole No 41 won three medals at the Sommeliers Choice Awards

07/07/2021 2017 Merlot Estate by L'Ecole No 41 scored 95 points and crowned with 'Merlot Of The Year' at the 2021 Sommeliers Choice Awards.
This year's Sommeliers Choice Awards saw the 2017 Merlot Estate win a gold medal with 95 points and the Wine of the Year by Varietal and the 2019 Semillon won another gold medal with 92 points for L'Ecole N° 41 for the Washington based winery.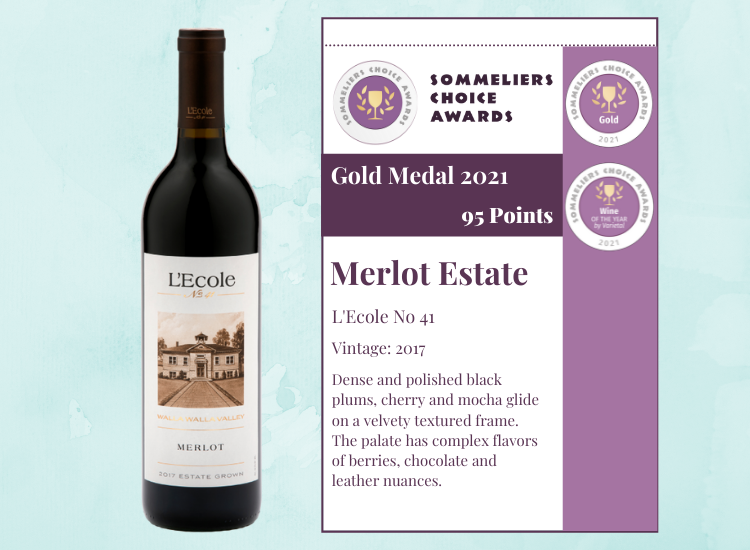 Shelf talker of 2017 Merlot Estate. Download it here
L'Ecole produces wines from a wide range of grape varieties, although the company is best known for its wines made from Cabernet Sauvignon, Merlot, Syrah and Sémillon.
Tale of Origin
L'Ecole N° 41 is a third-generation family-owned, artisan winery located in the historic Frenchtown School depicted on the labels. Founded in 1983, it was the third winery established in the Walla Walla Valley. They have become one of the most prominent and visible Walla Walla Valley wineries with both national and international distribution.
Baker and Jean Ferguson shared a common passion for wine and had a belief in Washington State as a premier wine growing region, and this drove their decision to establish L'Ecole.They were respected pioneers of the nascent Washington State wine industry when they founded L'Ecole N° 41 in 1983 as their retirement project. L'Ecole was the third winery in Walla Walla and the twentieth commercial winery in the State. Their first vintage of Merlot in 1983 won the only Gold Medal issued by the 1986 Pacific Northwest Enological Society.
Meet the owners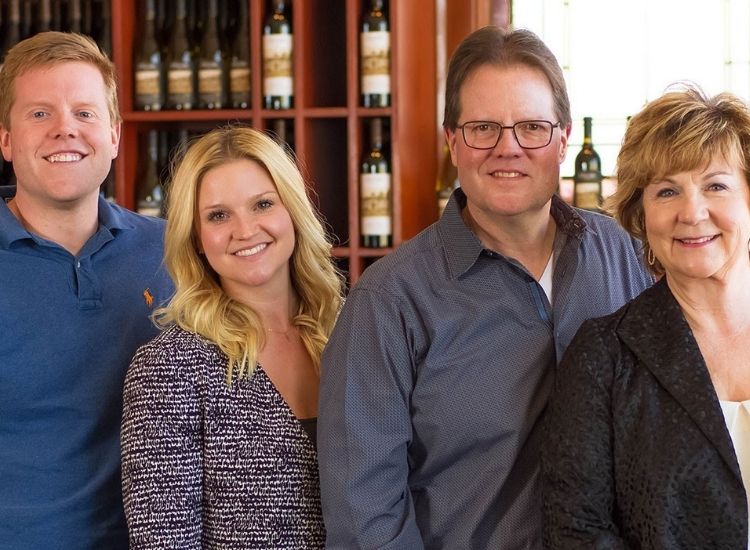 The Clubb Family, from left Riley (son), Rebecca(daughter), Marty Clubb and his wife Megan
Marty Clubb is Managing Winemaker and Co-Owner of L'Ecole N° 41 with his wife, Megan, and children, Riley and Rebecca. This family-owned artisan winery was founded by Megan's parents, Jean and Baker Ferguson, in 1983.
In 1989, Marty and Megan took a leap of faith and moved to Walla Walla permanently, where Marty assumed responsibilities as manager and winemaker of L'Ecole. Since that time, he has led L'Ecole to become one of the most respected wineries in Washington State.
Megan Clubb is Chairman of the Board of Baker Boyer Bank in Walla Walla. The bank was established by her family in 1869 which makes it the oldest banking institution in Washington State. Marty and Megan's children, Riley and Rebecca have both been involved in winery operations and thus represent the third generation at L'Ecole.
Vineyards
Fegurson Vineyard in the Wallla Walla Valley
L'Ecoles' portfolio is divided into two main areas. The Walla Walla valley wines are mostly single-vineyard estate wines, topped off by the Perigee cuvée from the Seven Hills Vineyard, and the Apogee from Pepper Bridge Vineyard. Both are Cabernet Sauvignon-based Bordeaux blends from vineyards that formed the basis of the development of the local wine industry.
L'Ecole No. 41 has 34 hectares (85 acres) of estate vineyards in the Walla Walla Valley region.
Ferguson Vineyard, named in honor of our founders Jean and Baker Ferguson, is a 42-acre Estate vineyard exclusive to L'Ecole. The vineyard location is a stunning, high elevation site planted on a ridge of ancient lava flows overlooking a panoramic view of the Walla Walla Valley. Approximately 30 acres have been planted so far. The vineyard was planted utilizing biologically diverse sustainable practices and is Certified Sustainable and Certified Salmon-Safe.
Header image credit: L'Ecole No 41