Pure The Winery Sparkling Rose NV Wins Rose Wine of the Year at Sommeliers Choice Awards 2022

30/06/2022 The results for the 2022 Sommeliers Choice Awards are out, and we are delighted to announce that "Rose Wine of the Year" is awarded to Pure The Winery Sparkling Rose NV.
The fragrant nose of this full-bodied sparkling rosé, which is light pink with orange highlights, reveals aromas of the citrus, red fruits, and red flowers. This wine is velvety and smooth with a fine perlage and a pleasantly acidulous finish. The same delicious taste as traditional wines, but with no sugar and no carbs.
-No sugar, no carbs, and an award-winning taste
-Fewer calories* 81 cl (5 fl oz) (148 ml)
-Piedmont, Italy - Vegan - All Natural
Wines with less than 12% alcohol, carbohydrates, and sugar have at least 30% fewer calories. PURE The Winery's wines have 10.5% alcohol, 0 grams of carbohydrates, and 0 grams of sugar.
The PURE Winery started with a vision to create a new category of wine to meet today's needs. They can convert all-natural sugars into alcohol by combining unique and traditional techniques in the wine fermentation process.
The seasoned winemakers craft the wine in Italy's most respected wine regions, using blends of the richest and finest grapes — the Pinot Noir, Pinot, Chardonnay, Sauvignon, Barbera, and Merlot. As a result, they have zero sugar wine for every occasion, from red and white to sparkling white and sparkling rosé.
They are fusing old and new to create one-of-a-kind experiences that will go down in history. They are passionate about providing wine enthusiasts with new options to choose the best option for their lifestyle.
They want to provide their customers with a simple solution to the common dilemma of pleasure versus guilt — low-carb, zero-sugar wines. They are thrilled to be breaking new ground with the most significant wine innovation in our lifetime.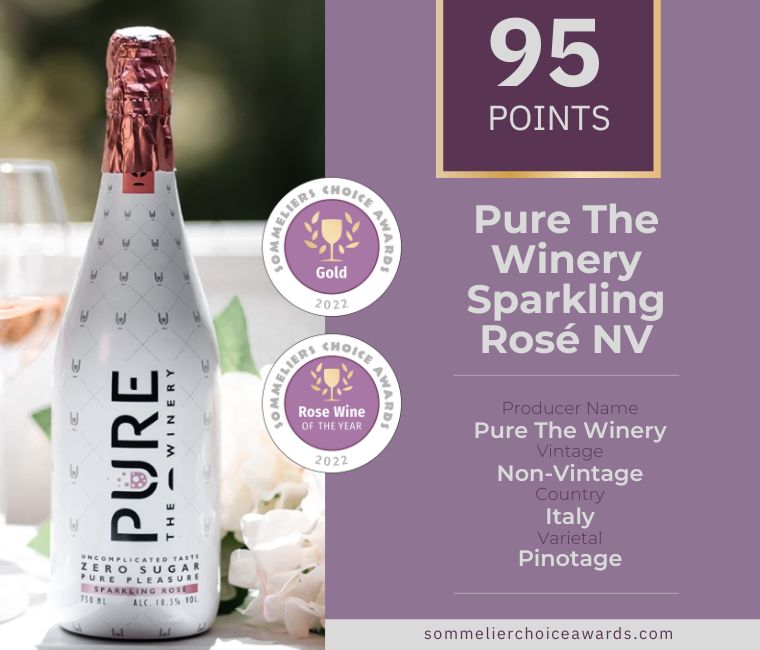 Name - Pure The Winery Sparkling Rose NV
Producer - Pure The Winery
Country – Italy
ABV – 10.5%
Here are the top winners of the 2022 Sommeliers Choice Awards:
-Best Wine of The Year 2022: Ehlers Estate 1886, United States
-Best White Wine of The Year: Grand Ardeche Chardonnay 2019
-Best Red Wine of The Year: Ehlers Estate 1886
One can view the list of medal winners on the Sommeliers Choice Awardswebsite.
Sommeliers Choice Awards is an American competition that provides bar and restaurant buyers and sommeliers with pointers on which wines should be added to their list. Beverage Trade Network (BTN) owns several trade shows and wine competitions and runs them.
The judging panel comprises top sommeliers, on-premise wine buyers, directors, and consultants from across the United States. Wines are evaluated based on their ability to pair well with food and their value at various price points.
[[relatedPurchasesItems-41]]
There is an overall Wine Of The Year award and awards in the categories of Red, White, Sparkling, Rosé, and Fortified. In addition, there is a By the Glass award for each. Several additional awards are given for specific countries and grape varieties and Importer and Distributor of the Year.
To know more, you can visit Sommeliers Choice Awards.