Sommeliers Choice Awards: Helping the on-premise bounce back post lockdown

24/03/2021 The Sommeliers Choice Awards provides a great opportunity for producers and distributors to help restaurants and bars get back to pre-Covid days by presenting wines that can help them design their post-lockdown wine list.
Whilst the front doors of so many restaurants and bars might have been closed for a lot of the last few months, there has still been a hive of activity going on behind the scenes to make sure every respective outlet has the right food and drink and wine offer available for when they can re-open.
It makes it the ideal time to catch the eye of sommeliers and on-premise wine buyers who are looking for something new, interesting, and different to help attract the attention of their customers when they return.
This year's Sommeliers Choice Awards is ideally timed for producers, importers and distributors to present their latest wines and make the most of what the on-premise hopes will be more like a re-launch or a grand new opening rather than simply turning their 'Closed' signs to 'Open'.
As the situation for the on-premise sector varies from state to state it is also important to look at what needs restaurants and bars are going to have in the coming months to keep their lists fresh, interesting, but also highly commercial.
What can you do to help?
How can your wine offer help a restaurant maximise its margins? Do you have a style of wine that would fit neatly into a small, tight wine list designed to be flexible enough to give customers enough choice whilst freeing up an outlet's cashflow by only stocking a limited range of wines?
It's clear that as we slowly move through the vaccination stage more states and cities will start to increasingly relax social distancing rules that will allow restaurants and bars get back to some sort of new normal.
But as we go through that process restaurant and bar managers are going to want to work with drinks lists that are flexible enough to work for outside only dining, limited capacity indoors, and then a slow return to the full drinks offer sometime later hopefully in 2021.
It means they are going to be looking for more wines at certain price points, with a clear emphasis on quality and value at each stage of that pricing ladder.
What sommeliers expect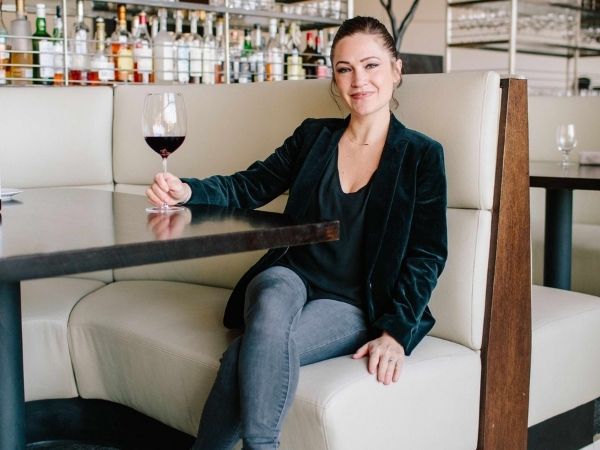 Rachael enjoying glass of wine, Source: Rachael Lowe
Rachael Lowe, beverage director at Levy Restaurants in Chicago, says there is enormous pent-up excitement both within her team, but also her customers for when things start to get back to normal in the coming months.
"I think those that are eager to get back out will be back in restaurants with bells on," she explains. "When we re-opened after the first closure people were still spending plenty of money on wine, I imagine this will be the case in the coming months as well."
She adds: "I think demand will be huge, people have been feeling pent up and want to get out there and indulge. I think a happy medium of classics vs wines that are considered 'out of the box' will be enjoyed – people will be drinking, generally."
Quality, value, and design
This is where the wines that win medals in the 2021 Sommeliers Choice Awards are ideally placed to promote themselves to restaurant buyers as they will have proven they stand out from the enormous competition in three key ways:
* Quality: The Sommeliers Choice Awards initially taste all wines entered blind to determine their quality and whether this is a wine worthy of a Gold, Silver, or Bronze medal.
* Value and price: The judges are then told what price that wine retails and where it sees itself on a potential wine list.
* Typicity and food parability: The wines are also assessed for how typical they are of that wine style and how suitable they are in a restaurant setting to be paired with food.
* Packaging and design: The bottle is then revealed to show the label and design and allow the judges to determine whether what it looks like matches up to its quality and value for money price point.
Buyers as judges
Crucially the judges making those decisions and assessing each wine as it goes through the judging process are all professional wine buyers, sommeliers and managers with direct buying responsibility in their roles. They know what it take for a wine to end up on one of their lists, and they will put each wine through the same paces in order to justify what medal they receive.
Providing producers and distributors with the evidence and feedback from professional wine buyers that their wines have what it takes to offer outlets, under pressure to get quick, maximum returns from their drinks lists, products that can slide immediately onto their drinks lists.
Scoring system
The scoring system for each medal is worked out as follows:
* Double Gold – 96 points and above.
* Gold – 90-95 points
* Silver – 80-89 points
* Bronze – 70-79 points.
Key Dates:
* Regular Registration Ends: April 20, 2021, Enter Your Wines Now
* Warehouse Closes: April 23, 2021
* Judging: May 16, 2021
* Winners Announced: May 31, 2021
Pricing:
* Regular Pricing - $120 per wine (April 01, 2021, to April 20, 2021)
Header image: Rachael selecting wine, Source: Rachael Lowe
Get your wines in front of Sommeliers, Wine Directors and On-Premise Buyers of USA. Here's How To Enter your wines.