Sommeliers Choice Awards - Registration Now Open

10/07/2023 Entries are now open for the 2024 Sommeliers Choice Awards. Enter your wines today and grow your on-premise presence in the USA.
We are back! The 6th annual Sommeliers Choice Awards is set to take place in San Francisco next year. With an aim to provide on-premise buyers and sommeliers a valuable benchmark for understanding which wines would make a captivating addition to a wine list, ace sommeliers and top-notch wine buyers and wine directors will be gathering in San Francisco to judge the best wines within the industry.
Sommeliers Choice Awards gathers the top restaurant wine buyers, Master Sommeliers, wine directors who have a direct influence on the US on-premise market. If you're looking to get in front of the top sommeliers and on-premise wine buyers of the USA, now is the best time to enter your wines.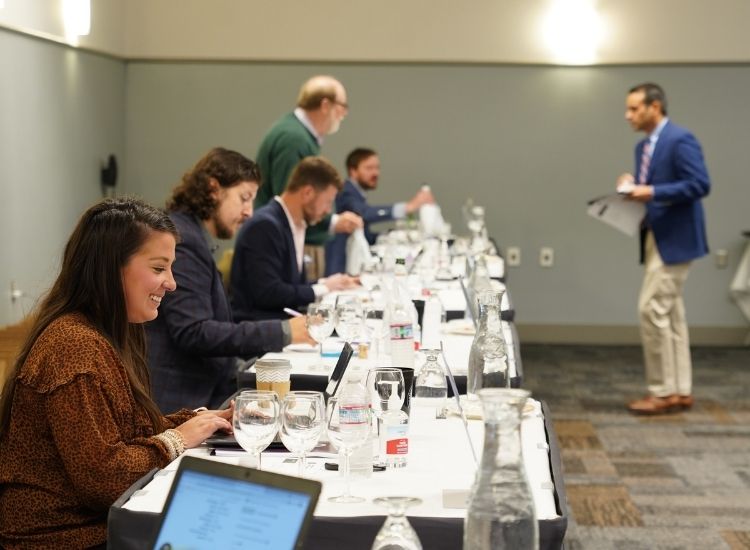 Sid Patel briefing the judges
The wines were judged in five categories: food parability, typicity, quality, value, and packaging. The judges ask themselves, would I stock this wine, and is it good enough for customers to order a second glass? Wines are graded out of 100, with only those above 95 points winning the coveted Double Gold award. There are also category awards, with best in show given to white, red, sparkling, rosé, and an overall winner every year, by the bottle and by the glass – reflecting how wine is presented in restaurants. The judging process is specifically curated with these parameters, keeping in mind that this is the same criteria professional wine buyers use to decide which wines go on their own lists in their restaurants, bars, or retail shelves.
Benefits on why you should enter in the 2022 Sommeliers Choice Awards
1. Winners to get awareness among consumers in USA. Media coverage on Chicago Drinks Guide, Los Angeles Drinks Guide, San Francisco Drinks Guide, and New York Drinks Guide.
2. Results to go to 50,000+ trade professionals in USA in the Beverage Trade Network community
3. Buyers and Sommeliers will see your package giving you great exposure
4. Results to go to 20,000+ Sommeliers and On-Premise Wine Buyers of USA
5. Entrants to get customized Shelf-Talkers and Tasting Notes
6. Free first 1000 medal stickers added to your sticker order
7. Detailed Scores Feedback
8. Top 100 winners at SCA will be included in the Top 100 On-Premise wines list
9. Results will get press awareness among media partners of the Sommeliers Choice Awards and will be posted on BTN news, Sommelier Business, and Bevroute News
10. Results also get circulated to 2000+ wine importers and distributors in USA
SCA Entry Process & Fees. Leading wine brands from around the world now have an opportunity to grow their business and gain the attention of wine buyers, wine directors and influencers within the U.S. on-premise industry. Time to submit your wines and get the super early bird savings.
Get Feedback From On-Premise Buyers, Wine Directors, and Master Sommeliers. Enter Your Wines Before January 31, 2024, To Save.