Torbato Spumante Brut Wins Sparkling Wine of the Year by the Glass at Sommelier Choice Awards 2022

29/06/2022 The results for the Sommelier Choice Awards 2022 are out and we are delighted to announce that "Sparkling Wine of the Year by the Glass" is awarded to Torbato Spumante Brut.
The Torbato Spumante Brut is a rare and valuable variety that Sella & Mosca has rediscovered and recovered over several years. It thrives in a calcareous soil that dates back to ancient sea sedimentation. Its bunches are meticulously picked to select those with the highest acidity, ensuring that they acquire the best properties for manufacturing spumante.
Grapes are soft-pressed and allowed to settle cool after harvest. Select yeasts start the initial fermentation, which takes place in stainless steel tanks at a specified temperature. The second fermentation occurs in stainless steel for 20 days on the lees. Malolactic fermentation does not occur in this wine. The wine is then matured for three months in stainless steel.
The sparkling wine's bubbles are vibrant and long-lasting in the glass.This Sella & Mosca sparkling wine has notes of lime, lemongrass, acacia, lime, and orange on the nose. The stainless steel ageing adds extra flavours like yeast toast, cream candy, and brioche as if that wasn't enough.
The delightfully dry taste of the Sella & Mosca Torbato Spumante Brut Alghero inspires. It had only 5.3 grammes of residual sugar when it was bottled. This Italian wine enchants with its superb balance despite its dryness, as one would expect from a wine. The aroma does not always necessitate a large amount of residual sugar. This delicate sparkling wine reveals itself on the palate as light-footed and sophisticated. Thanks to balanced fruit acidity, the Torbato Spumante Brut Alghero flatters with a delightful texture and juicy vitality.
[[relatedPurchasesItems-41]]
This sparkling wine from Sardinia's wine-growing area eventually inspires with great length in the finish. Hints of orange and pomelo arrive again, and mineral notes from limestone and clay-dominated soils exist in its aftertaste.
Torbato Spumante Brut Alghero is an excellent single-varietal wine created from the Torbato grape variety from Italy. The vineyards producing the grapes for the wine grow on sand, limestone, and clay soils in Sardinia. The grapes are then shipped to the winery as soon as they are harvested.
First, they've been hand-picked and meticulously dismantled here. Following that, the basic wines are fermented. Following the cuvée's assembling, the wine is aged in traditional bottle fermentation. After that, the Sella & Mosca Torbato Spumante Brut Alghero is aged in the bottle for months before being released.
Mr Sella, an engineer and grandson of the legendary statesman Quintino Sella, and the lawyer Edgardo Mosca created Sella & Mosca in Alghero in 1899. They started a significant land reclamation operation in the region where the firm now stands in the same year. Sella & Mosca overcame their obstacle, still recognised as pioneering, unusual, and outstanding today, and established a thriving firm.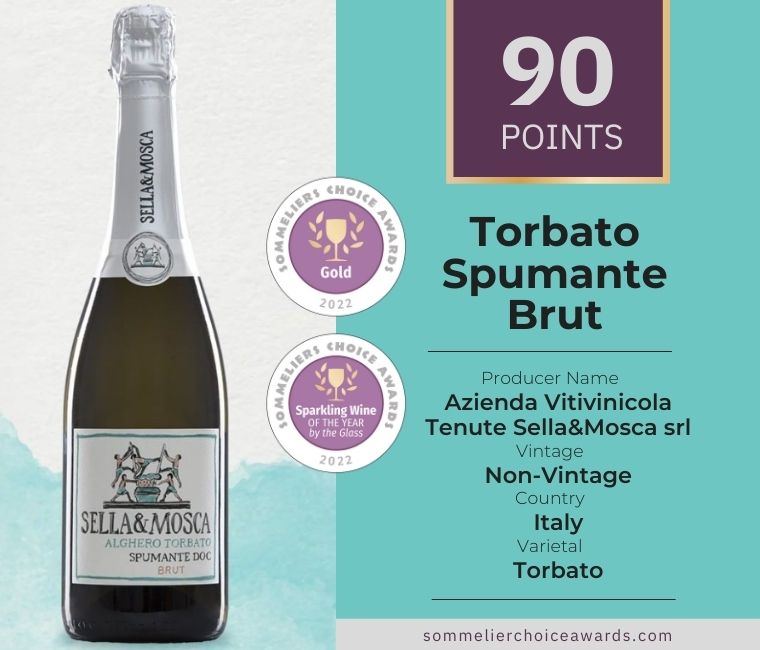 Name - Torbato Spumante Brut
Producer - Azienda Vitivinicola Tenute Sella&Mosca srl - Società Agricola
Country - Italy
Judge's tasting notes
"The scents span from acacia blossoms and pink grapefruit to autolytic and bready notes, and the straw yellow color is brilliant and dazzling. A savory, fresh, and balsamic palate with a creamy yet dry and vertical start reverberates with a trail of iodine."
Here are the top winners of the 2022 Sommeliers Choice Awards:
-Best Wine of The Year 2022: Ehlers Estate 1886, United States
-Best White Wine of The Year: Grand Ardeche Chardonnay 2019
-Best Red Wine of The Year: Ehlers Estate 1886
One can view the list of medal winners on the Sommeliers Choice Awards website.
Sommeliers Choice Awards is an American competition that provides bar and restaurant buyers and sommeliers with pointers on which wines should be added to their list. Beverage Trade Network (BTN) owns several trade shows and wine competitions and runs them.
The judging panel comprises top sommeliers, on-premise wine buyers, directors, and consultants from across the United States. Wines are evaluated based on their ability to pair well with food and their value at various price points.
There is an overall Wine Of The Year award and awards in the categories of Red, White, Sparkling, Rosé, and Fortified. In addition, there is a By the Glass award for each. Several additional awards are given for specific countries and grape varieties and Importer and Distributor of the Year.
To know more, you can visit Sommeliers Choice Awards.
Get your wines in front of Sommeliers, Wine Directors and On-Premise Buyers of USA. Here's How To Enter your wines.