United States's Ehlers Estate 1886 Takes Wine of the Year by Country Award Home at SCA 2022

17/06/2022 The results for the Sommelier Choice Awards are out and we are delighted to announce that United States' Ehlers Estate 1886 takes home multiple awards.
Ehlers Estate 1886 bags a Double Gold, Wine of the Year, Wine of the Year By Country, Wine of the Year By Varietal, and Red Wine of the Year Award at the 2022 Sommelier Choice Awards, held on May 16 in San Francisco, USA.
The Ehlers Estate vineyard is situated on a historic winegrowing site in the famed St. Helena appellation of Napa Valley. Since the mid-nineteenth century, grapes have been grown on this prized property. Under the leadership of renowned enologist Jacques Boissenot, the vineyard was replanted in 1995 using a variety of clone and rootstock selections. The Ehlers Estate vineyard, which produces outstanding Cabernet Sauvignon, Merlot, Cabernet Franc, Petit Verdot, and Sauvignon Blanc, is now farmed according to strict organic farming standards.
The vineyard is laid out in an Old World layout that is unique in California. In the middle of the estate vineyard, the old Ehlers winery is located. The property's farthest point from the winery is around 600 yards distant, giving the Ehlers team complete control over every aspect of the viticulture program, resulting in enhanced attention and quality.
French entrepreneurs and philanthropists Jean and Sylviane Leducq saw this region's potential for producing wines with the strength, balance, and structure of the best Bordeaux bottlings they knew and loved. Over several decades, they gradually built a contiguous wine estate, which is common in French chateaux but extremely rare in California. Today, the winery upholds the tradition of Bernard and Anne Ehlers and Jean and Sylviane Leducq, who saw potential in every bottle of Ehlers Estate wine on the market.
The 42-acre Ehlers Estate vineyard is addressed as a mosaic of individual vineyard blocks, with a remarkable mix of soils, clones, and rootstocks. The vineyard is organized into five main blocks (mostly based on soil type) and 25 sub-blocks, which are mostly defined by unique clones and rootstock combinations. Eleven of these blocks (25 acres) are planted to six different Cabernet Sauvignon clones on multiple rootstocks, providing the winemaking team with a diverse palette of fruit to blend. There are additionally seven Merlot sub-blocks, four Cabernet Franc sub-blocks, two Sauvignon Blanc sub-blocks, and a Petit Verdot block in the vineyard.
2019 has been a near-perfect vintage. This wine is the flagship wine for Ehlers Estate a true reflection of the Estate vineyards and the timeless value of long-lasting wines.
Name- Ehlers Estate 1886
Producer- Ehlers Estate
Country- United State
ABV- 14.5%
Judges' tasting notes
"A dense, lively, poised but powerful wine that is seamlessly stitched together in aromas, flavors, and structure. A brilliant balance of dark fruits and oak notes with firm tannins followed by a chocolatey finish."
The Ehlers Estate vineyard is farmed completely utilizing earth-friendly organic farming practices as part of a vineyard-focused, socially responsible approach to winemaking. These techniques help to preserve the fruit's purity and character, resulting in outstanding wines with a true feeling of location.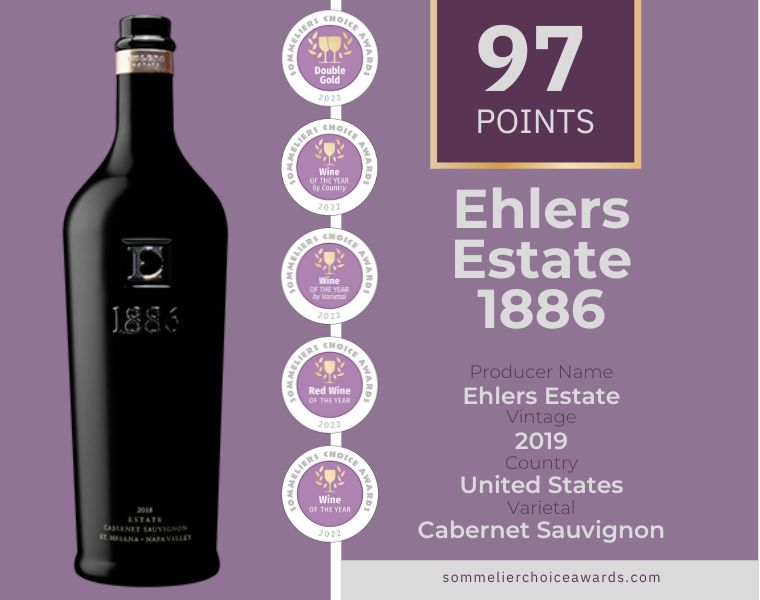 Here are the Best Wines by Country Award Winners:
United States: Ehlers Estate 1886
France: Grand Ardeche Chardonnay 2019
Australia: Beresford Grand Reserve Shiraz
Italy: Marchese Manodori
Spain: Carlos San Pedro Perez De Viñaspre 2016
Argentina: Kaiken Ultra Malbec 2019
Portugal: Monte Cascas Colheita Douro DOC White 2020
Brazil: Salton Brut Rosé
Moldova: Ice Wine Traminer - Muscat Ottonel 2016
South Africa: Candide
[[relatedPurchasesItems-41]]
The full list of medal winners can be viewed at Sommeliers Choice Award.
The fourth edition of the Sommeliers Choice Awards, organized by the Beverage Trade Network, a global media and B2B networking platform servicing suppliers, buyers, and beverage professionals in the global beverage industry. At Sommelier Choice Awards wines are judged by Award-Winning Sommeliers, Wine Directors, and On-Premise Wine Experts. The Sommeliers Choice Awards Competition look forward to providing on-premise buyers and sommeliers a valuable benchmark for understanding which wines would make a compelling addition to their wine list. We are pleased to announce the winners of the 2022 Sommeliers Choice Awards Competition.
To know more, you can visit Sommelier Choice Awards
Get your wines in front of Sommeliers, Wine Directors and On-Premise Buyers of USA. Here's How To Enter your wines.