Wine Industry Mourns the Death of Gerard Basset MS MW MBA OBE

17/01/2019 Gerard Basset MS MW MBA OBE: 7 March 1957 – 16 January 2019
Gerard Basset was quite simply one of the World's Greatest Wine Authorities. He passed away a few hours back, fighting a brave battle against cancer of the oesophagus since 2017.
Gerard was without any doubts one of the greatest wine professionals of a generation. He was the first and only individual to hold the Master of Wine qualification simultaneously with the Master Sommelier, MBA in Wine Business, WSET Diploma and MSc from the International Organisation of Vine and Wine - an achievement that is unlikely to be repeated for years to come.
Born and raised in France, Gerard originally was trained as a chef but boarded on a career as a sommelier when he moved to the UK in the 1980s. It was not long before his exceptional talent came to the attention of the wine trade with award wins for the UK Sommelier of the Year, Best International Sommelier for French Wines and Best Sommelier of Europe in quick succession. The peak of his career came in April 2010 when he won the World Sommelier Championship and OBE in the 2011 Queen's Birthday Honours for services to hospitality (OBE - Officer of the Most Excellent Order of the British Empire is a Queen's honour given to an individual for a major local role in any activity such as business, charity or the public sector). He was also awarded with 'Medal of Saint-Etienne' from his home town in France in 1997, the On Trade UK Personality of the Year (Sopexa 2004), Special Achievement Award (Academy of Food & Wine Service 2005), Special Contribution (Drinks Business 2008), Wine Personality of the Year (International Wine Challenge 2010), Wine Personality of The Year (Harpers Wine & Spirits 2011), Industry Legend (Imbibe 2011) and Decanter Man of the Year (2013). He is regularly listed in the top 100 most powerful people in the hospitality industry. In 2010 he received the Catey Special Award for his accomplishments, placing him alongside a famous list of former winners that include Jamie Oliver, Sir Terrance Conran and Lord Coe, and in 2014 he was presented with the inaugural Catey Wine & Spirit Ambassador Award. Two years in a row, he was awarded the Best Ambassador/ Communicator for French Wines (Harpers Wine & Spirits 2013 and 2014). He was Director of the Court of Master Sommeliers Europe and has served as Honorary President of the WSET (Wine & Spirit Education Trust).
During his journey, Gerard mentored and trained young sommeliers who sought out his expertise and guidance to launch their careers. Many have gone on to win industry awards and more still to launch their own successful businesses. The list of alumni who have worked with or under him, or have been tutored by him and gone on to become top sommeliers, competition winners and Masters Sommeliers is extraordinary. Xavier Rousset, Laura Rhys, Laurent Richet, Henri Chapon, Corinne Michot, Claire Thevenot, Dimitri Mesnard, Tanguy Martin, Franck Massard are some of the influential names across the trade that are trained in the Basset way.
Gerard was approached by numerous global brands to share his supreme expertise. In 2014 Asia-based luxury hotel group, Shangri-La Hotels and Resorts appointed him as the group's first wine ambassador, and he represented the French Wines with Style campaign in the UK. Gerard worked in partnership with Lehmann glass to create the Oenomust collection and was the brand's worldwide ambassador. He wrote regularly for a number of wine publications and was approached to join wine-lovers bible Decanter magazine as its 'Burgundy correspondent' in 2014 and was vice-chair of the Decanter World Wine Awards.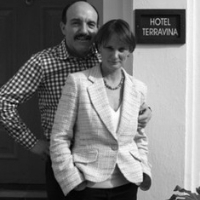 In 2007, Basset opened the renowned wine-focused TerraVina, a boutique luxury hotel in the heart of the New Forest, in Hampshire, with his wife, Nina. After many years of success, it became a wine destination for enthusiasts around the world until last year the couple scaled the business back to a bed and breakfast (Spot in the Woods), as Basset's health deteriorated.
Without a doubt, Gerard is one of the most influential, respected and beloved figures in the on-trade. His death leaves a giant hole in the Industry and there will be grief all over right from San Francisco to Sydney, but most of all in the New Forest, Hampshire, where he made his home in the UK with his wife Nina and son Romané. His wife, Nina, said, "Whilst we are devastated to have to say goodbye to Gerard for the last time, we draw strength from the kind messages that we have already received from the many people whose lives he touched. He fought a brave battle against cancer and we are comforted that he died at home surrounded by his family and that he is now at peace. Both Romané and I are profoundly grateful for the support we have received from our friends across the world, including the many in the wine and hospitality industries and to know that Gerard was so loved by all those who knew him."
A small, private funeral will take place and later in the Spring, a memorial service will be held in London, details of which will be released in due course. Messages of condolence can be sent to inmemoriam@culturalcomms.co.uk
Get your wines in front of Sommeliers, Wine Directors and On-Premise Buyers of USA. Here's How To Enter your wines.