The Love For Lambrusco Unites Italy

28/01/2022 A winery established in 1936, with the aim to offer delightful wines to the locals and promote Lambrusco as a flagship varietal. We take a deep dive into this wine that was well appreciated at the Sommeliers Choice Awards 2021.
In 1934, two intelligent individuals Lorenzo Motti and Riziero Camellini assembled a group of 7 grape growers of Lambrusco and Ancellotta. Their vision was to introduce a new production system that would showcase the strong agricultural background of Emilia Romagna. The set of growers set aside their competitiveness and pursued a common goal of creating premium quality wines at affordable rates to attract a wider range of customers. Eventually, more and more grape growers associated with this ideology, and as a result, Cantina Albinea Canali was founded in 1936.
[[relatedPurchasesItems-41]]
After its immediate success, a plethora of grape suppliers got associated with Cantila Albinea Canali. The team of 7 growers now has grown to 170 grape suppliers. For many years, this winery was famous for its affordable high-quality bulk wines. Today, this brand offers a wide range of premium quality wines focused on the restaurant and hotel industry.
This brand in 2003 was bought by the regions' best-known wine producer - Cantine Riunite & Civ known for its best-selling Riunite Label. The company invested in the restoration of the original Albinea Canali winery. Not only did they preserve the historical integrity, but the state-of-the-art production equipment was also installed. Apart from this, hospitality centers and enoteca were also included. Now, the winery hosts events and rents office places for any company to get away from the mundane routine and hold meetings and conferences.
The region of Emilia Romaga is well known for it Lambrusco production, Source: Cantina Albinea Canali
The winery is located a short distance from Reggio Emilia in the Emilia Romagna region. It is bordered by Crostolo and Tresinaro streams. The topography of this land is perfect for the flagship grape Lambrusco which has been flourishing here for generations. The gravelly soils on the foothills and exposure to sunlight paired with gentle breeze give this grape its characteristic flavor.
The Albinea Canali Lambrusco "FB" Metodo Ancestrale won the award for "Sparkling Wine of the Year " at the 2021 Sommeliers Choice Awards. Moreover, it was also crowned as the "Sparkling Wine of the Year By The Glass''. It is a semi-sparkling IGT (Indicazione Geografica Tipica) made using the single fermentation method.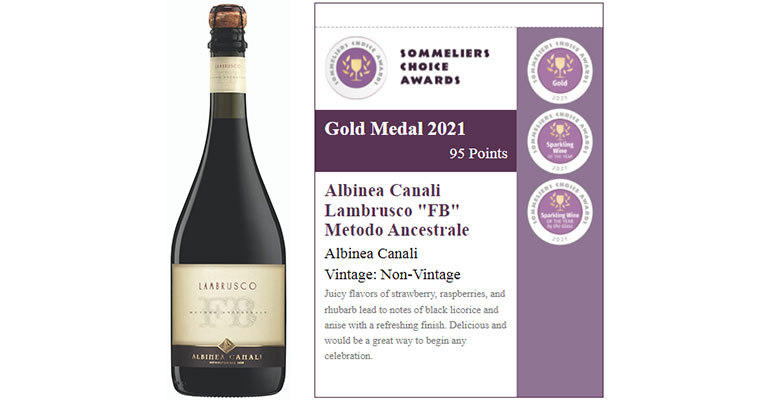 This competition is held in San Francisco, USA, Source: Sommeliers Choice Awards, Albinea Canali
Review of Albinea Canali Lambrusco " FB" Metodo Ancestrale from the 2021 Sommeliers Choice Awards
Points Scored: 95 points
Medal won: Gold, Sparkling Wine Of The Year, Sparkling Wine Of The Year By Th Glass
Tasting notes: Fresh, with a typical hint of crusty bread. Dry and a characteristic acidulous note.
What is Metodo Ancestrale?
This method focuses on obtaining the sparkling wine in a single fermentation. The second fermentation that is usually followed in the Traditional method is absent as the grape juice undergoes partial fermentation in vats and then is bottled down for the complete fermentation. The sugar residue is already present thus, no additional dose of sugar is injected into the bottle. This fermentation produces carbon dioxide and since the bottle is screw-capped, the gas does not escape. It is certainly the oldest method to obtain bubbles. Moreover, it is inexpensive.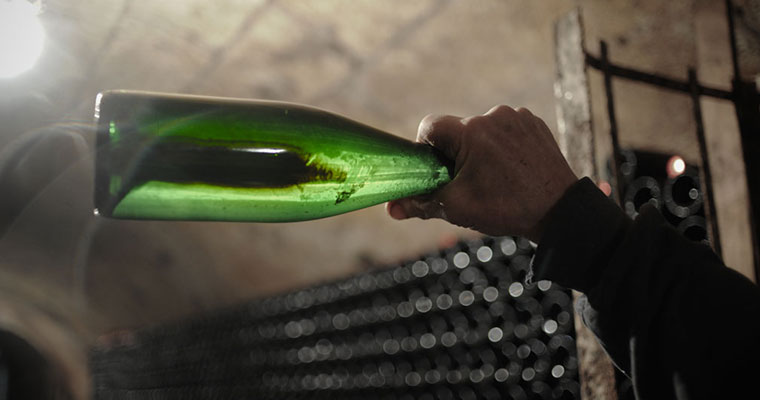 The oldest known production of sparkling wine was in 1531, using the ancestrale method, Source: Napoli Wine Tours
This win at the Sommeliers Choice Awards will help in expanding the network reach for distribution. The wines are awarded only after careful analysis of various factors that include food parability, typicity, quality, value for money, and packaging. Once analyzed the wines are rated from bronze to double gold.
Article written by Arjun Moghe, Content Writer, Beverage Trade Network.
Header image source: Cantina Albinea Canali
Get your wines in front of Sommeliers, Wine Directors and On-Premise Buyers of USA. Here's How To Enter your wines.