Crab and Fennel Risotto

20/11/2020 Here is the recipe for oozy, briny risotto bianco with fresh pulled Dungeness crab, fennel olive oil, and gremolata.
Oozy, briny risotto bianco with fresh pulled Dungeness crab, fennel olive oil and gremolata. A tip to developing a sweet creamy risotto is patience. In sweating your onion and once adding your rice. Low and slow heat with yield an unctuousness like no other. For an elegant take on seafood risotto use diced fennel along with your onion and substitute wine for Ricard pastis. A dry vermouth will deliver a similar anise and floral lift we're looking for.

Between California, the Pacific Northwest and Maine, crab can be found fresh year round but always best during Fall when crabs are largest and full of meat. Shredded crab meat is delightful, folded through risotto the minute before serving. Once adding butter, the meat and a shaving of cheese, you have a decadent show-stopper fit for a king. Contrast the richness with a bone dry, clean and crisp Chablis or Méthode Traditionnelle Blanc de Blancs. For a one-stop shop for your vermouth and premium vino, fill up your cart at Dunkirk Wine & Spirits, Maryland or Hillside Wines & Spirits in Los Angeles for those on the West coast, both offering curbside collection and FREE delivery.
About the Author: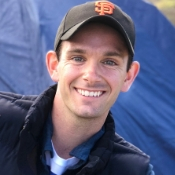 Timothy Neumann is an Australian Nutritionist, Chef, Culinary Consultant and Freelance Writer based in Napa, California. As a regular contributor of recipes and wine pairings for Sommeliers Choice Awards, Tim will be your resident food guru and bring you awesome recipes. Tim's approach to food is healthy, balanced and seasonal cooking to fuel a happy and productive mind! If you're visiting wine country, get a taste of Australia meets Californian cuisine.
Get Feedback From On-Premise Buyers, Wine Directors, and Master Sommeliers. Enter Your Wines Before January 31, 2024, To Save.