8 Tips for a Flawless Food and Wine Dinner

21/01/2020 Eight fool-proof recommendations for your next dinner party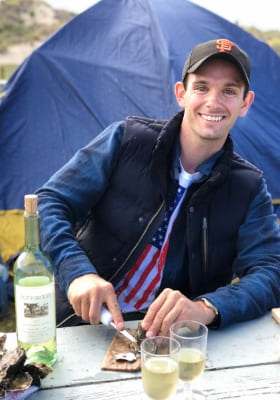 I have always loved cooking. Since the age of six, I would assist in preparing and serving Christmas lunch and Sunday roast. Whether it was grocery shopping, seasoning the roast pork or simply setting the table, I loved entertaining and coming together over food. Since then I've had immense experience in high-end hospitality. I applied my love of cooking at the age of fourteen in high-end kitchens in Melbourne, Australia. I began developing my wine knowledge at eighteen (legal age in Australia) specializing in Australian Méthode Traditionnelle sparkling wine.
I've made eight fool-proof recommendations to ensure your next dinner is the talk and envy of the office.
Tip 1: Pick a theme
Decide ahead what the focus of your dinner will be. Commit to discovering an interesting new cuisine, a side-by-side blind tasting of wines, perhaps a variety of whites and reds from one particular region of the world, or simply a fancy potluck dinner. Step outside your comfort zone! It's a great way to learn and will provide a much more memorable experience for you and your guests. Consider a 3-5 course 'progressive' dinner.
Feature a crisp delicate sparkling wine of your choice (Champagne, dry Prosecco or Cava) with light bites on arrival or as guests sit down.
Select a light or delicate body White wine (Chablis, Chenin Blanc, Alberiño or dry Riesling for instance) or Red wine (Pinot Noir, Beaujolais, Barbera or Syrah for example) to suit any style of 'tapas' size appetizer. Goat's Cheese and Ricotta Stuffed Squash Blossoms with Spicy Peperonata Sauce (Recipe Below).
Advance to a medium-to-rich expression of Red (Barolo, Zinfandel, Cabernet Sauvigno, Petite Sirah or Malbec) or aged White (barrel aged Chardonnay, Marsanne-Roussanne-Viognier blend) with your choice of a more hearty entrée.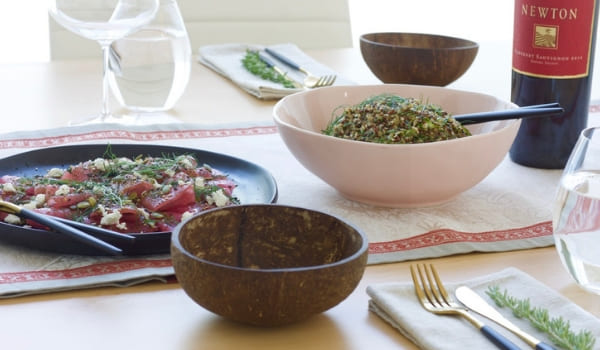 For the grand finale, show your appreciation for your guest's attendance with something small and indulgent. My advice here is don't go overboard on size, Less is more! By the end of the evening, guests are generally full. Whether a sweet or savoury final course, pair a sweet dessert wine (for example Vin Santo, Noble Rot Semillon or Sauternes)
Tip 2: Organization
Write a plan, down to the ingredients and cooking and serving times. Consider a trial run to know at what step something can go wrong. This attention to detail will ensure the night unfolds flawlessly. You will provide an unforgettable experience and a lasting impression.
Tip 3: Dietary Restrictions
When sending your invites, ask if you should be aware of any allergies or intolerances. It may be embarrassing if you've created a pasta-centric menu, only to find out a guest is Coeliac. Other intolerances can include Fructan, Fructose or Lactose Malabsorption.
Tip 4: Invest in Elegant Glassware
Fine stemware is indispensable. A wine glass suited to the white or red wine you're serving, not only elevates your dining experience to the next level but allows optimal varietal expression. Consider a multipurpose style like Zalto "Universal", Riedel Zinfandel/ Riesling or Sophienwald® "Phoenix Series".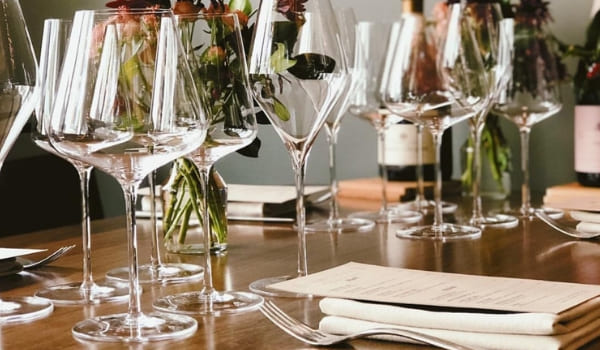 Tip 5: Tell a Story
Make every dish you serve purposeful. What makes this wine or dish special to you and why have you decided to serve it? You may utilise cherry tomatoes from your garden, an olive oil from your favourite Italian deli or a style of wine from the region you were born or loved travelling to. Prepare a short description of the wine, winemaker or dish you're serving to educate and impress your guests.
Tip 6: Presentation
Create an atmosphere with the small touches. Some ideas to begin with include upgrading or polishing the cutlery set, adding a linen tablecloth or table runner, some bright cushions for those wooden dining chairs or some designer plate ware. Add ambience by playing some light background music. Finally, dress to impress!
Tip 7: Engage your Guests
Be an attentive host! People get nervous in a room full of people they don't know.
If you observe a quiet guest, interrupt the group conversation to ask for his or her opinion on the wine or ask them to share a food and wine experience they remember. Whilst it may put them on the spot, if you're respectful and genuinely interested to learn about your guests, it will majorly boost the visitor's confidence for next time.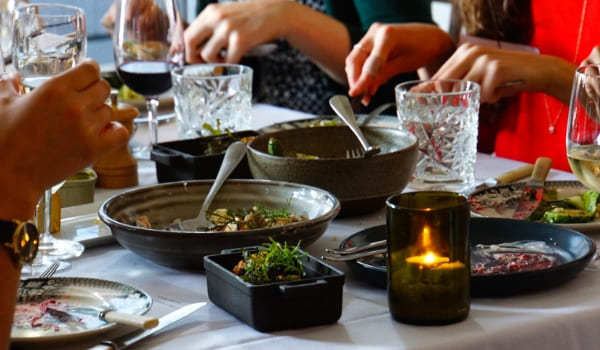 Tip 8: Have Fun!
If you have youngsters and are looking for a night to reconnect with friends and family, make it special and arrange the babysitter. At the end of the day just enjoy some great food and wine, learn something new and celebrate company with the people you care about.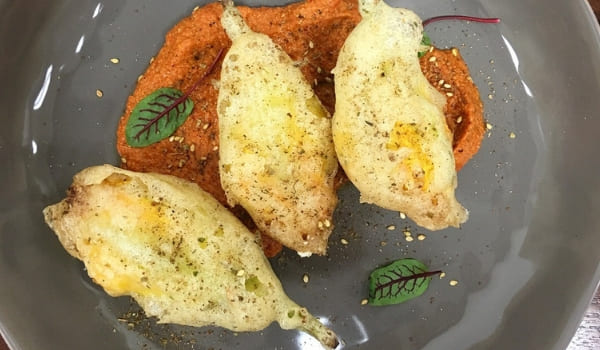 Goat's Cheese and Ricotta Stuffed Squash Blossoms with Spicy Peperonata Sauce (Makes 16)
Ingredients:
Squash Blossom Stuffing
- 1 cup Goat's Cheese
- 1 cup Low Fat Ricotta Cheese
- 1 tbsp. Fresh Basil (chopped finely)
- 1 tsp. Fresh Chives (chopped finely)
- 4 tbsp. Kalamata Olives (pitted, chopped)
- ¼ tsp. Kosher Salt
- zest of ½ Lemon
- pinch Freshly Ground Black Pepper
Tempura Batter
- 1 cup Plain Sparkling Water
- ¾ - 1 cup Plain Flour
- ½ - 1 tsp. Paprika
Peperonata Sauce
- 2 tbsp. Olive Oil
- 2 grilled Red Bell Pepper
- 1 cup Roasted Cashews
- ½ cup Marinara Sauce
- ¼ - ½ tsp. Kosher Salt
Serving
- 3-4 cups Vegetable or Cottonseed Oil (for deep frying)
- Torn Parsley, Baby Sorrel or Edible Flowers to Garnish (optional)
- 2 tbsp. Za'atar spice mix
Method:
- Combine all Squash Blossom Stuffing ingredients and mix well. Prepare this mixture ahead, place in a piping bag and rest in the fridge to infuse the flavour of your lemon and olive into the cheese.
- Roast your Bell Peppers over the grill or roast in a preheated 375ºF oven for 15 minutes to semi-blacken the skin and soften the flesh.
- Combined Roasted Cashews, Roasted Bell Pepper, Marinara Sauce and Olive Oil in a Food Processor until smooth (for added texture, don't completely puree Cashew Nuts)
- To prepare Squash Blossoms: Pipe the stuffing into the base of your squash blossom flower. As the flower become full, fold the blossom petals shut so they meet at one point. Twist the tips of the petals at the top of the squash blossom to completely seal closed.
- To prepare Tempura Batter: Preheat a shallow pot with frying oil to 375ºF. Whisk Flour and Sparkling Water together vigorously. (Only do this directly before frying). Delicately coat Squash Blossoms in Tempura Batter. Allow excess to drip off and lower (away from yourself) into the hot oil. Allow to golden for approx. 3-4 minutes. Drain on absorbent paper towel and season with Salt and Pepper.
- Warm the Peperonata Sauce in a small saucepan before serving, provide a generous serving spoon (3-4 tbsp.) per person and top with fried Squash Blossom.
- Additional garnishing might include grated Parmesan Cheese (optional), a sprinkle of Za'atar Middle Eastern spice mix, Micro herbs or Edible Flowers
Author:
Timothy Neumann - Sommeliers Choice Awards' Multicultural Food and Wine Ambassador.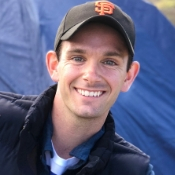 Timothy Neumann is an accredited nutritionist, globally inspired chef and culinary content creator. Tim strives to create dishes that inspire cultural curiosity. Find more of Tim's health driven recipes and wine pairings on his social media handle @tc_neumann or check back to discover more at Sommelier's Choice Awards.