Authentic Spanish Paella

19/11/2020 On this page, you will find the recipe for Authentic Spanish Paella.
(Image credit: istockphoto)
If your venue is serving paella and your kitchen team are not using these key steps, then stop service and keep reading. Number one, make your broth in house. Buy shrimps in whole and repurpose peeled heads by making an intense umami-rich shrimp broth fortified with saffron and garlic, which you can stretch by blending with chicken broth. Simmer a second mirepoix in the broth until soft and blend into a thin puree, forming the base broth for the paella.

Diced soffrito of bell pepper, tomato and onion with another hefty pinch of saffron confited in Olive oil is the next tip to creating an extra concentrated flavor. This soffrito also freezes very well enabling you a backup menu item to add to your specials menu in a pinch. A foolproof 1:4 ratio of Arborio rice to broth will yield perfect textured rice every time. Add soffrito and nduja (spreadable chorizo) at the beginning also, the amount depends on your personal taste.
A low and slow cook will allow soft fluffy paella, ramping the heat up at the end to develop the all-important sticky "sucorrat" crust. Pungent flavors in paella are pretty easily complemented with the range of increasing high-quality local beverages made in Spain. Choose a mid-priced Spanish Alberiño or indigenous Canary Islands white (Malvasía, by Bodegas los Bermejos). Alternatively, send it full street-style with any number of popular Spanish beers (Cervezas Artesanas Capitán) or high-end brews (Damm, made together with Ferran Adriá and the somm team of el Bulli). Cervezas Artesanas Capitan, in Córdoba, Spain, south of Madrid welcomes contactless pickup and delivery across Spain.
About the Author: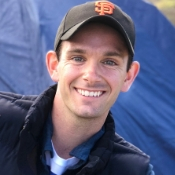 Timothy Neumann is an Australian Nutritionist, Chef, Culinary Consultant and Freelance Writer based in Napa, California. As a regular contributor of recipes and wine pairings for Sommeliers Choice Awards, Tim will be your resident food guru and bring you awesome recipes. Tim's approach to food is healthy, balanced and seasonal cooking to fuel a happy and productive mind! If you're visiting wine country, get a taste of Australia meets Californian cuisine.
Get your wines in front of Sommeliers, Wine Directors and On-Premise Buyers of USA. Here's How To Enter your wines.