Beef Wellington

19/11/2020 On this page, you will find the recipe for Beef Wellington.
Quality over quantity is king. Sharing a small amount of high quality, lean red meat for a festive occasion or every other week is my preference and style of cooking. Chefs right across the world and the US are pivoting away from grossly oversized protein portions and instead championing seasonal vegetables in new and exciting ways as the star of the show.

However, if meat suits your clientele or if you have a special celebration then this Beef Wellington is certainly a show-stopper. For the nervous and misinformed, this dish is actually rather easy. For me, some careful attention to the mushroom duxelles is the most important feature, along with the preparation of a wafer-thin crepe which will separate the prosciutto and the exterior puff pastry to prevent the crust from getting soggy.
Thinking left of field, the peppery core of a Syrah or Aussie Shiraz gives way to an enjoyable pairing affair. For the epitome of elegance opt for a dense Cabernet Sauvignon. The irony notes and opulent tannin provide an obvious option. Our suggestion for a state-side Hidden Gem is Trinitas Cellars. If you're looking for a producer who totally over-delivers for the price, consider a shipment of their thoughtfully curated tasting packs to enjoy from the comfort of your home! Join Trinitas' estate proprietor Garrett, who will lead you through an informal (or even private 1-on-1) showcasing of side-by-side verticals highlighting wines by varietal, vintage and vineyard variation.
About the Author: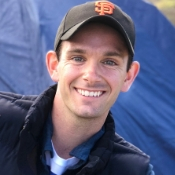 Timothy Neumann is an Australian Nutritionist, Chef, Culinary Consultant and Freelance Writer based in Napa, California. As a regular contributor of recipes and wine pairings for Sommeliers Choice Awards, Tim will be your resident food guru and bring you awesome recipes. Tim's approach to food is healthy, balanced and seasonal cooking to fuel a happy and productive mind! If you're visiting wine country, get a taste of Australia meets Californian cuisine.
Get your wines in front of Sommeliers, Wine Directors and On-Premise Buyers of USA. Here's How To Enter your wines.