Cape Malay (South African) Curry

20/11/2020 If you are in the mood to spice up your meat-free Monday, then do so with this Vegetarian Cape Malay (South African) Curry.
If in the mood to spice up your #meatfreemonday, then do so with this Vegetarian Cape Malay (South African) Curry. The base of these falafels is herby steamed Puy Lentils. Combine the Steamed Lentils with Tofu, 1 Egg, and just enough breadcrumbs (optional) to bring the mixture together to the consistency of a meat patties. These 2-3oz morsels fry beautifully in a skillet with oil and are finished cooking in the oven or air fryer for an extra crunch.
Today's coconut milk-based gravy is a Cape Malay African Curry. A Cape Malay paste is not too elaborate so easy to knock together, sauté off and simmer down with coconut milk and any seasonal vegetables. Finish with a fresh, bright dollop of Mango and Almond Chutney (a local's accompaniment), some Thai Basil Blossoms, and Chives. If you have a fruity, yet racy white wine on your program then you're home and hosed.

My suggestion is a Chenin Blanc produced in sea-side Stellenbosch or slightly inland, Paarl. Stylistically these wines stone fruit dominant supported by oak undertones, honeysuckle, and vibrant citrus lift. One outstanding Paarl producer persisting through the pandemic is Ayama Wines. If you're killing for a thrilling during lockdown, Ayama Wines are wild! Ayama's signature white is a Chenin Blanc, boasting intense aromatics with well rounded tropical fruit and exotic spice. To describe this pairing as "perfect" just doesn't cut it. Ayama Wines continue to serve Cape Town with FREE delivery. If you're not in the region, then simply support the community of Cape Town and consider South Africa for your next curbside case. For those in the New York Best Buy Liquor offer a curbside collection and same-day delivery of a broad catalogue of worldly wines at every single price point.
About the Author: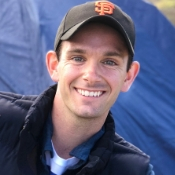 Timothy Neumann is an Australian Nutritionist, Chef, Culinary Consultant and Freelance Writer based in Napa, California. As a regular contributor of recipes and wine pairings for Sommeliers Choice Awards, Tim will be your resident food guru and bring you awesome recipes. Tim's approach to food is healthy, balanced and seasonal cooking to fuel a happy and productive mind! If you're visiting wine country, get a taste of Australia meets Californian cuisine.
Get your wines in front of Sommeliers, Wine Directors and On-Premise Buyers of USA. Here's How To Enter your wines.