Discover Basque Country, the Wine and Gastronomic Hinterland

13/09/2018 Explore Basque Country, its provinces and their wonderful cuisines and wines.
Located on the picturesque, mountainous coast of northern Spain, is the province of Basque Country. Unique, is Basque's autonomous community, rich history, culture and even it's own distinct language to that of Spain. So what is currently making this vibrant cuisine rich with tapas ("pintxos") and home-grown wine, the most highly revered and most influential on the international culinary stage?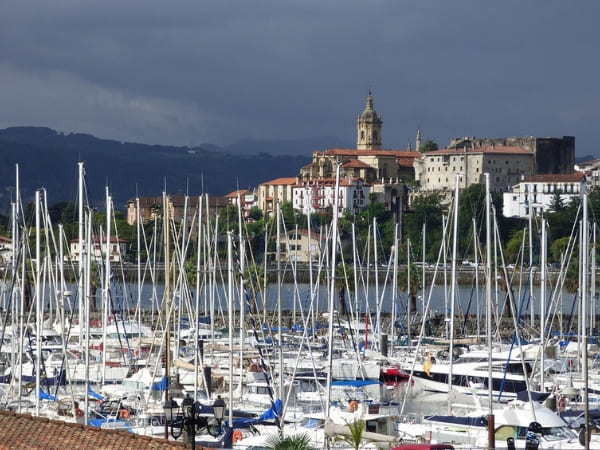 Basque gastronomy is currently represented in two of the top ten restaurants in the world including Mugaritz (no. 9) and Asador Etxebarri (no. 10). Chefs are spoiled for choice with an abundance of hyper-seasonal ingredients, including locally sourced fish, seafood and meats. The three distinct provinces of Basque Country include Álava, Guipúzcoa and Vizcaya – each boasting their own, individual cuisines that truly reflect their surrounding landscapes.
Álava
Álava is Basque's inland, mild climate mountain range where pork, beef, lamb and game frequent the menu (often in cured cold-cuts and sausages), so too do traditional, smoky, soft and hard cheeses. Exciting displays of seasonal vegetables also feature in this region, including wild mushrooms, artichokes, asparagus and a French-inspired spring green pea delicacy, "petits pois". Outside of neighbouring La Rioja, Álava is the largest producer of Spain's famed and most recognized red wine, Rioja. - A medium to full-bodied red wine blending predominately Tempranillo with Garnacha, Mazuelo and Graciano. Rioja is a rich textured, firm tannin, red wine, which oozes dark cassis, red fruits and layers of dried spices, liquorice, tobacco and vanilla.
Vizcaya
Vizcaya forms Basque's cool oceanic seaside province, a playground for seafood-centric chefs. Daily catches of littleneck clams, baby squid, eel, sardines, salt cod, and spider crabs from the Bay of Biscay and the Atlantic Ocean, are all decorated commodities. A regional favourite is salt cod "pil pil" (seared or poached salt cod served in a spicy, garlic, olive oil and fish gelatine-thickened white sauce emulsion).
Guipúzcoa ("Gee-puz-kwar")
Guipúzcoa and its capital city, San Sebastián, form the epicentre of Basque cuisine and are the birthplace of tapas and pintxos culture. Celebrated Michelin starred restaurant, Mugaritz, and many other local restaurants, stage the freshest seafood available including the region's famous anchovies, sardines and hake cheeks (kokotxas) served alongside local mountainside grazed meats. Food and wine forms an integral part of Guipúzcoa culture and is celebrated and served with creative flair. Take for example the region's very own Txakolina wine, which will be the focus of the rest of this article.
Txakolina (pronounced ""cha-co-lee-nah") or Txakoli wine (from the Basque word "etxakoa" meaning "made at home") is the unofficial wine of Basque Country. Txakoli is made almost exclusively from "Hondarrabi Zuri" an indigenous Spanish white grape variety blended with "Hondarrabi Beltza". Hondarrabi Beltza is a native red varietal, accounting for generally 5-20% of the Txakolina blend and adds depth and roundness. The origin of Txakolina is deep routed in Basque Country, but officially gained recognition and Denominación de Origen (DO) classification in 1989 by the Basque government. The geographical Designated Origin (DO) of Getariako Txakolina is identified as the maritime-influenced Guipúzcoa.
To produce Txakolina, destemmed grapes are macerated briefly for minimal colour before the must is separated and the juice fermented in a steel tank for two to three weeks. The wine may be left on lees for an additional few weeks or bottled immediately, commonly in a long, thin German Riesling-like bottle. New waves of millennial winemakers are extending time on lees ("Malkoa"), fermenting in amphora, concrete eggs, oak barrels, or carbonating and even blending with other local and international varieties including Riesling, Chardonnay, Manseng and Petit Courbu.
Traditional Txakoli is a dry, fruity, slightly effervescent white wine of moderate strength (9.5 - 11% ABV), with a characteristic piquant, mineral, acidity intended to be enjoyed in its youth (within one year). Cooler vineyards of Basque's coastline tend to produce flavours reminiscent of crisp green apple, pear, mint and sherbet. Contrastingly, warmer inland Álava wines express riper, rounder notes of peach, stone fruit and melon, and often have higher alcohol levels.
How to pair Txakoli wine:
Txakoli is typically an inexpensive (€3 - €8 or $3.50 - $9 USD) wine served in every tavern, bar, restaurant and home. It is distinctively poured from a height of 30cm (1ft) above the glass and traditionally served in a standard tumbler. Txakoli is paired as a chilled, zesty, refreshing celebratory accompaniment to almost any Basque dish or pintxo but particularly fish and seafood. As the Basque people do, enjoy Txakoli with fresh oysters, salted anchovies, bonito or tuna in oil, paprika-dusted octopus or salt-baked fish. If you can find Txakoli outside of Basque, pair as you might an Alberiño, Chablis or even Pinot Grigio, considering sushi, sashimi, scallops or grilled shrimp. Whatever cuisine you're serving to friends and family, ensure your products and ingredients are grown, harvested, grazed or caught as locally as possible.
Try my recipe for Hake Fillets with Clams in Salsa Verde.
Prep Time: 30 minutes | Cooking Time: 15 minutes | Serves 2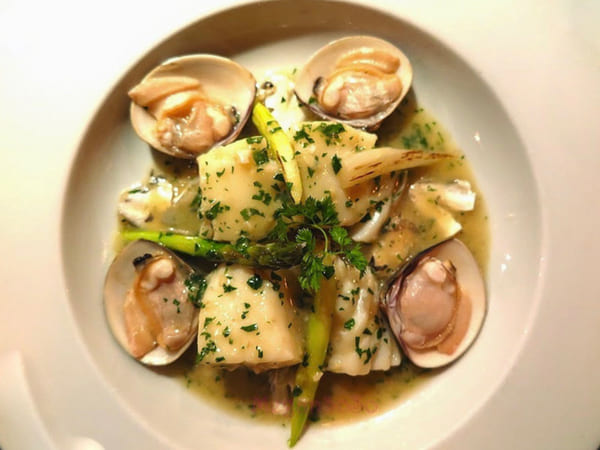 Ingredients
Clams
- 12 Littleneck Clams
- 1 tsp. Sea Salt
- 2 cup Water
- 2 Tbsp. Extra Virgin Olive Oil
- 1 Garlic Clove (Minced)
- ¼ tsp. Red Pepper Flakes or Paprika
- ½ Tbsp. Plain Flour
- ½ tsp. Kosher Salt
- 1 Tbsp. Fresh Flat-Leaf Parsley (Chopped)
- ¼ cup Dry White Wine (try to find Txakoli)
Hake
- 2 x 1/3 pound Hake Fillets
- ¼ Tsp. Salt (Season)
- Pinch White Pepper
To Serve and Garnish
- 4 White or Green Asparagus (Preferably Fresh)
- 1 tsp. Fresh Flat-Leaf Parsley (Chopped)
Method
- In a large bowl, soak the clams in a bowl full of salt water for at least 30 minutes allowing the clams to release any sand trapped in their shells. Drain.
- In a medium saucepan, combine the washed clams with 2 cups water, bring to a boil and then reduce to medium heat, cover and cook for 5 minutes (don't be afraid if you normally steam your clams, this time we're making a broth).
- Place your Asparagus in the boiling liquid for the last minute to par-cook.
- IMPORTANT: Drain clams and asparagus but reserve the broth, this will become your sauce.
- Heat a separate medium saucepan, combine olive oil, garlic and red pepper flakes (optional), stirring for 1-2 minutes until golden, then add wine to deglaze.
- Add flour and whisk vigorously to remove lumps (flour is used to thicken your sauce).
- Combine your clam broth, salt and chopped parsley. Reduce heat to medium and simmer for 5 minutes or until sauce thickens slightly.
- Season hake fillets with salt and pepper and place in the sauce to poach, turning once for 3 minutes on either side. Delicately pierce the flesh to ensure an opaque, white interior, telling you the fish is cooked through.
- Add the clams and asparagus, for an additional 1-2 minutes, gently spoon the sauce over everything to coat.
Author:
Timothy Neumann - USA Wine Ratings' Multicultural Food and Wine Ambassador.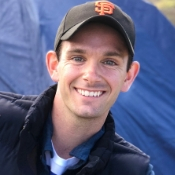 Tim is an Australian food and wine writer and accredited nutritionist. When cooking, Tim loves using healthy, local ingredients accented with bold multicultural flavors. Discover Tim's endless recipes and multicultural food ideas on Instagram @tc_neumann or through Beverage Trade Network articles.
Get your wines in front of Sommeliers, Wine Directors and On-Premise Buyers of USA. Here's How To Enter your wines.