Fish and Chips

02/11/2020 Regular or chicken salt? Something only Australians will understand. Chicken salt of course.
Why fish and chips aren't a thing in the United States, I cannot understand. They possess all of the hallmarks of a crowd favorite, impossibly crunchy French fries and beer-battered fish. They're easily THE most nostalgic food for any Australian. I had a special request from a private chef client who asked me to put an American spin on it.

Halibut was a natural decision but Grouper or Sea Bass work marvelously due to their firm but flaky texture. Tartare sauce is the only accompaniment in my opinion, but if you want to add an elevated rustic twist, use a couple tablespoons of pickled ramp liquid per pint of tartare for an allium-y twang. To complete this story, serve your IPA battered halibut with three times cooked fries (slice, boil, chill, fry, chill, fry! wow!) To my West coast quarantine crew, we have it on good authority that our brothers and sisters at California Wild Ales (LINK: http://www.californiawildales.com) are slinging their entire range of tasty sour crawlers for your six-foot apart enjoyment. Available for Curbside Pickup, Free Local Delivery, and California-wide shipping ($30/6 bottles).
About the Author: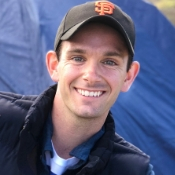 Timothy Neumann is an Australian Nutritionist, Chef, Culinary Consultant and Freelance Writer based in Napa, California. As a regular contributor of recipes and wine pairings for Sommeliers Choice Awards, Tim will be your resident food guru and bring you awesome recipes. Tim's approach to food is healthy, balanced and seasonal cooking to fuel a happy and productive mind! If you're visiting wine country, get a taste of Australia meets Californian cuisine.