Hawaiian Poke Wontons

19/11/2020 On this page, you will find the recipe for Hawaiian Poke Wontons.
I recently consulted a Californian winemaker Derek Baljeu on his ideal food pairing for rosé. "Well balanced rosé easily stands on its own! But if you ask me, provided some sunshine, a white tip beach day all I'm missing at that point is some ahi tacos topped with a cilantro-lime slaw and bright Hawaiian relish. What I'm looking for is seafood and hints of salt that accentuate the fruit flavor".

My Japanese- Hawaiian- inspired poke wonton is built on a fried, crispy Asian wonton with ripe avocado, kimchi aioli, wakame seaweed, cilantro-lime slaw, a little tropical pico de gallo, and my Shichimi Togarashi (or Japanese 7-spice) marinated Ahi Tuna. Sonoma Coast rosé is hard to beat, artfully blended to capture and retain high toned citrus and mineral characteristics with bright, crunchy red berry fruits, instantly reminiscent of some of the best French Provence roses I've tasted.
Another divine rosé originating from windswept Sonoma is that of Eco Terreno, proudly sharing a slice of Alexander Valley (northern Sonoma) at their soon to be unveiled 3-story San Francisco tasting room. Whilst the grand opening is on pause during the pandemic, Eco Terreno are still open for business offering free local delivery and paid postage for those further afield. As well as their divine Desert Rosé of Cabernet Franc. Celebrate International Chardonnay Day on May 21st along with winemaker Mark Lyon tasting their signature 3-pack of Sonoma Chardonnay during a special Facebook Live stream.
About the Author: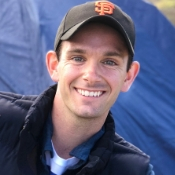 Timothy Neumann is an Australian Nutritionist, Chef, Culinary Consultant and Freelance Writer based in Napa, California. As a regular contributor of recipes and wine pairings for Sommeliers Choice Awards, Tim will be your resident food guru and bring you awesome recipes. Tim's approach to food is healthy, balanced and seasonal cooking to fuel a happy and productive mind! If you're visiting wine country, get a taste of Australia meets Californian cuisine.
Get Feedback From On-Premise Buyers, Wine Directors, and Master Sommeliers. Enter Your Wines Before January 31, 2024, To Save.